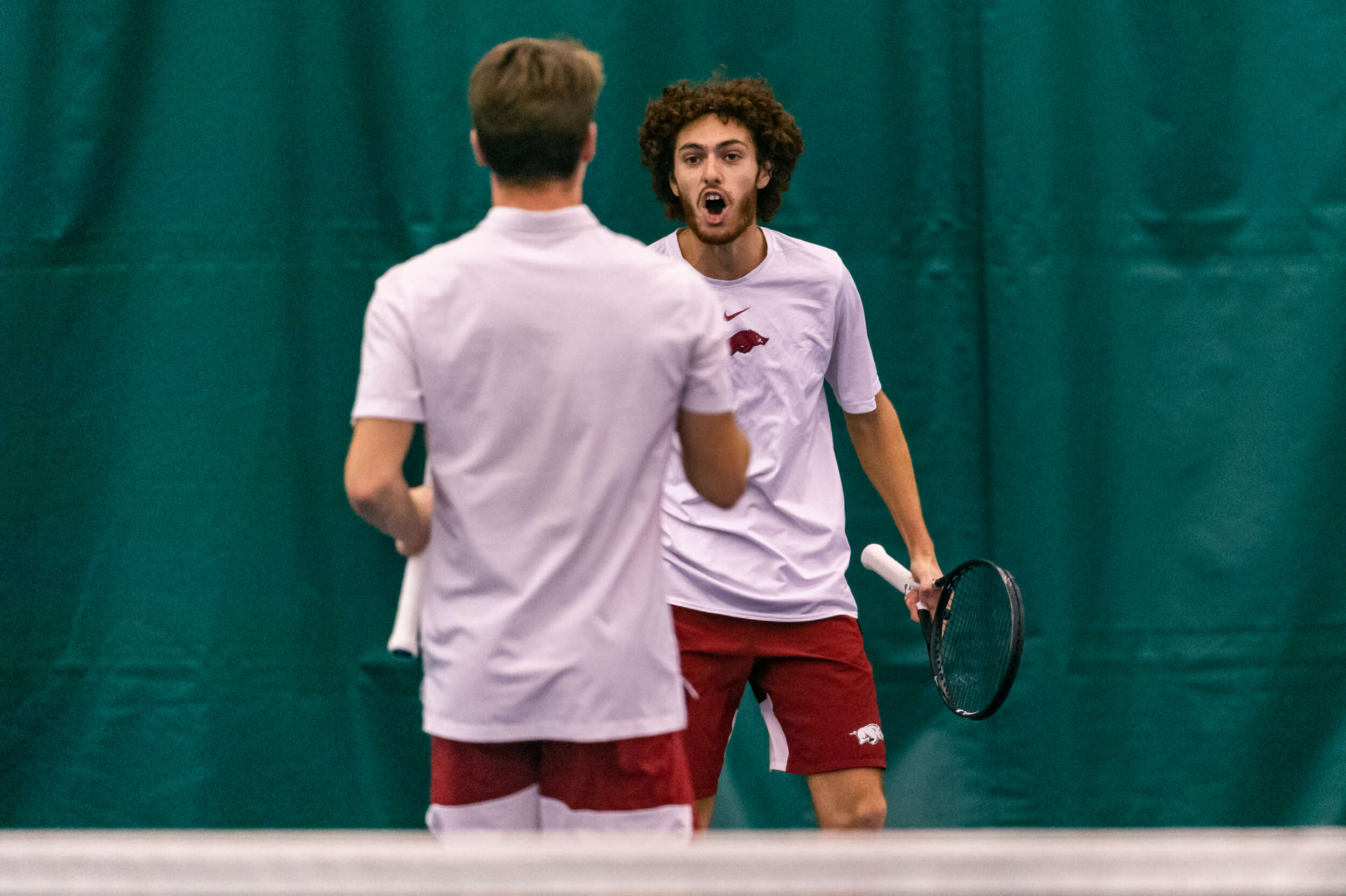 Men's Tennis earns six wins against Kentucky at Commodore Invitational
NASHVILLE, Tenn. – The Razorback men's tennis team picked up six wins on Saturday afternoon against the Kentucky Wildcats on the second day of the Commodore Invitational. Arkansas dominated doubles play, taking three of the four matches, and took another three in singles action.
The doubles duo of Alex Reco and Nico Rousset turned in their second win of the weekend, downing the Wildcats pairing of Diablo/Lapadat, 8-6. Maxim Verboven and Hunter Harrison dropped just one game as they beat Hurrion/Sandman 8-1, while Avery Zavala and Melvin Manuel defeated Chen/Leblanc in a hard-fought 8-7 battle.
Harrison and Rousset also earned straight-set wins in singles play. Harrison won his second match in two days as he defeated Sandman, 6-1, 6-4, while Rousset went 6-4, 6-1 over Leblanc. Freshman Avery Zavala fell in his first set, but battled back to win the next two as he downed Nama, 3-6, 6-0, 6-2.
"This was our fifth-consecutive day of good play against SEC teams. We split 12 matches against Kentucky and winning three of four doubles shows progress," head coach Andy Jackson said. "We are looking forward to the challenge against Auburn tomorrow.
The Razorbacks close out the Commodore Invitational with a match against Auburn on Sunday at 9 a.m. CT.
RESULTS
Doubles
Verboven/Harrison (Ark) def. Hurrion/Sandman (UK) 8-1
Reco/Rousset (Ark) def. Diablo/Lapadat (UK) 8-6
Zavala/Manuel (Ark) def. Chen/Leblanc (UK) 8-7
Nama/Sorbo (UK) def. Bortnick/Rogers (Ark) 8-5
Singles
Hurrion (UK) def. Verboven (Ark) 6-3, 6-2
Diallo (UK) def. Reco (Ark) 5-7, 7-6, 7-6 (6)
Rousset (Ark) def. Leblanc (UK) 6-4, 6-1
Lapadat (UK) def. Bucan (Ark) 6-3, 6-2
Chen (UK) def. Manuel (Ark) 6-4, 2-6, 6-4
Harrison (Ark) def. Sandman (UK) 6-1, 6-4
Zavala (Ark) def. Nama (UK) 3-6, 6-0, 6-2
Sorbo (UK) def. Bortnick (Ark) 6-3, 6-4