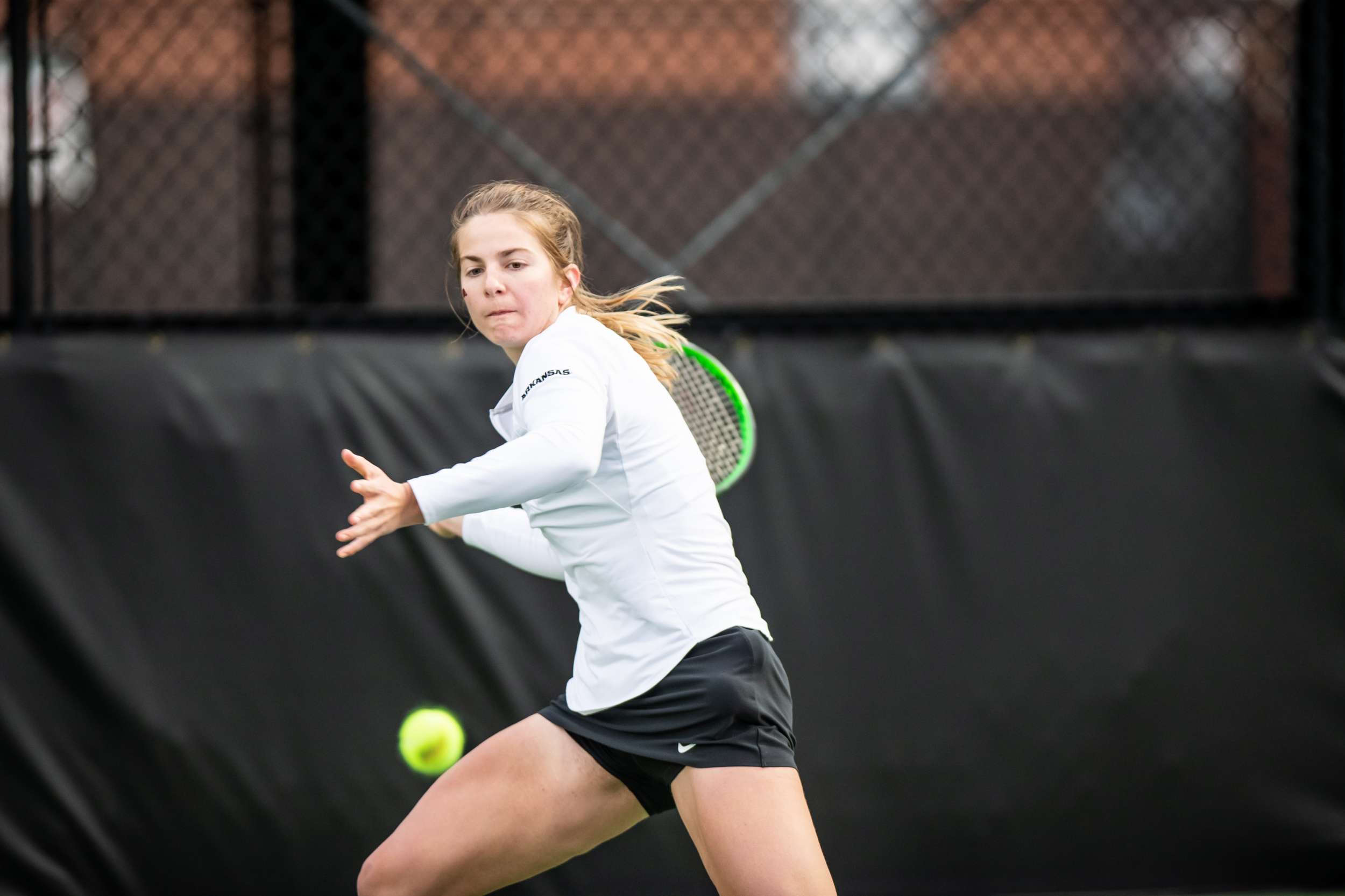 Rice Invitational 2019
It was a hard-fought weekend for the Razorbacks at the Rice Invitational in Houston, Texas. After several rain delays that lead to no match play on Friday, Jackie Carr, Tatum Rice, Martina Zerulo and Lauren Alter represented the Razorbacks with grit throughout the weekend.
SINGLES PLAY:
Zerulo and Rice competed in the top singles flight and both faced off against SEC foes, Alabama. After a three setter from Zerulo and a first set tiebreaker from Rice, both girls eventually fell to the tide. Zerulo and Rice rebounded strong after a short rest from their first singles matches and claimed victories to finish off singles play for Saturday. Zerulo bested Ansari from Auburn and Rice topped Sara Nayar from Colorado. On Sunday Rice fell in a nail biting three setter to Alabama's Ito. After Rice claimed the first set, Alabama's Ito fought back and claimed the match 3-6 7-6(3) 10-3. Zerulo finished the tournament strong with a straight set, 6-4 6-4, victory over Cortina Pou of Alabama.
Alter and Carr competed in Flights 3 and 4, respectively. Both Razorbacks dominated their brackets all weekend and came away with wins over Alabama, USF, AMCC, UTA and Rice. On Saturday, Alter claimed victories over Timmermans of USF and Natal of UTA. Alter then went on to beat Selim from 'Bama on Sunday in a gripping 3rd-set tiebreak to win the flight 6-4 2-6 12-10. In flight 4, Carr topped Melendez of USF and El Jarod of Rice both with the score of 6-3 6-2. On Sunday Carr closed out the weekend by beating Townsend of AMCC in the flight final 6-1 6-1. Both girls were named champions of their singles flight.
DOUBLES PLAY:
After numerous rain delays on Friday, the #11 ITA ranked duo of Rice and Alter made their doubles debut on Saturday and took the victory over C. Ansari and Y. Chen from Auburn 6-3. The Razorbacks then took on Alabama's top pairing of Ito and Harvison. Despite putting up a fight, the Tide proved too much on the day and topped the Razorbacks 6-1.
WHAT TO LOOK FORWARD TO:
Arkansas will head to Waco, Texas Oct. 4-6 to play in the H-E-B Fall Invitational.
For more information on Arkansas women's tennis follow @RazorbackWTEN on twitter and Instagram.