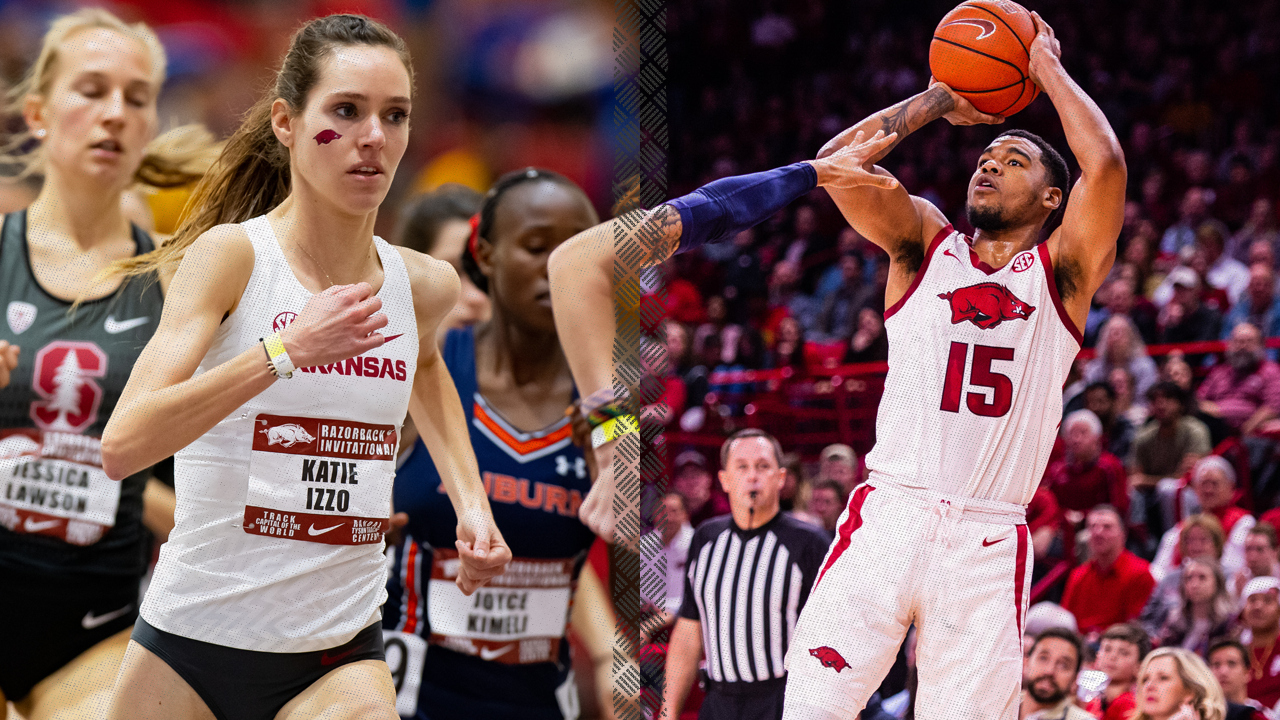 2020 HOGSPYs: Day 3 Recap
FAYETTEVILLE, Ark. – Two more HOGSPY awards were announced on day three of the ninth annual HOGSPYs, which highlights the athletic achievements of Arkansas' student-athletes.
The two awards were revealed via Arkansas' social media platforms and on ArkansasRazorbacks.com. The awards announced on Wednesday included:
The Female and Male Student-Athlete of the Year – This award recognizes a standout sophomore, junior, or senior student-athlete who has demonstrated outstanding athletic achievement on the field of play. Must be a student-athlete who maintains a GPA of 2.5 of above.
The winner of the female student-athlete of the year was cross country and track & field athlete Katie Izzo. From Seal Beach, California, Izzo had a dominant 2019-20 season on the course and track. She claimed the SEC individual title in cross country, helping the Razorbacks to the team crown, as well as regional champs and the first-ever NCAA National Championship victory in school history, finishing third individually at the event. Izzo also claimed SEC Indoor Runner of the Year after winning the 3,000 and 5,000-meter races, breaking a 30-year-old SEC Indoor record in the 5,000-meter run and the second-fastest winning time in the 3,000 meters. Other nominees for the award included: Sophia Carter (Gymnastics), Anna Hopkin (Swimming & Diving), Alexis Tolefree (Women's Basketball) and Haley VanFossen (Soccer).
The winner of the male student-athlete of the year was basketball player Mason Jones. A native of Desoto, Texas, Jones put together one of the best seasons in Arkansas baseball history in 2019-20. He was named an All-America Honorable Mention winner, was one of five finalists for the Jerry West Shooting Guard of the Year Award, voted Associated Press Co-SEC Player of the Year and was one of two players to earn unanimous First Team All-SEC honors by the AP. He ranked eighth in the NCAA in scoring and became the first Razorback to lead the SEC in scoring, recording nine games with at least 30 points, the most by an SEC player over the last 20 years. Jones was the only player in the SEC to rank among the league's top 20 in scoring (1st), rebounding (20th), assists (10th) and steals (6th). Other nominees for the award included: Cameron Griffith (Track & Field), Heston Kjerstad (Baseball), Julian Perico (Golf) and Alex Reco (Tennis).
Continue to follow along with the 2020 HOGSPY Awards on Arkansas' various social media platforms and ArkansasRazorbacks.com.
2020 HOGSPY Award Schedule
Thursday, April 30
Women's Team of the Year
Men's Team of the Year
Friday, May 1
Razorback & Champion For Life