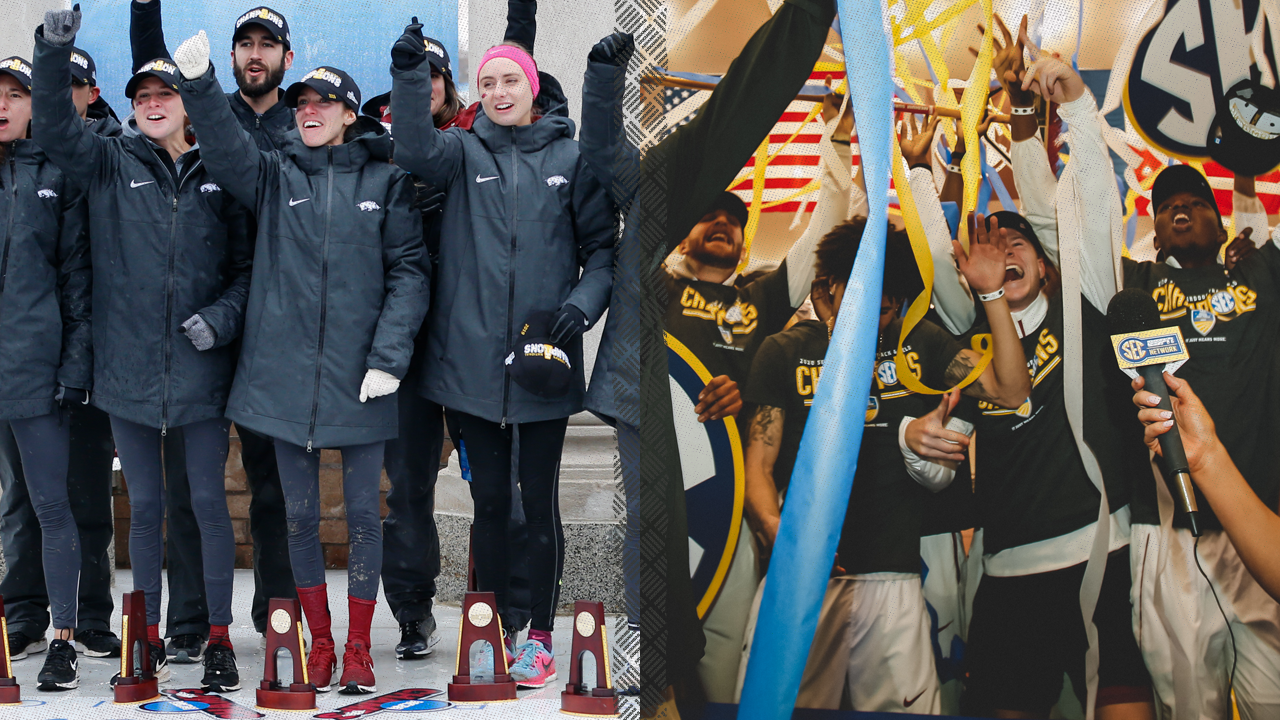 2020 HOGSPYs: Day 4 Recap
The female and male teams of the year were announced on day four of the ninth annual HOGSPYs, which highlights the athletic achievements of Arkansas' student-athletes.
The two awards were revealed via Arkansas' social media platforms and on ArkansasRazorbacks.com. The teams of the year awards recognize one male and female team who had had an impressive season, displayed academic excellence and overall team success.
The winner of the female team of the year is the national champion cross country squad. The Razorbacks, under head coach Lance Harter, backed up its No. 1 ranking with dominant performances in the SEC and NCAA South Central Regional Championships, taking both crowns. It was the seventh-straight year the women have won the conference, with Katie Izzo claiming the individual title, while Taylor Werner SEC Runner of the Year and SEC Scholar-Athlete of the Year. At the regional meet in Fayetteville, the Hogs swept the top five finishes in the race to produce a perfect score of 15, carrying that momentum into the program's first national title, with four All-America athletes in Izzo, Werner, Devin Clark and Carina Viljoen. Other nominees included: basketball, golf, soccer and indoor track & field
The winner of the male team of the year was the SEC Indoor champion men's track & field team. Led by head coach Chris Bucknam, the Razorbacks brought home the indoor conference crown for the first time since 2017. The Hogs racked up nine medalists: two gold, five silver and two bronze, staving off the No. 2 team in the country for the title, entering the meet as the 10th-ranked team in the country. The men's team also featured SEC Runner of the Year & Cliff Harper Trophy winner Cameron Griffith, as 11 athletes in eight events qualified for the NCAA Indoor Championships. Other nominees included: baseball, basketball and men's golf.
Continue to follow along with the 2020 HOGSPY Awards on Arkansas' various social media platforms and ArkansasRazorbacks.com.
2020 HOGSPY Award Schedule
Friday, May 1
Razorback & Champion For Life