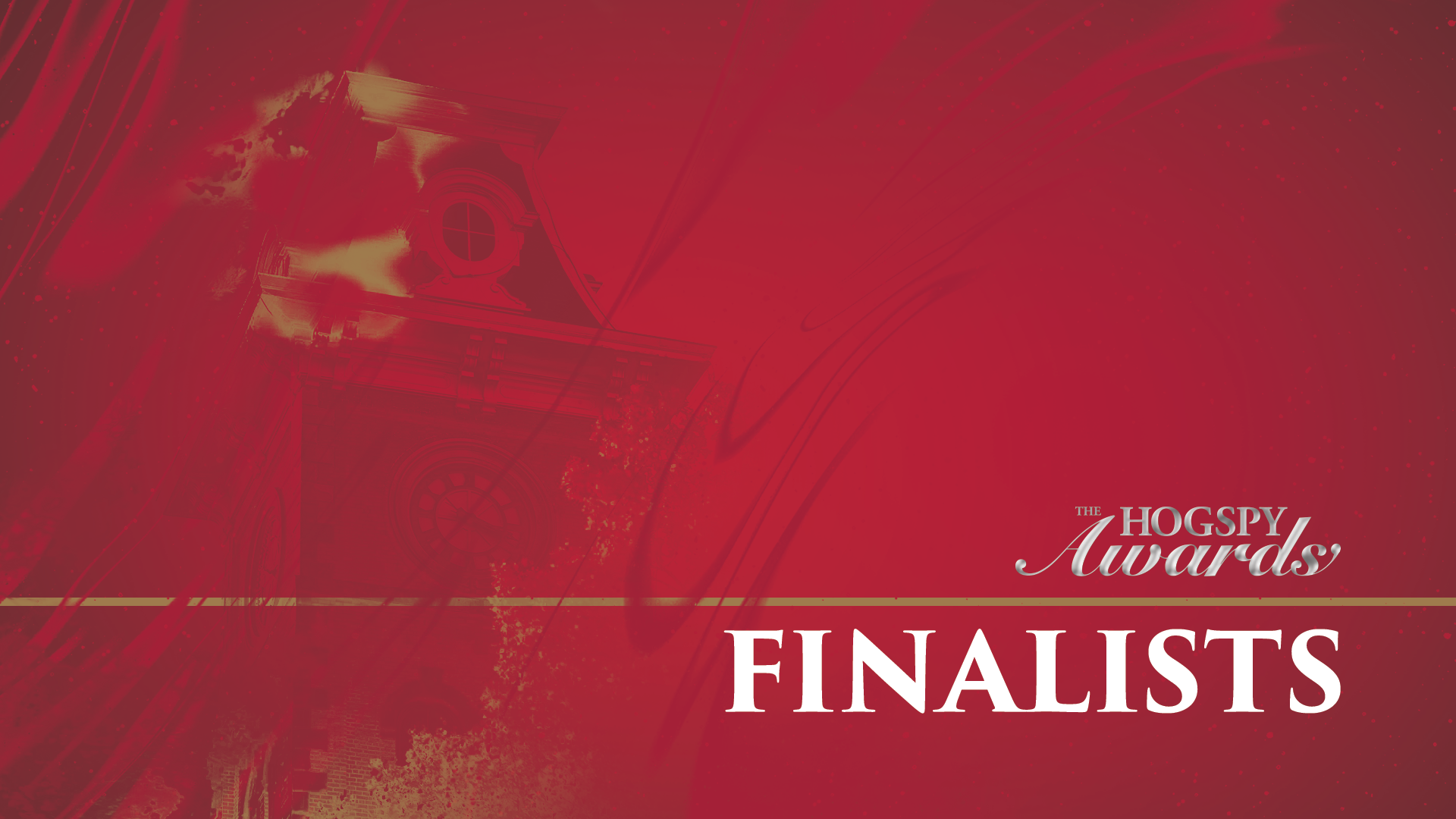 2021 HOGSPY Award Finalists Announced
FAYETTEVILLE, Ark. – From memorable plays and record-setting academic achievements to striving for championships and excellence in the classroom, the 10th annual HOGSPY Awards will celebrate the best-of-the-best among Razorback student-athletes, Spirit Squad, marching band and staff during the past year on Wednesday, April 28 at Bud Walton Arena.
The HOGSPY Awards recognizes the best in athletics, academics and leadership and will be hosted by Pat Bradley and Danyelle Musselman. Individual awards include male and female recipients in the categories of student-athlete of the year, rookie of the year and scholar-athlete of the year. Coach of the Year honors will also be bestowed on the year's most outstanding coach in both men's and women's sports.
Team awards will recognize the academic teams of the year, the team performances of the year, the Hog Tough performances of the year and the top athletic teams of the year.
HOGSPY Award nominations are submitted by the Student-Athlete Advisory Committee, coaches and staff. Winners are determined by a vote of selected groups for each award.
This year's finalists include:
Heart of the Hog
Braxton Burnside (SB)
Jackie Carr (WTEN)
Hunter Harrison (MTEN)
Gracie Ryan (VB)
Male Rookie of the Year
Jalen Catalon (FB)
Moses Moody (MBB)
Robert Moore (BSB)
Female Rookie of the Year
Taylor Ewert (WXC)
Taylor Head (VB)
Indianna Spink (WTEN)
Comeback Student-Athlete
Mary Haff (SB)
Rhayko Schwartz (MTF)
Estilla Mosena (S&D)
Male Scholar-Athlete of the Year
Jacob McLeod (MXC)
Luke Meade (MXC)
Grant Morgan (FB)
Mason Overstreet (MGLF)
Female Scholar-Athlete of the Year
Jillian Gillen (VB)
Kayla McKeon (SOC)
Logan Morris (WXC)
Anna Podojil (SOC)
Male Student-Athlete of the Year
Moses Moody (MBB)
Grant Morgan (FB)
Julian Perico (MGLF)
Female Student-Athlete of the Year
Chelsea Dungee (WBB)
Lauren Gregory (WXC)
Anna Podojil (SOC)
Male Coach of the Year
Chris Bucknam (MTF)
Eric Musselman (MBB)
Sam Pittman (FB)
Female Coach of the Year
Lance Harter (WTF)
Mike Neighbors (WBB)
Jordyn Wieber (GYM)
Standing Ovation
Hudson Clark (FB)
Bailee McCorkle (WTF)
Reese Walters (MTF)
Champion and Razorback for Life
Jackie Carr (WTEN)
Sophia Carter (GYM)
Katie Izzo (WTF)
Alyssa Lemon (S&D)
Liz Pamphile (VB)
Hog Tough
Baseball Rally vs. Texas Tech
Football Victory against Tennessee
Men's Cross Country NCAA Performances
Men's Basketball Sweet 16 vs. Oral Roberts
Top Play
Brooke Matthews (WGLF) – Blessings record of 67
Davonte Davis (MBB) – Game-winning shot in Sweet 16 vs. Oral Roberts
Kennedy Hambrick (GYM) – Program-best 9.975 vault
Ryan Jackson (SB) – Diving catch against South Carolina
Treylon Burks (FB) – Touchdown catch against Ole Miss
Team Performance
Football Win at Mississippi State
Gymnastics Program Record Win vs. Auburn
Men's Basketball Win Over Alabama
Volleyball Sweep of Texas A&M
Women's Basketball Win over UConn
Women's Tennis Win Over Vanderbilt
Women's Track and Field NCAA Indoor National Championship