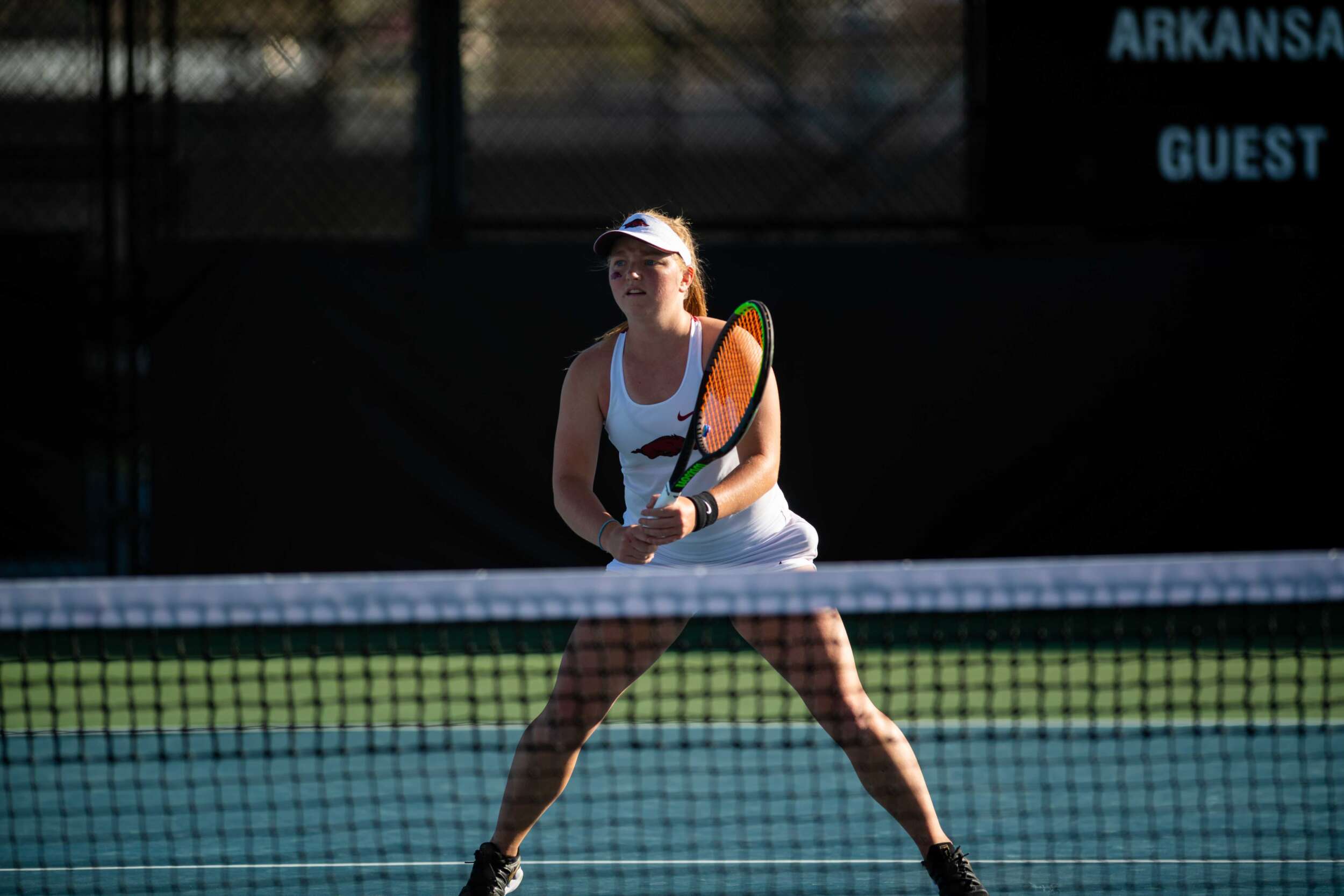 Arkansas Falls at Texas A&M
COLLEGE STATION, Texas. – The No. 28 University of Arkansas women's tennis team lost at No. 20 Texas A&M on Sunday, starting off hot in singles play but eventually dropped a 4-1 decision to the Aggies. With the loss, the Razorbacks fall to 10-9 on the season and 4-9 in Southeastern Conference play.
In doubles play, number one pair Morgan Cross and Tatum Rice secured a 6-3 win over No. 43-ranked Aggies Tatiana Makarova and Jayci Goldsmith. Lauren Alter and Indianna Spink paired up for a battle on court two but fell to Renee McBryde and Dorthea Faa-Hviding 6-3.
Now with both Arkansas and Texas A&M with one win apiece, both teams looked to court three, where Kelly Keller and Laura Rijkers faced Riley McQuaid and Katya Townsend. Townsend and McQuaid ultimately came up with the 6-4 win, clinching the doubles point for the Aggies.
Keller was the lone Razorback with a singles win in College Station, taking down Goldsmith 6-3, 6-4 in the number two spot. Keller's win tied the match, 1-1.
The Hogs fell on court four, five and six to capture the win for the Aggies. Alter led 4-1 in the first set, but her opponent McQuaid fought back to take the match 7-5, 6-4. Cross took Faa-Hviding into a tiebreaker set after falling in the first and coming back to win the second, Cross ended up losing her match 2-6, 6-3, 1-6. Rijkers took a thrilling first-set win over McBryde on court five, 7-6 (11) but could not keep the momentum on her side as McBryde ran away with a 6-7 (11), 6-0, 6-0 win.
When the match was clinched Spink and Rice were both in the midst of exciting matches on courts one and three respectively. Spink had forced No. 22 Makarova into a tiebreaker set after a comeback set-two win, Makarova had a slight lead in the tiebreak at the end of the match 6-2, 3-6, 5-2. Rice too had fought back for a set-two victory when the match was won, on the tail of Townsend 6-3, 4-6, 5-4 in the tiebreaker set.
Arkansas looks ahead to the SEC Tournament, set to begin on Monday, April 19 in Tuscaloosa, Ala.
Fans are encouraged to visit ArkansasRazorbacks.com for the latest information on all things Arkansas Women's Tennis. You can also find the Hogs on social media by liking us on Facebook (Arkansas Razorback Women's Tennis) and following us on Twitter and Instagram (@RazorbackWTEN).