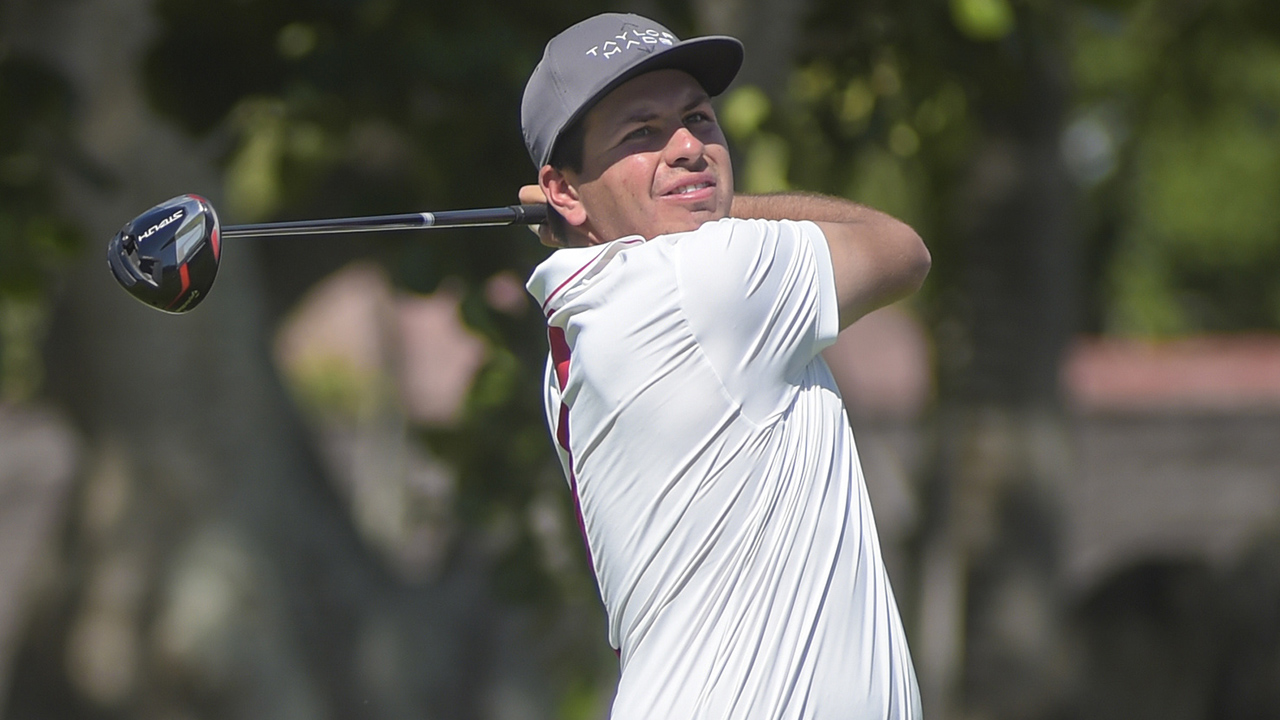 5 Razorbacks in Top 19 After RD1 of Latin America Am
Segundo Oliva Pinto leads a group of five Razorbacks – and the 102-person field – after round one of the Latin America Amateur Championship, played at the par-72 Teeth of the Dog Course in Casa de Campo, Dominican Republic.
In addition to Oliva Pinto leading, Mateo Fernandez de Oliveira and Julian Perico are tied for sixth (-3), Juan Camilo Vesga is tied for 11th (-2) and Manuel Lozada is tied for 19th (E).
Oliva Pinto, coming off a second-place finish at the South America Amateur last week, fired a bogey-free, 6-under-par 66 to share the lead with Puerto Rico's Roberto Nieves. Oliva Pinto started his round on hole 10 and got off to a strong start with birdies on holes 11 and 12. He then closed his front nine with a birdie on the par-5, 18th hole. He began his back nine as he did the front with birdies on holes 2 and 3. He added his sixth birdie of the day the par-4, 6th hole before closing his round with three pars.
"I was feeling very comfortable," Oliva Pinto said. "I was comfortable last week in the South American Amateur. This week, I brought a lot of good feelings from there. There's always a possibility to go lower, a couple putts that lipped out, but, I mean, it is what it is. I played good and I took my chances. I'm happy with what I did."
Fernandez de Oliveira and Perico are tied for sixth, each carding a 3-under-par 69.
Fernandez de Oliveira, who won the South America Amateur last week, also had a bogey-free round in shooting his 69. The junior reeled off 11 straight pars before his birdie on the par-5, 12th hole. He then closed his round with a pair of birdies to give him the clubhouse lead at -3.
"I played pretty solid all day," Fernandez de Oliveira said. "On the front nine, I had a couple birdie chances that I didn't take advantage of but I was patient all the way. Luckily, the last couple of holes, I made a couple birdies. So I'm very happy with the round.
Perico, like Oliva Pinto, started in hole 10. He was 1-under thanks to birdies on holes 11 and 14 with a bogey on hole 13. He then ran off four straight birdies on holes 18, 1, 2 and 3 including a near hole-out eagle on the par-5, 2nd hole. Those birdies moved him to 5-under and pushed him to the top of the leaderboard. However, he dropped shots on holes 5 and 8 to settle for his 69.
"Last week, I was never in contention," Perico said. "I know I'm playing better. I know I'm hitting better shots and making better decisions. It felt nice to be up there (on top of the leaderboard). I got a little nervous here and there on the water holes. The design of the golf course, they want you to look where you don't want to look. You just need to hit a golf shot and I managed to do for the most part. I did have a couple slip-ups here and there, but I'm way better at accepting things now. I know I'm not a robot and I know I'm a human."
Vesga also spent some time on the leaderboard when he birdies his first three holes and four of his first five. He fell back to 1-under after bogeys on holes 7, 13 and 16 before righting the ship with a birdie on the 18th for his round of 70 (-2).
Lozada, who missed the fall season due to injury, is tied for 19th as he offset three bogeys with three birdies, including birdies on his final two holes.
Round two of four is set for Friday.