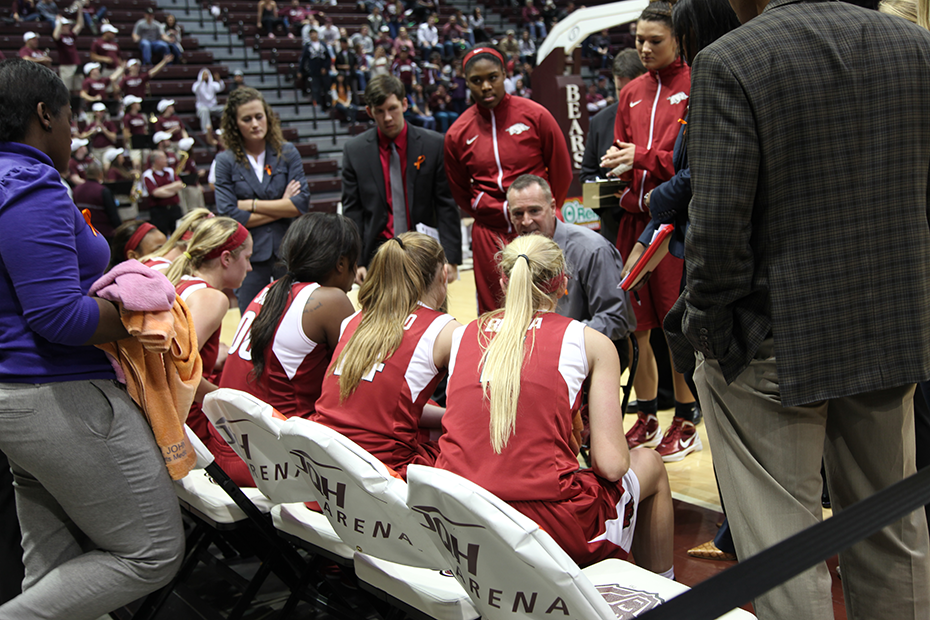 SPRINGFIELD, Mo. – The University of Arkansas women's basketball team bounced back on Wednesday night with a road win over the Missouri State Lady Bears at JQH Arena, 59-50. The Razorbacks improve to 7-2 on the season and continue their solid play wearing the traveling red jerseys as Arkansas is 2-0 in true road games and 4-0 overall in games played away from Bud Walton Arena this season.
Arkansas finished with three players in double figures, the ninth time in as many games Arkansas has had at least three players in double digit scoring. The Razorbacks were led by a game-high 19 points from sophomore Kelsey Brooks. Brooks added in three steals, converting two of those into layups at the other end. Sophomore Jessica Jackson chipped in 13 points and also tallied four assists. Junior Melissa Wolff was the third Hog in double digits, scoring 10 points and barely missed out on a double-double after pulling down nine rebounds. Wolff also recorded a career-high five blocks. Senior Jhasmin Bowen poured in nine points and six rebounds.
Arkansas finished the game shooting 45.1 percent from the floor, and 46.2 percent from three-point distance. The Lady Bears were 33.9 percent shooting from the field.
Playing in its second true road game of the season, Arkansas got a slow start out of the gate as Missouri State jumped out to a quick 7-0 lead after the game's first 3:12. The Razorbacks would answer with an 8-0 run of their own over the next 2:41, buoyed by six straight points from Brooks, including an aggressive strip-steal in the backcourt resulting in a layup.
After MSU took a 14-11 lead with 12:38 in the half, Arkansas completed an 11-2 lasting 9:07 to take its largest lead of the half at 23-16. Arkansas' 11-2 run included a 7:30 stretch where the Razorback defense held MSU scoreless. The field goal drought is the largest for the Arkansas defense this season.
Despite shooting 50.0 percent, Arkansas was not able to fully pull away in the first half as the Hogs committed nine turnovers. MSU would close on an 8-3 run to make it a 26-24 Arkansas lead going into the locker room.
Jackson scored 11 points in the first half, the eighth time in nine games she's been in double figures and the sixth time she's been in double digits at the break. Brooks added in eight first half points as well. Jimmy Dykes went to his bench early and often as all nine Razorbacks saw the floor in the opening frame.
Arkansas came out of the locker room ready to roll, going on an 8-0 to open up a 10-point advantage, 34-24. Brooks' back-to-back threes as well as a Jhasmin Bowen layup spurred the run. The Razorback defense again displayed its intensity, not allowing a Lady Bear point for the final 1:18 of the first half and the first 4:30 of the second half, a drought of 5:48.
With 8:40 left in the game, Arkansas opened up its largest lead of the game of 13 points after a Bowen put back. After leading for double digits for majority of the second half, the Lady Bears cut the lead down to as low as five with 3:27 remaining.
With the Arkansas lead down to five, MSU missed two consecutive bunnies in the paint that would have cut the game to one possession. Those Lady Bear misses would turn into a four-point swing for Arkansas as Bowen converted an offensive rebound into two points. Arkansas would not allow Missouri State any closer as the Razorbacks outscored MSU 7-3 over the last 3:27 to seal the 59-50 win.
Kenzie Williams paced the Lady Bear offense, scoring 15 points and grabbing six rebounds.
Arkansas is back in action Sunday at 2 p.m. on the road at Tulsa.
QUOTABLE
"We weren't good at all in the first half. We had way too many turnovers, I think we had nine turnovers in the first half. We were shooting 50 percent in the first half, we got good shots, we just had some crazy passes and got kind of out of character. They were changing their defense from man to zone on us, maybe got us out of sync a little bit. We corrected it in the second half, only had three turnovers I believe in the second half. Our defense was really good. They made some shots early, we had to adjust right off the bat because their big kid stepped out and made a couple early shots on us. We're just proud to get out of here with a win. This was a loud crowd, they had a big crowd, they're playing for a good cause, the Rally for Allie we took part in it with our orange ribbons on ourselves. I knew we were going to get Missouri State's best shot. The Lady Bears are a proud product up here, their fan support is great. They played very well and we're glad to get on the bus with a win.
It was a real test for all of us. We got good production from our bench, all those kids that came in gave us good minutes and did some good things us. The game was never decided until the end so there's game pressure on those bench guys.
We continue to play hard, that's what we need to do and we still have a lot of room to get better, that's what encourages me right now. " – head coach Jimmy Dykes
POST GAME NOTES
–    Sophomore Jessica Jackson finished with 13 points, the eighth time this season she's been in double figures. She had 11 points at the break, the sixth time this season she's been in double digits at the half.
–    Sophomore Kelsey Brooks has been in double figure scoring in every game this season as she finished Wednesday's contest with 19 points.
–    The Razorback defense held the MSU offense for a stretch of 7:30 in the first half and 5:48 in the second half, the 14th time the defense has held an opponent scoreless for over four minutes and the 10th time the defense has held an opponent scoreless over five minutes. The 7:30 stretch marked a season-best for the Razorback defense.
–    Arkansas improved to 21-6 all-time against Missouri State, including 10-3 in Springfield.
–    Arkansas improved to 2-0 in true road games this season and 4-0 in games played away from Bud Walton Arena.
–    Arkansas has won 11 consecutive true road games.
–    Arkansas was outrebounded for just the second time all season, trailing 37-34 on the glass.
–    Junior Melissa Wolff recorded a career-high five blocks.
For more information on Arkansas women's basketball, follow @RazorbackWBB on Twitter.