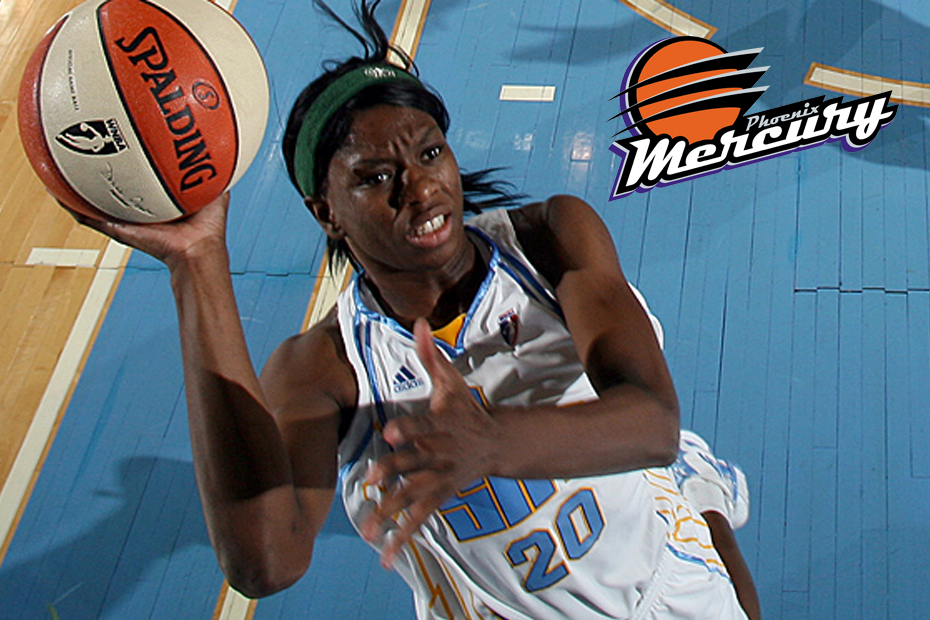 Christon Listed on WNBA Opening Day Roster
FAYETTEVILLE, Ark. – Former University of Arkansas women's basketball standout Shameka Christon is one of 18 Southeastern Conference players listed on a WNBA opening day roster.
Christon, who is in her 11th year with the WNBA, is a member of the Phoenix Mercury for the 2015-16 season.  She has also played for the New York Liberty, Chicago Sky and the San Antonio Stars.  She enters the season averaging 9.9 points per game, 2.8 rebounds per game and 24.2 minutes per contest.
While with the Razorbacks, Christon earned SEC Player of the Year in 2004 after averaging career-highs with 21.8 ppg and 7.0 rpg.  She was also a first-team All-SEC and AP Third-Team All-American as a senior.
Nine WNBA teams have at least one former SEC player on their roster.  The SEC also has five former women's basketball players serving in coaching roles.  Tennessee leads all SEC teams with five former players; LSU has four; Texas A&M has three; Florida has two; and Arkansas, Auburn, Kentucky and Ole Miss each have one.
Below is a list of all former SEC players who were on opening day rosters of the WNBA.
SHAMEKA CHRISTON IN THE WNBA
Entering her 11th WNBA season and first with Phoenix…..also played with San Antonio (2012-2014), Chicago (2010) and New York (2004 – 2009)
Named to the WNBA All-Star team in 2009 in a year that saw her average a career-high 16.1 points and 4.9 rebounds
Finished 10th in the WNBA in scoring in 2009
Averages 9.9 points, 2.8 rebounds and 1.3 assists in her career
Career 34.3-percent (431-of-1255) shooter from the three-point line
Played in all 34 games three times in her career (2005, 2006 and 2012)…..over the last three seasons has played in 98 of a possible 102 games
Scored a career-high 32 points on July 19, 2009 vs. Atlanta
Handed out a career-best eight assists on June 4, 2010 at Atlanta
Led New York in scoring four consecutive seasons (2006 – 2009)
Named Eastern Conference Player of the week on July 7, 2008 after averaging 24 points and three rebounds per game during the week prior
Finished the 2006 season ranked seventh in the WNBA in blocked shots (42) and ninth in three-point field goals (99)
Owns career playoff averages of 10.1 points and 3.7 rebounds in 18 career games, 12 career starts
Missed the entire 2011 season after suffering a right knee injury during training camp
Played in 10 games in 2010 before suffering an eye injury that sidelined her for the remainder of the season
Signed with San Antonio as a free agent on February 8, 2012
Acquired by Chicago in a three-team trade along with Catherine Kraayeveld on March 29, 2010 – New York received Cappie Pondexter and Kelly Mazzante from Phoenix while Phoenix received Candice Dupree and a second-round draft pick from Chicago
Originally selected by New York in the first round (fifth overall) of the 2004 WNBA Draft
2014
Averaged 3.6 points and 1.3 rebounds in 31 games with San Antonio
Scored a season-high 14 points, making four three-point field goals vs. Atlanta on June 26
Played a season-high 24 minutes in the regular season finale at Chicago on August 17
Scored in double-figures three times: June 14 vs. Los Angeles, June 26 vs. Atlanta and July 3 at Minnesota
Played in one playoff game, August 23 vs. Minnesota
COLLEGE CAREER
Named SEC Player of the Year as a senior in 2004 after averaging career-highs of 21.8 points and 7.0 rebounds per game…..also named First Team All-SEC and AP Third-Team All-American
Finished her career ranked second on Arkansas' all-time scoring list (1,951 point)s
Named to the All-SEC Second Team in 2003 as a junior…..also earned SEC All-Tournament Team recognition
Scored her 1,000th career point in 2003, becoming the 22nd player in Arkansas history – male or female – to accomplish the feat
Earned All-SEC Freshman Team honors in 2001 averaging 10.2 points and 4.1 rebounds per game
INTERNATIONAL/NATIONAL TEAM
Won a Gold Medal with Team USA at the 2002 FIBA World Championships for Women in China
Spent the 2010-11 offseason with Russia's Nadezhda Orenburg…..averaged 8.0 points, 3.0 rebounds and 1.4 assists per game through eight Russian League games…..averaged 6.1 points, 1.2 rebounds and 1.0 blocks per game through 11 EuroLeague contests
Spent the 2009-10 offseason with Poland's Lotos Gdynia…..averaged 16.4 points, 3.0 rebounds, 1.0 assists and 1.1 steals per game through seven Polish League games…..averaged 10.6 points, 2.9 rebounds, 1.7 assists and 1.1 blocks per game through seven EuroLeague contests
In the 2008-09 offseason, played for Russia's Nadezhda Orenburg…..named to the Eurobasket.com Russian Superleague All-Imports Team…..garnered Russian Superleague All-Domestic Team honors from Eurobasket.com…..averaged 15.9 points, 4.2 rebounds, 1.7 assists and 1.3 steals per game through 20 Russian League games…..averaged 13.8 points, 3.0 rebounds, 2.3 assists and 1.4 steals through eight EuroLeague contests
Played for Spain's Hondarribia Irun in 2007-08 and Spain's Rivas Futura in 2006-07
Helped guide Raanana Herzeliya to the Israeli Cup semifinals in 2005-06…..averaged 15.8 points, 6.3 rebounds, 1.8 assists and 1.6 steals per game through 12 games
Led Elizur Ramla to the Israeli League Championship title in the 2004-05 offseason…..named Israeli League Championship MVP…..garnered Israeli League Small Forward of the Year honors…..averaged 17.7 points, 8.0 rebounds, 2.2 assists and 2.0 steals per game through 21 games
PERSONAL
Shameka Delynn Christon was born on February 15, 1982 in Springfield, Ill.
Has a son, Logan Percy (4)
Raised by her mother, Beverly Phillips and stepfather Roy Lee Phillips…..has one brother and one sister
Guided Hot Springs (Ark.) High School to back-to-back state championships while earning state championship MVP honors twice…..named Gatorade Player of the Year…..earned Arkansas Player of the Year honors
Graduated from the University of Arkansas in 2004 with her degree in social work
Owns her own company – Shameka Christon Enterprises – which encompasses profit and non-profit ventures including a daycare, mentoring program and personal basketball and fitness training academy
THE SEC ON WNBA OPENING DAY ROSTERS
Atlanta
Aneika Henry, Florida
DeLisha Milton-Jones, Florida
Connecticut
Allison Hightower, LSU
Kelsey Bone, Texas A&M
Shekinna Stricklen, Tennessee
Indiana
Tamika Catchings, Tennessee
Los Angeles
Temeka Johnson, LSU
Minnesota
Seimone Augustus, LSU
Jennifer O'Neill, Kentucky
 Phoenix
DeWanna Bonner, Auburn
SHAMEKA CHRISTON, ARKANSAS
San Antonio
Danielle Adams, Texas A&M
Sydney Colson, Texas A&M
Tulsa
Vicki Baugh, Tennessee
Glory Johnson, Tennessee
Theresa Plaisance, LSU
Washington
Armintie Herrington, Ole Miss
Kara Lawson, Tennessee
For more information on Arkansas women's basketball, follow @RazorbackWBB on Twitter.