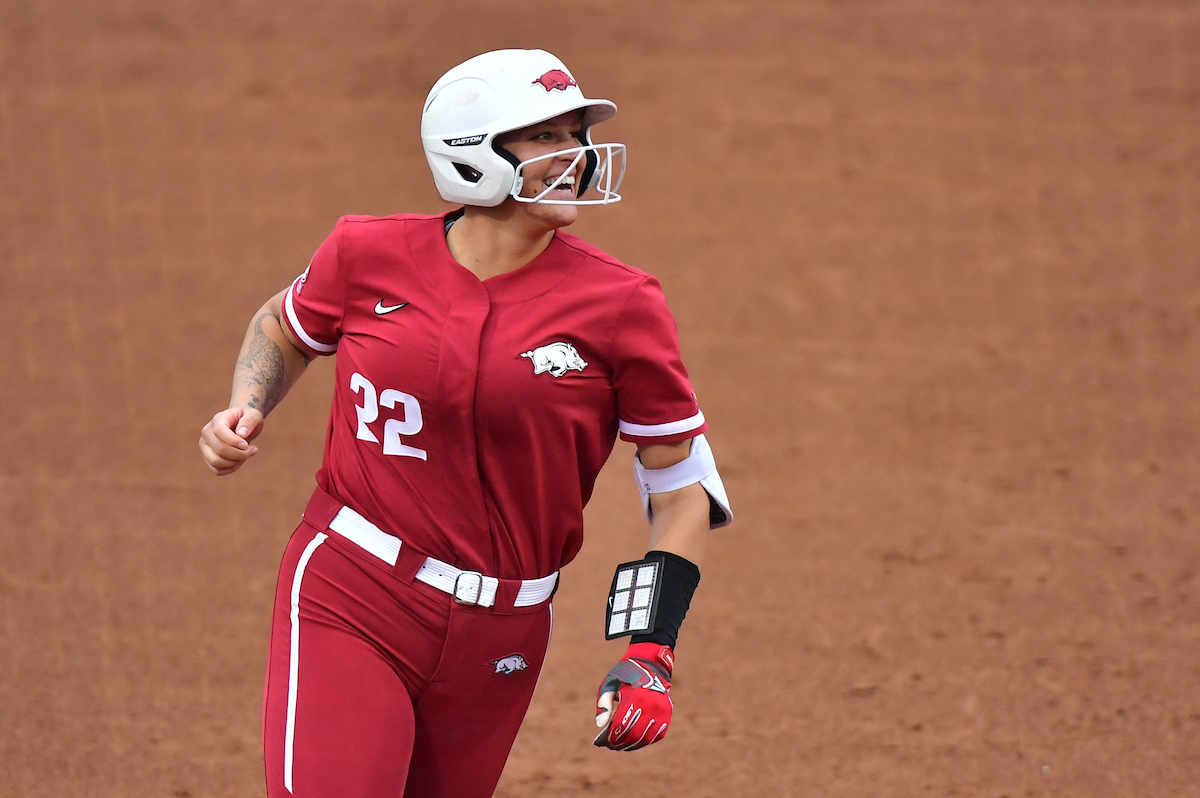 6th Inning Outburst Muscles Arkansas Past Oregon
FAYETTEVILLE, Ark. – Linnie Malkin's heroic three-run home run paved way to a six-run sixth to carry No. 4 Arkansas to a 6-2 win over No. 24 Oregon at Bogle Park Saturday afternoon. The Hogs advance to their second-straight regional championship and will face the winner of No. 24 Oregon and Wichita State at 1 p.m. Sunday.
Despite an over two-and-a-half-hour rain delay that began in the first, Arkansas remained poised and focused against a talented Oregon squad.
"It's really exciting to win this one," said head coach Courtney Deifel. "I'm really proud of how we fought. I thought Chenise (Delce) and our defense were superb, and I'm really just happy with that sixth inning."
The Hogs move their record to 46-9, tying the program's single season wins record. The victory also marks Arkansas' 17th win against a ranked opponent in 2022.
The Razorbacks were quiet offensively until senior Danielle Gibson and sophomore Hannah Gammill opened the bottom of the sixth with back-to-back singles. Malkin then parked a three-run bomb to center to propel the Hogs to a 3-0 edge. Freshman Kacie Hoffmann followed suit with a solo blast to right to broaden the lead to 4-0. Senior Hannah McEwen constructed the frame's final two runs on an RBI double to left center, gravitating a 6-0 lead in favor of the Razorbacks.
The Ducks scrapped together two runs in the seventh on a two-run homer, but Delce retired the next two batters to seal the win.
SEC Pitcher of the Year Chenise Delce (18-2) shined yet again in the circle, hurling her 13th complete game with six scoreless frames before surrendering two runs in the seventh. The Oklahoma City, Okla., product struck out nine, curbed the Ducks to six hits and walked zero. The Razorback defense was as steady as it gets, making every play and helping Delce compile six scoreless innings while committing zero errors.
Gibson strung together another impressive outing at the dish, going 2-for-3 with a double, single and run. Malkin and Hoffmann's home runs move Arkansas' home run count to 105 – the third-most in SEC history. McEwen grabbed two RBIs on her double and Gammill added a hit.
Hog Highlights
Arkansas collected its 17th win against a ranked opponent
The Razorbacks advance to their second-straight regional championship
Linnie Malkin annihilated her 21st home run of the season
Kacie Hoffmann tanked her seventh homer
Chenise Delce cruised to her 18th victory of the year
The Hogs tied the program's single season win record
Arkansas' 105 home runs this season are the third-most in SEC history
Up Next
Arkansas will meet the winner of Oregon vs. Wichita State in the regional championship at 1 p.m. Sunday. Sunday's TV assignment will be delegated Saturday night after the final games are completed.