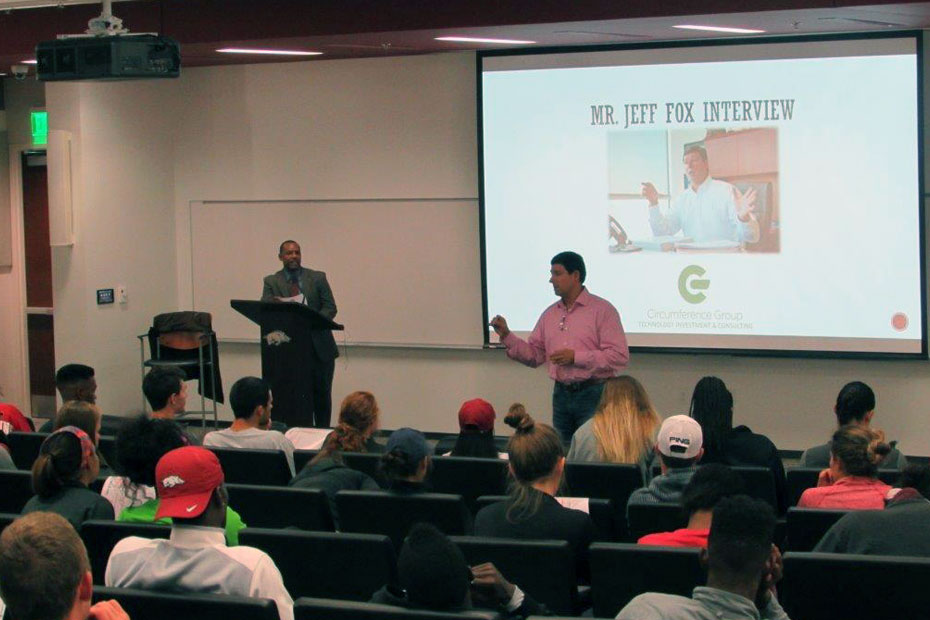 80 Student-Athletes Take Part in Career Workshop
FAYETTEVILLE, Ark. – In an on-going effort to continue education and learning opportunities outside the classroom, the University of Arkansas Office of Student-Athlete Success hosted a career development workshop this week.
The workshop, entitled "Taking Ownership of Career" was part of the Razorback Finishing Touch series designed to prepare juniors and seniors for life beyond college.
Workshop topics include interviewing skills, networking, utilizing the internet for job searches, dining etiquette and dress etiquette. Additionally, student-athletes have access to two career symposiums during the fall and spring semesters. Employers from a range of companies are invited to network with student-athletes. When student-athletes complete three of the Finishing Touch series workshops, they receive gifts. Juniors will receive business cards and a Razorback padfolio and seniors receive a gift card to Dillard's for the purchase of professional attire.
The Taking Ownership of Your Career workshop emphasized the importance of developing an owner mindset. Discussions were facilitated around outlook and worldviews. In particular, how people can subscribe to learned helplessness also known as a victim mindset. A victim mindset is aligned with being a victim to circumstances and environmental factors.
Alternatively, people can develop an owner mindset. Owners take full responsibility for their lives. They take responsibility for their energy levels and decisions. This workshop also helped students identify strategies to developing a career path. They were encouraged to develop a personal branding statement, core values, identify talents and strengths themes. Subsequently, the student-athletes established career goals and created a checklist of practical actions for career development.
Mr. Jeff Fox participated in an informational interview for the audience. Jeff Fox is Chairman of Convergys Corporation, a market leading customer management company with $3 billion in revenue, $350 million in EBITDA and 125,000 global employees. Fox served as President and CEO of Convergys from February 2010 until October 2012. He emphasized the importance of establishing relationships with supportive sponsors and mentors. He shared his personal experiences and decisions that have led to success.
What Razorback Student-Athletes Said:
"As a senior graduating in the spring, it was very interesting and valuable to hear advice from Mr. Jeff Fox on how to be successful in our careers." – Rachel Stoehr (Swim & Dive)
"It was interesting to hear from a successful businessman" – Christian Hemysfield (Men's T&F)
"I learned the importance of having a sponsor in my life" – Eric Janise (Men's T&F)
"Very informative session; I learned a lot about how to network myself out to employers which will go a long way moving forward" – Chris Mooneyham (Men's T&F)