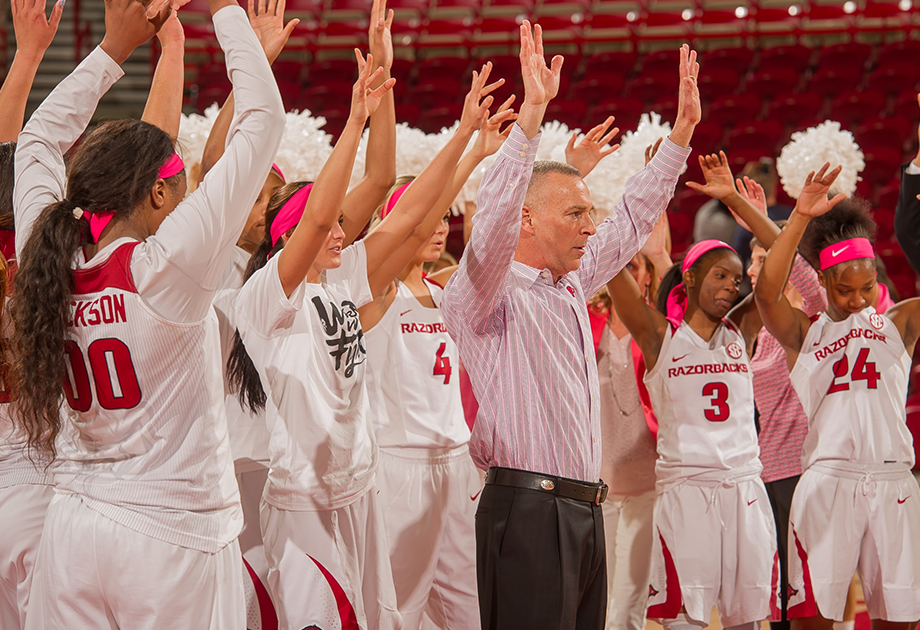 Razorbacks Travel To No. 16 Kentucky Sunday
FAYETTEVILLE, Ark. – The University of Arkansas women's basketball team hits the road for a Southeastern Conference match up at No. 16 Kentucky in Lexington, Kentucky, Sunday.
Arkansas escaped with a big win over Alabama on Thursday thanks to a 12-foot jumper from Jordan Danberry with seven seconds on the clock giving the Razorbacks the 69-67 victory.
The win moved the Razorbacks to 11-15 overall and 6-7 in the SEC in sole possession of the 10th-place spot in the standings. If the season ended today (Feb. 19), Arkansas would be the 10-seed and face the 7-seed. Currently Georgia, Kentucky (18-6, 7-6 SEC), Missouri and Tennessee are all tied for sixth place in the muddled up standings. Arkansas still has to travel to Georgia Thursday before hosting Ole Miss in the regular season final Feb. 28.
Tip-off: Sunday, Feb. 21 at 2 p.m. CT
Location: Lexington, Ky. (Memorial Coliseum)
TV: SEC Network | WatchESPN
Jessica Jackson continues to make her case for a selection to postseason awards. The junior from Jacksonville, Arkansas, leads the Razorbacks and ranks fourth in SEC games averaging 15.8 points per game. Jackson has scored in double figures 21 times this year including eight games with 20 or more points.
Freshman Danberry is coming off back-to-back double digit games and dished out a career-best 10 assists in the win over Bama. She and sophomore Devin Cosper are a big part of the offense for Arkansas.
Senior Melissa Wolff and junior post players Alecia Cooley and Khadijah West are also playing well for the Razorbacks. Wolff is the team's rebounding leader and Cooley had a double-figure performance against the Crimson Tide. West is averaging nearly 10 minutes a game and has been a solid defensive stopper for Arkansas.
Kentucky throws a balanced offensive attack at the Razorbacks with three players averaging double figures. The Wildcats are led by Makayla Epps with 16.5 ppg and they have won three league games in a row. Kentucky is 12-2 at home and their speed could challenge the Razorbacks on defense.
Be sure to join the Razorbacks Feb.28, in Bud Walton Arena for the final regular season game of the year. Arkansas hosts Ole Miss at 3 p.m. Senior Wolff will be recognized in a pre-game ceremony and general admission tickets are just $1.  Click here for more information.
For more information on Arkansas women's basketball, follow @RazorbackWBB on Twitter.