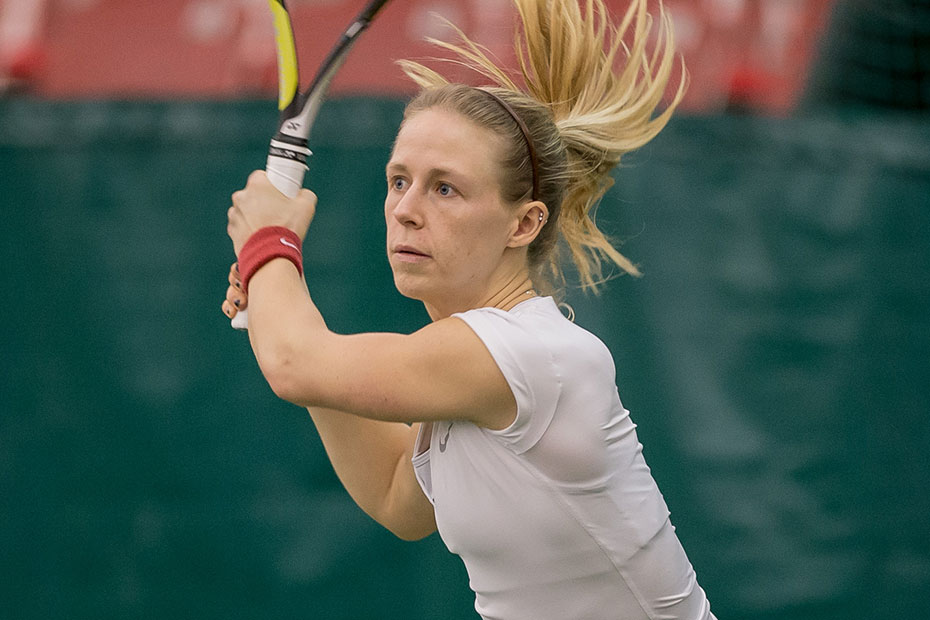 A Thrilling Victory
FAYETTEVILLE, Ark. – Shannon Hudson won a third-set tiebreaker to give the Arkansas women's tennis team a thrilling 4-3 victory over Old Dominion on Friday afternoon at Dills Indoor Courts.
Hudson was held off in the first set 6-7 (2) but responded with a 6-3 win in the second set. Trailing 5-6 in the third set, the junior forced the tiebreaker and won 7-6 (5).
"Any time you win 7-6 in the third set in the last match on the court, plenty of great things happened along the way to that point," Arkansas women's tennis head coach Michael Hegarty said. "Congrats to ODU. They have a quality team and we gained a lot from this experience today. It's a rare and special day when you feel that all nine courts did an amazing job. So that's a confidence builder moving forward."
Old Dominion grabbed the early 1-0 lead by capturing the doubles point. The Lady Monarchs' Nikol Hristova and Nataliya Vlasova defeated freshman Ana Oparenovic and sophomore Mia Jurasic 6-3 on court two to open doubles play. Evening the score, Arkansas' senior duo of Makenzie Craft and Flavia Araujo topped ODU's Adriana Rajkovic and Ivana Vukovic 6-3 at the top spot. The clinch came down to court three, where ODU's Ingrid Vojcinakova and Marijana Novakovic held off Hudson and freshman Agne Cepelyte 7-5.
Craft put Arkansas on the board with a straight-sets 6-1, 6-4 win over ODU's Hristova on court four. Oparenovic picked up a 6-4, 5-7, 6-1 victory over ODU's Vlasova on court two. Senior Yuliya Lysa followed with a 5-7, 6-4, 6-4 triumph against ODU's Borislava Botusharov on court three. The Lady Monarchs evened the match at 3-3 when Natalya Malenko and Vojcinakova defeated Jurasic and Cepelyte 6-3, 5-7, 6-2 and 6-3, 3-6, 7-5, respectively. Hudson then delivered the clutch victory at the top spot.
With the win, the Razorbacks improved to 5-4 on the season.
The Razorbacks next play Wichita State on Monday, Feb. 22 at Dills Indoor Courts. First serve is slated for 1 p.m.
MATCH RESULTS:
Singles competition
1. Shannon Hudson (ARK) def. Adriana Rajkovic (ODU) 6-7 (2-7), 6-3, 7-6 (7-5)
2. Ana Oparenovic (ARK) def. Nataliya Vlasova (ODU) 6-4, 5-7, 6-1
3. Yuliya Lysa (ARK) def. Borislava Botusharov (ODU) 5-7, 6-4, 6-4
4. Makenzie Craft (ARK) def. Nikol Hristova (ODU) 6-1, 6-4
5. Ingrid Vojcinakova (ODU) def. Agne Cepelyte (ARK) 6-3, 3-6, 7-5
6. Natalya Malenko (ODU) def. Mia Jurasic (ARK) 6-3, 5-7, 6-2
Doubles competition
1. Makenzie Craft/Flavia Araujo (ARK) def. Adriana Rajkovic/Ivana Vukovic (ODU) 6-3
2. Nikol Hristova/Nataliya Vlasova (ODU) def. Ana Oparenovic/Mia Jurasic (ARK) 6-3
3. Ingrid Vojcinakova /Marijana Novakovic (ODU) def. Shannon Hudson/Agne Cepelyte (ARK) 7-5
Order of finish: Doubles (2,1,3); Singles (4,2,3,6,5,1)