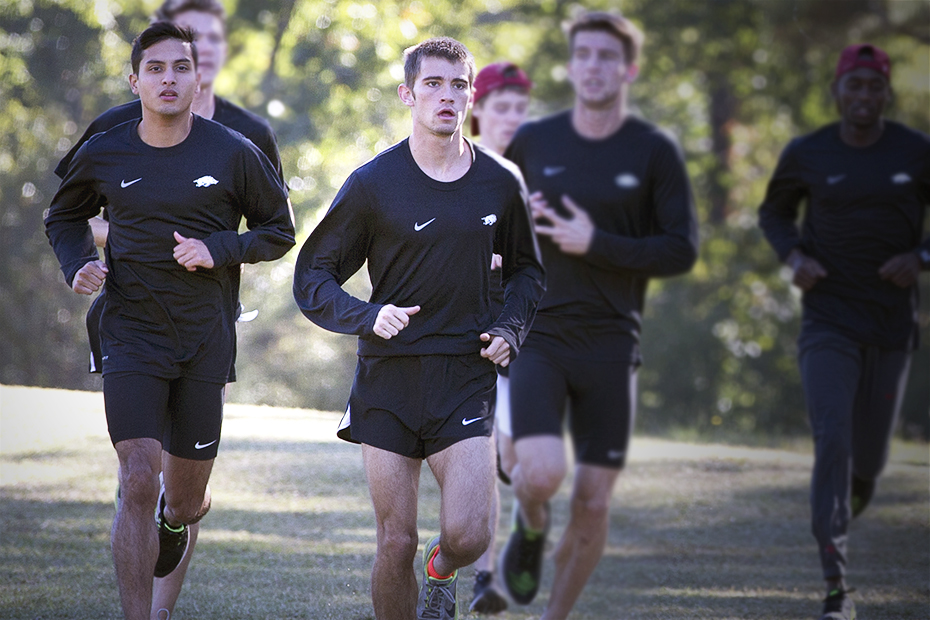 All-Region Returners Set to Lead New Crew of Razorbacks
FAYETTEVILLE, Ark. – Arkansas seniors Gabe Gonzalez and Cale Wallace have been selected as the captains for the men's cross country team this season.
"The team voted for them as their leaders and made an excellent choice for both," said head coach Chris Bucknam. "Gabe and Cale are outstanding competitors who both possess strong leadership qualities that will not only be beneficial to our team this year but also for their aspirations and careers later in life. It is a big honor to be elected as captain of our program as those selected act as a conduit between their fellow athletes and the coaching staff and I know they will shine in the role. I am confident they will prove to be outstanding leaders."
A native of Northwest Arkansas, Gonzalez originally began his cross country career at the University of Kansas where he earned his first All-Region honors as a redshirt freshman competing in the Midwest section.
Upon his transfer to Arkansas Gonzalez made an immediate impact finishing in the top 10 at the 2013 SEC Championships which earned him second team All-SEC honors. Under the guidance of Bucknam, Gonzalez saw his times continue to drop posting a 29:55.00 on the 10K Agri Park course at the 2014 NCAA South Central Region Championships to finish fifth and earn his third All-Region honor.
An All-State runner out of Texas, Wallace joined the Razorbacks in 2012 and scored in four meets as a freshman claiming SEC Freshman of the week (Sept. 25) and second team All-SEC honors in his first collegiate season.
Wallace continued to be an asset over the next two seasons maintaining a spot in Arkansas' scoring five during several meets his sophomore and junior year. He capped this third year as a Razorback having earned second team All-SEC as well as All- Region honors for his efforts in the first two postseason competitions.
As members of past SEC championship winning teams, Gonzalez and Wallace carry over their championship mentality as well as their experience to assist in the development of new Razorbacks. The talented duo look to lead Arkansas to the program's 23rd SEC title on Oct. 30 in College Station, Texas.
For more information on Arkansas track and field including in-meet updates, follow @RazorbackTF on Twitter.