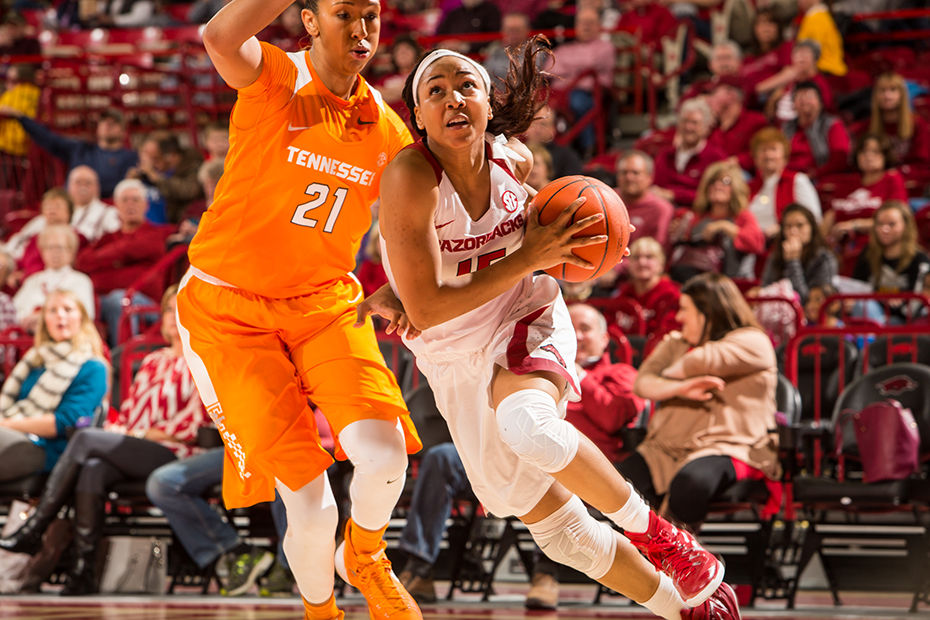 Another Ranked Opponent Awaits Razorbacks
FAYETTEVILLE, Ark. – The University of Arkansas women's basketball team has knocked off two teams ranked No. 13 in the Associated Press poll but doesn't have much time to celebrate the wins as they prepare for No. 24 Missouri in Bud Walton Arena Sunday.
The Sunday game tips at 2 p.m. and tickets are just $1 for all general admission seats. Be sure to tune in to the SEC Network and watch it live if you can be at Bud.
Jessica Jackson continues to be a driving force behind the team effort for the Razorbacks this season. The Jacksonsville, Arkansas, native has scored in double figures in 14 of 16 games and has dropped in 20-plus points seven times this year. Beyond the obvious scoring success for Jackson, the junior has become an on-the-court coach for Arkansas, a critical part of the puzzle with such a young team this year.
Senior Melissa Wolff is a force on the boards this season and is logging major minutes in her final year at Arkansas. Juniors Kelsey Brooks and Khadijah West have also seen an increase in playing time as they take more of a leadership role with each game.
Sophomore Devin Cosper has emerged as a go-to scorer behind Jackson. Cosper and freshman Jordan Danberry have both had multiple-game double figure contests as Arkansas continues to look for balance on the court.
Another positive for the Razorbacks has been its ability to limit untimely errors. Arkansas is taking better care of the ball and continues to be strong on the boards, both of which has factored into the wins.
The Razorbacks face a very tough Missouri team who, after six seasons under head coach Robin Pingeton, have worked their way into the Top-25 at No. 24 with a 15-2 overall record and a 2-2 SEC mark. The Tigers recently knocked off No. 5 Mississippi State heading into the game this weekend.
NOTES
• Arkansas is the fifth youngest team in terms of returning scholarship players under the current head coach
• Junior Jessica Jackson has scored in double figures in 14 of the 16 games she has played in this season
• Jackson has scored 20+ points in seven games this year including 25 pts versus #13/15 Tennessee. It was the 17th 20+ point game of her career
• Jordan Danberry scored 10 points and was in double figures for the fifth time this season against Tennessee
• Arkansas opens the SEC season facing five ranked teams in the Associated Press Poll – the only team in the Big Five Conferences to do so
• Arkansas has outscored six opponents in the first half – all wins by the Razorbacks
• Arkansas trailed Tennessee after the first half and came back to win
• Arkansas has outscored or been even with nine opponents in the second half
• Arkansas has had more three pointers in three games and tied one opponent this year
• Arkansas has been tied with or out-rebounded 11 of 17 opponents
• Arkansas has had fewer turnovers in 11 of 17 games this year
For more information on Arkansas women's basketball, follow @RazorbackWBB on Twitter.