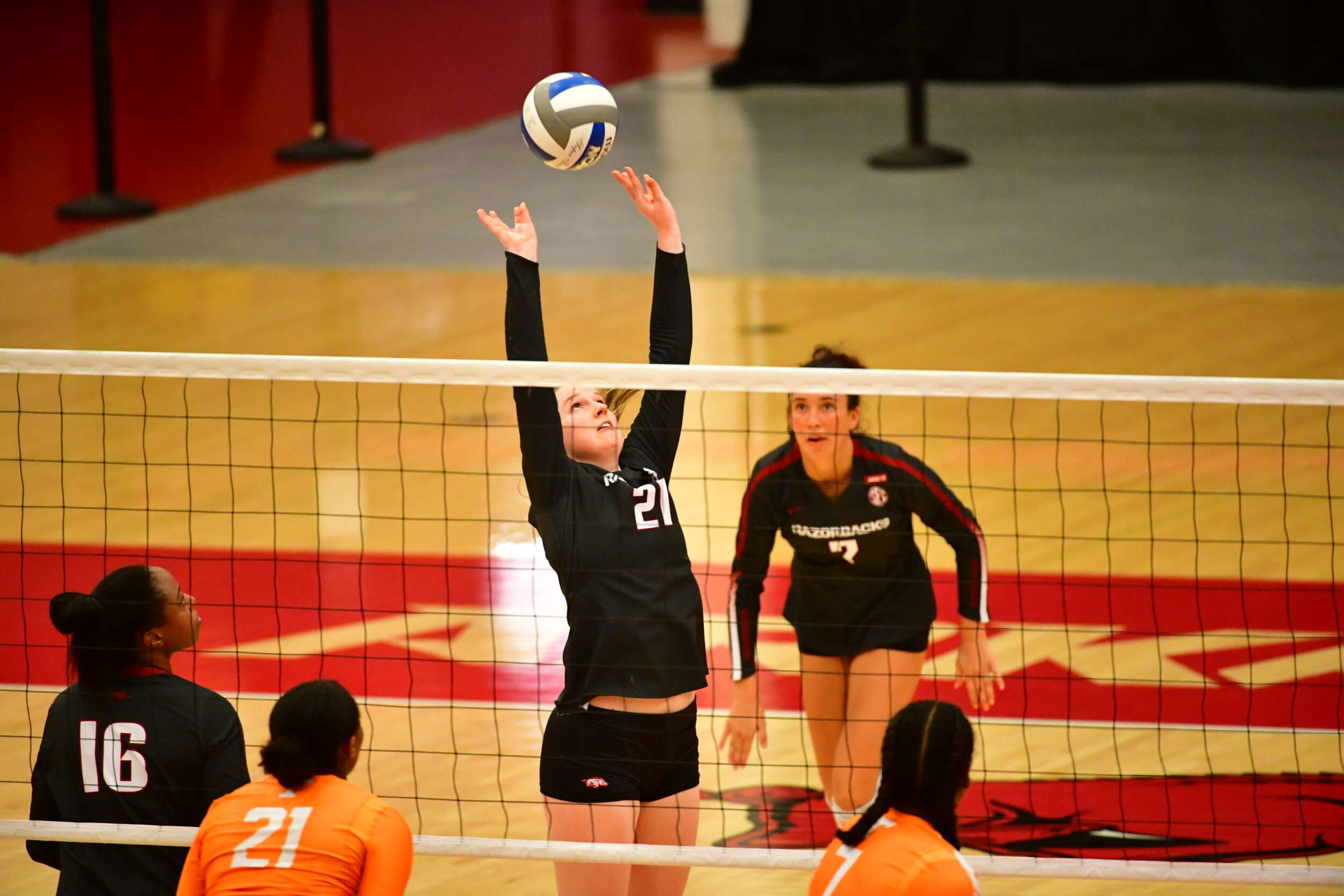 Arkansas Bounces Back with 3-1 Win Over Tennessee
FAYETTEVILLE, Ark. – Junior setter Gracie Ryan hit a career-milestone on Sunday afternoon, notching her 1,500th career assist in the third set as she led Arkansas to a 3-1 win over Tennessee (25-21, 25-22, 17-25, 25-17). The Razorbacks split the weekend series with Tennessee and improves to 12-8 on the season.
"A wonderful accomplishment for Gracie," said head volleyball coach Jason Watson, "Reaching 1,500 assists is a milestone for her and its recognition of the increased ownership she's had to have over the setter position this season. It's been a tough year; the competition level is extremely high and for her to maintain her composure while providing direction and leadership to her teammates over the season is remarkable."
Ryan recorded a total of 55 assists in four sets, tied for the fifth-best performance by an SEC setter this season. She now claims two of those top five performances after recording 59 assists in five sets in Starkville last fall.
"It speaks to her character and it speaks to her commitment to this program," Watson continued. "What I hope people are starting to appreciate about Gracie is just how much she grinds. She just works, and works, and works. We're very fortunate to have someone like her at the University of Arkansas, representing the Razorbacks like she does."
Ryan led a trio of Hogs to double-digit kills in the victory over the Volunteers. Freshman Jillian Gillen posted 20 kills with an impressive, match-high .410 hitting percentage. Gillen's 20 kills led all players in the match and is her fourth performance of 20 kills or more this season.
Joining Gillen with double-digit kills was sophomore Maggie Cartwright, who tallied 12 kills and eight digs for the Razorbacks. Cartwright's 12 kills are the second-most by the Wisconsin-native this year. Senior Devyn Wheeler also tallied 12 kills against Tennessee. She committed only four errors in 18 attempts, bouncing back from night one and improving her hitting percentage a whopping 711 points after hitting negative at the net in night one.
Gillen and Ryan played a crucial part of the Razorback defense as well, registering 15 and nine digs, respectively. Gillen was second only to Tennessee's libero, Madison Bryant, in total digs on the day.
"This was a really tough series for us," said Watson. "I'm really proud of our team and their commitment to growth and ability to find solutions when things aren't necessarily going our way. To come out of this series with the split after last night's loss shows that these Hogs still have some life in them and we're still giving ourselves the opportunities to be successful."
Arkansas will close out the regular season, when it hosts South Carolina for the Razorbacks' final home series of the spring next weekend. Game one of the two-match series is slated for Friday, March 19 at 5 p.m. at Barnhill Arena.
Visit ArkansasRazorbacks.com for the latest information on all things Arkansas Volleyball. You can also find the Hogs on social media by liking us on Facebook (Arkansas Razorback Volleyball) and following us on Twitter and Instagram (@RazorbackVB).