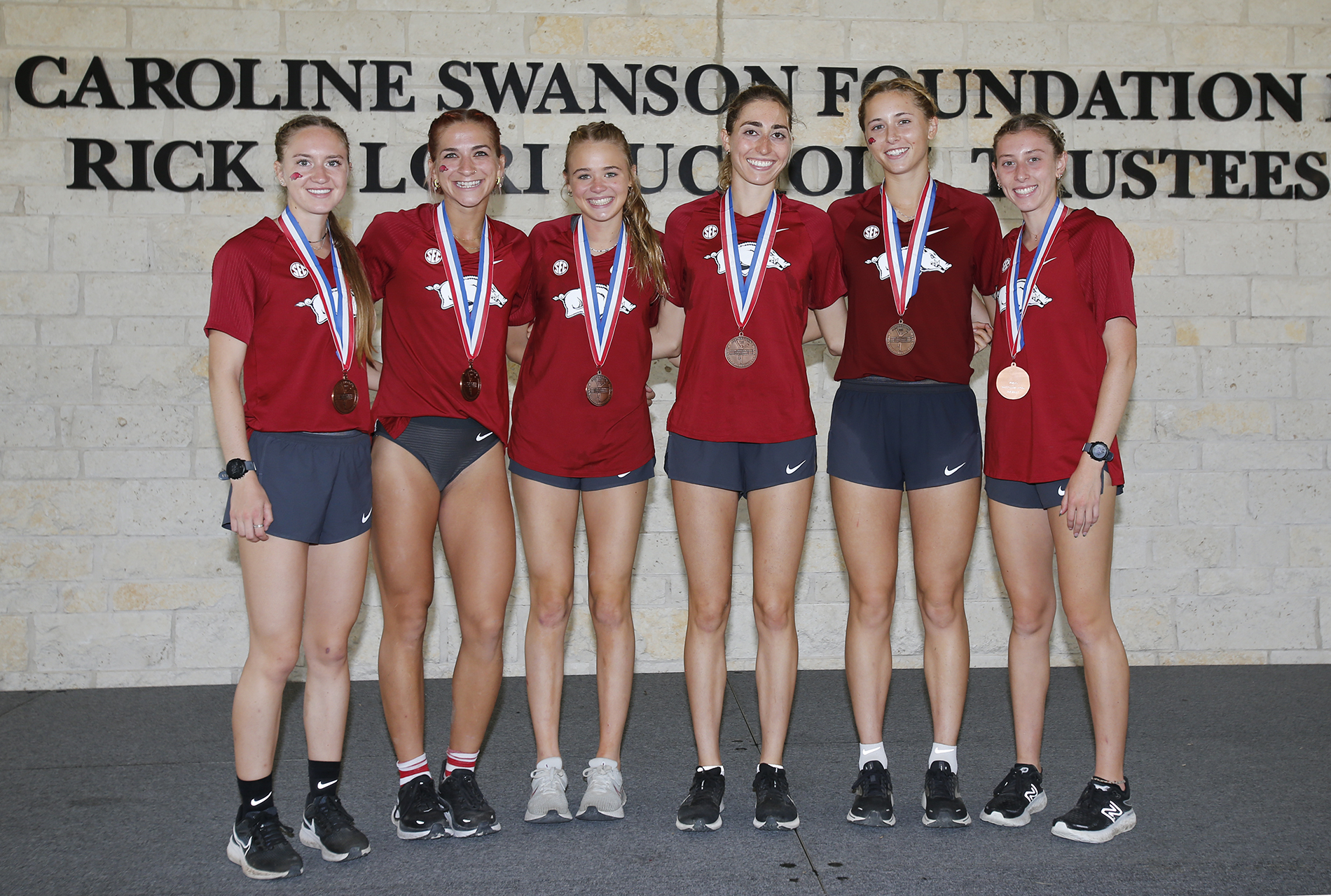 Arkansas claims 11th consecutive region title, Van Camp secures individual win
COLLEGE STATION, Texas – Razorback junior Isabel Van Camp won the individual title in the NCAA South Central Region on Friday, covering the 6,000m distance on the Dale Watts Course in 20 minutes, 1.9 seconds, as Arkansas claimed the team title for the 11th consecutive year.
"This feels very special, especially winning a post-season race," noted Van Camp. "I think more importantly than that, it was a team win and one of our better team runs of the season.
"Now we're heading to nationals, which is the ultimate goal. We definitely have our work cut out for us in Stillwater."
All six members of the Razorback squad that raced finished among the top 25 to earn All-Region honors. Arkansas' team finish included places 1-4-11-12-21 for a score of 49 points.
"It was a great performance in the respect that we held out one of our key athletes to save for the national meet," said Arkansas women's head coach Lance Harter. "We had that luxury with the depth that we have. We could come into this meet, fight for one of the top two spots and qualify for the national championships.
"Today it was a pretty dominate win for us. I think some of our athletes are probably saying they could even run better. That's great news and eight days from now we look forward to the national championship race."
Van Camp claimed the 14th individual title by a Razorback in the NCAA South Central Region and the first since Taylor Werner in 2019. Twelve Arkansas runners combined to reach that number with Megan Flowers and Dominique Scott each winning a pair of titles.
Arkansas Individual Winners | Arkansas (14)
2022 – Isabel Van Camp, 2019 – Taylor Werner, 2018 – Katrina Robinson, 2017 – Nikki Hiltz, 2016 – Devin Clark, 2015 – Dominique Scott, 2014 – Dominique Scott, 2001 – Andreina Byrd, 2000 – Lilli Kleinmann, 1998 – Amy Yoder Begley, 1995 – Megan Flowers, 1994 – Megan Flowers, 1993 – Deena Drossin, 1989 – Jackie Mota.
"Isabel is one of the most improved athletes in the NCAA and she proved that consistency today with a very comfortable win and a big confidence boost for next week," noted Harter.
Finishing 16 seconds behind Van Camp was TCU's Gracie Morris (20:17.1) with Lousiana's Sophie Daigle (20:22.2) third.
"It was really fun to be running as a pack with my teammates," said Van Camp. "It was kind of let's work into it and see if we get faster as the race goes. That tends to be the case in big meets."
Arkansas freshman Mia Cochran placed fourth in the race with a time of 20:27.4 to finish ahead of Irene Rono of Abilene Christian (20:30.0).
"It was smooth and in control," said Cochran. "I think we tried to pack up in the first mile and stayed together. In the last 2k we started to pick it up, just bring it in, and finish good. Getting in these type of races, and having these experiences have made it so much easier to race strong. Training is really coming together and I'm feeling really fit right now.
"I'm super excited to race at nationals next, it's something I was looking forward to in college. Being on this team and being able to go to nationals with them. I'm super excited for next week."
Junior Gracie Hyde and freshman Sydney Thorvaldson finished 11th and 12th with times of 20:50.3 and 20:50.8, respectively. Another Razorback freshman, Mary Ellen Eudaly, was the fifth Razorback finisher, placing 21st in 21:06.8. Sophomore Taylor Ewert finished 24th in 21:13.2. Katie McCune did not race.
The top 25 finishers earn All-Region recognition and all six Arkansas runners in the race collected an All-Region medal.
Texas finished second in team scoring, with 102 points, to secure the other automatic team selection for the NCAA Championship field. The rest of the top 10 teams included LSU (154), Texas A&M (156), SMU (169), New Orleans (170), Arkansas State (234), Baylor (248), Rice (259), and Tulane (283).
This marks the 12th consecutive appearance for Arkansas in the NCAA Championship field, and the 25th time to advance to the national championship meet for the Razorbacks since an initial appearance in 1982.
Arkansas is now one year shy of matching its longest streak of consecutive appearances of 13 from 1990-2002.