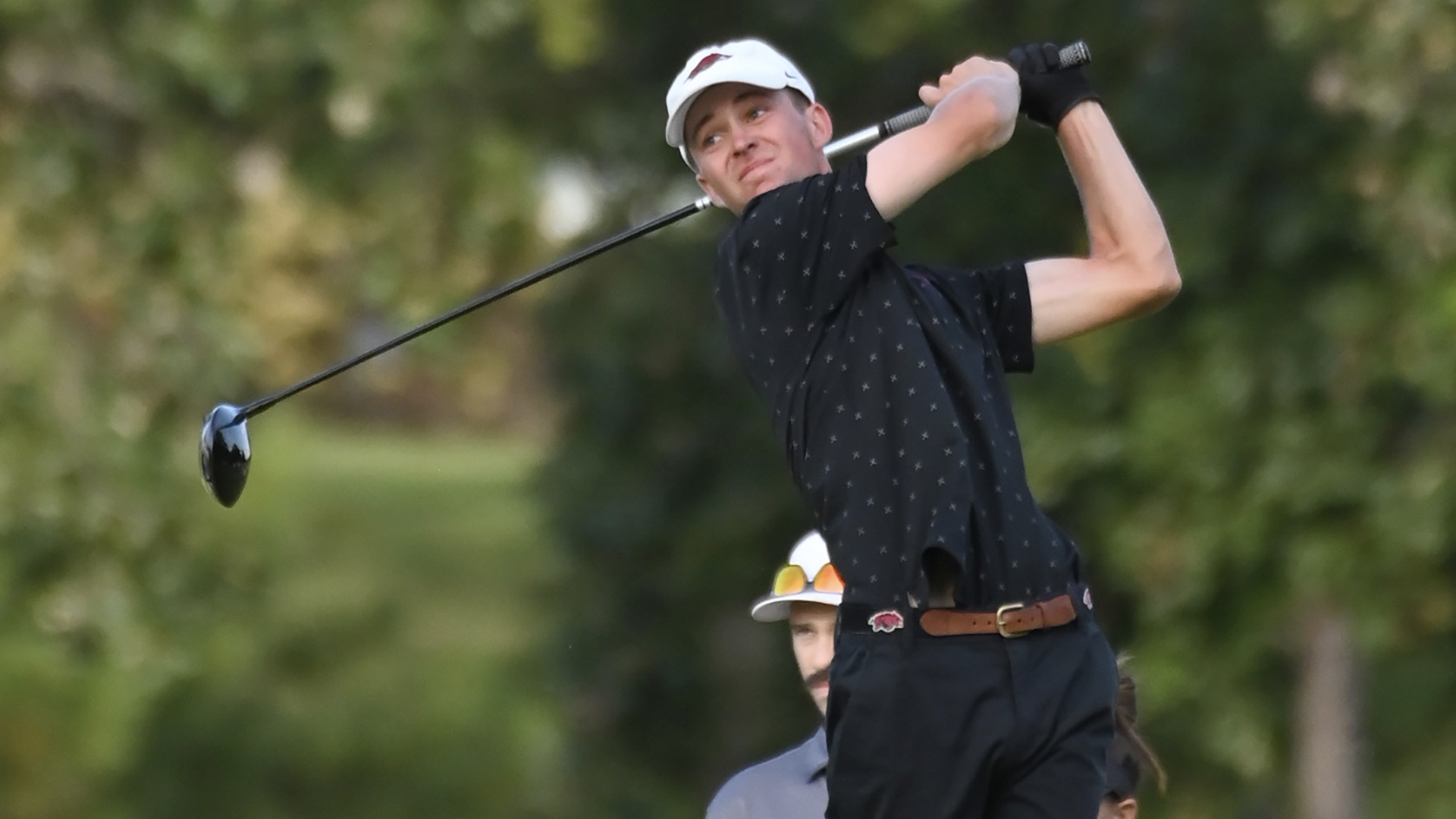 Arkansas Climbs to 5th at CABO Collegiate
LOS CABOS, Mexico – Segundo Oliva Pinto shaved 10 strokes off his opening round, firing a 2-under-par 69, while Julian Perico posted a 1-under 70 to help #48 Arkansas jump two spots to fifth after round two at the 13th annual CABO Collegiate, played at Twin Dolphin Club (par 71, 7,156 yards).
As a team, Arkansas improved by six shots over its opening round and sits in fifth in the 15-team field that features 13 of the nation's top 50 teams. The Razorbacks have a 36-hole score of 578 (292-286). Top-ranked Vanderbilt was -11 on Monday and sits at 553 to own a 13-stroke lead of #44 Ole Miss (566). Rounding out the top five are #2 Texas Tech (568), #3 Arizona State (568) and Arkansas. The Razorbacks lead sixth-place and #9 Florida State by one stroke and by two strokes over #19 Arizona and #4 Stanford (580).
Perico was steady in round two with two birdies, a bogey and 16 pars. He has pars on his first 11 holes, bogeyed his 12 then has birdies on two of his next three holes to finish with a 1-under 70. He improved three spots into a tie for eighth and is five strokes from the lead (71-70=141).
Oliva Pinto rocketed up the leaderboard with his 2-under 69. The fifth-year senior moved from 67th to 44th and is +6 after 36 holes (79-69=148 / +8). He birdies his first hole and was 3-under through 11. He dropped a shot on his 12th hole, the par-5, 1st. After a par, he went birdie, double bogey, birdie and finished with two pars to card his 69.
Wil Gibson and Christian Castillo (playing as an individual) also made a big move in round two. Both shot and even-par 71, both are at 148 for two rounds and both are tied for 31, moving up nine spots from day one.
Gibson was +3 after six holes but had an eagle on his seventh hole. He then got to even par on the day with his birdie on 18. The dropped a shot on the par-5, 1st but answered with a birdie and closed his round with four pars.
Castillo has about as good of a start as you can in golf, going birdie-eagle-birdie on his first three holes (holes 16-18) to stand at -4. He opened with a birdie on the par-5, 16th, holed out for eagle on the par-4, 17th and birdies the par-4, 18th. He would settle for a round of even par with a double on hole7 and bogeys on holes 10 and 11.
Round one leader Mateo Fernandez de Oliveira slipped into a tie for 18th (67-77=144 / +2). Manuel Lozada is tied for 74th (83-76=159). Joining Castillo as Razorbacks playing at individuals are Denver Davis, who is tied for 54th (77-73=150 / +8) and Matthew Griggs, who is tied for 69th. (76-82=158).
The CABO Collegiate will conclude with 18 holes on Tuesday.
CABO Collegiate
Presented by CFO4Life
Mar. 5-7
Host School: Arkansas
Twin Dolphin Club || Los Cabos, Mexico
7,156 yards || Par 71

1 #1 Vanderbilt 280-273=553 (-11)
2 #44 Ole Miss 294-282=566 (-2)
3 #2 Texas Tech 288-279=567 (-1)
4 #3 Arizona State 288-280=568 (E)
5 #48 Arkansas 292-286=578 (+10)
6 #9 Florida State 294-285-579 (+11)
T7 #19 Arizona 291-289=580 (+12)
T7 #4 Stanford 300-280=580 (+12)
T9 #23 Baylor 288-296=584 (+16)
T9 #50 Houston 296-288=584 (+16)
11 #18 Oklahoma State 298-288=586 (+18)
T12 #17 Alabama 298-298=596 (+28)
T12 #14 Tennessee 304-292-596 (+28)
14 Abilene Christian 311-312=623 (+55)
15 Rice 307-317=624 (+56)
For more information on Arkansas Men's Golf, follow @RazorbackMGolf on Twitter.