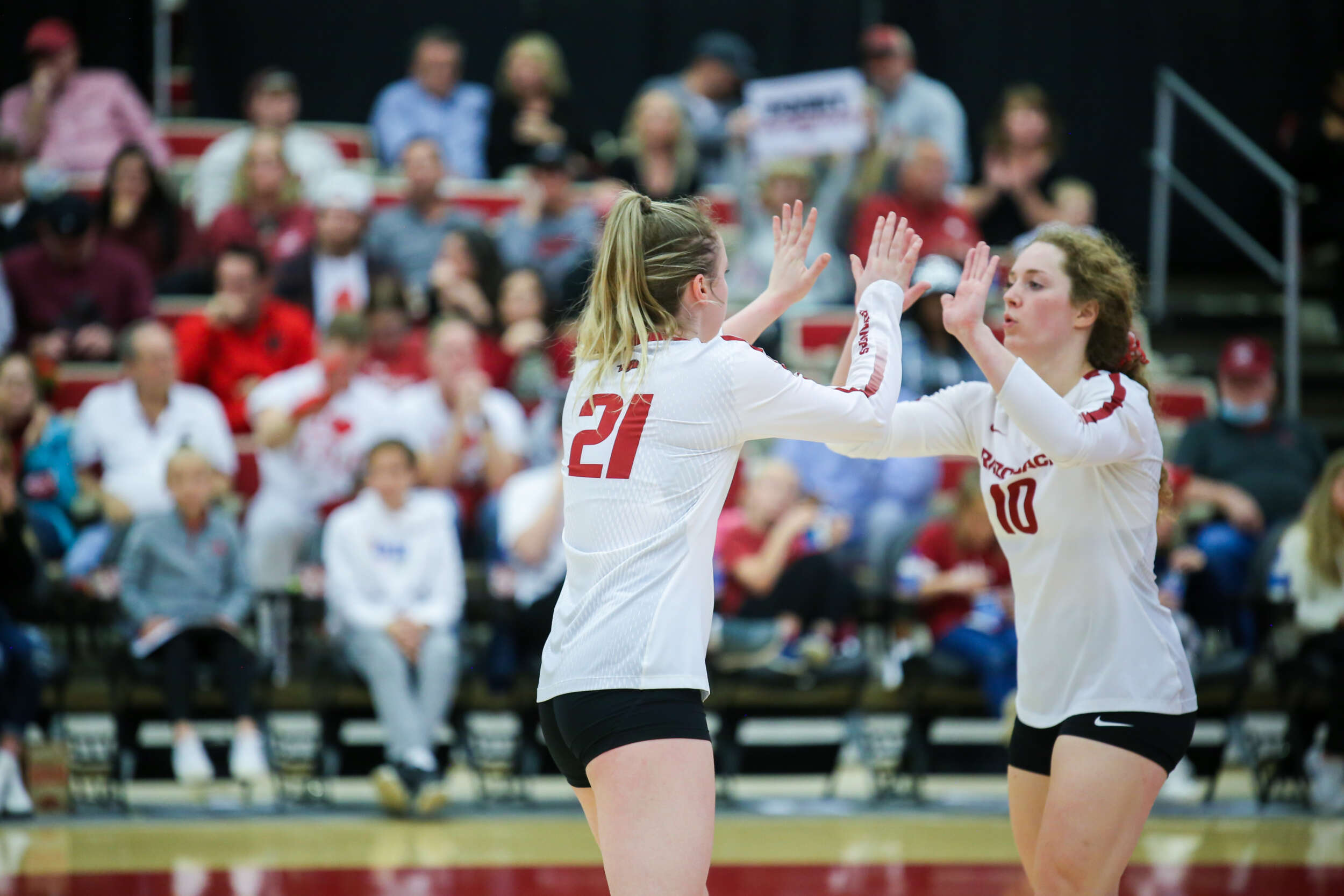 Arkansas Closes Regular Season at South Carolina Friday
The Volley Hogs hit the road for their last match of the regular season as Arkansas takes on South Carolina in Columbia on Friday at 6 p.m.
Both teams are looking to come back after being swept against top-25 teams. The Gamecocks were defeated in a pair of 0-3 matches at No. Florida while the Razorbacks fell in four twice to No. 24 Mississippi State at home.
South Carolina is currently 14-13 overall and 6-11 in the SEC, and Arkansas is 18-10, 9-8 in conference play. The Hogs lead the all-time series against the Gamecocks 29-14 and are 11-8 in Columbia. 
Arkansas has the statistical edge over South Carolina in opponent hitting percentage (.192), assists per set (12.59), kills per set (13.59), aces per set (1.58) and digs per set (15.24), which are all categories in which the Razorbacks are SEC top five.
The Gamecocks rank above the Hogs in hitting percentage with .247 to Arkansas' .221 and blocks per set with 2.23 to the Razorbacks' 1.96.
The match is set for 6 p.m. and will be streamed live on SEC Network+. South Carolina will provide live stats. 
Last Time Out
Arkansas hosted its last home series of the season last week against Mississippi State and came away with two four-set losses to the Bulldogs. The Hogs finished their home slate with a 7-5 record and all but one loss at Barnhill Arena came against ranked teams. The Razorbacks honored their four seniors after Sunday's series finale: Lauren Evans, Ellease Crumpton, Abbigail McGee and Gracie Ryan. 
Evans and Ryan both registered historic milestones on the weekend with Evans serving up her 100th and 101st aces on Sunday, and Ryan moved up to sixth all-time in program history for career assists with 2,799.
Up Next
The NCAA Volleyball Selection Show will unveil the NCAA Championship bracket and the postseason fates for 64 teams on Sunday, Nov. 28. The Selection Show will be broadcast live on ESPNU and 7:30 p.m. CT.
Visit ArkansasRazorbacks.com for the latest information on all things Arkansas Volleyball. You can also find the Hogs on social media by liking us on Facebook (Arkansas Razorback Volleyball) and following us on Twitter and Instagram (@RazorbackVB).