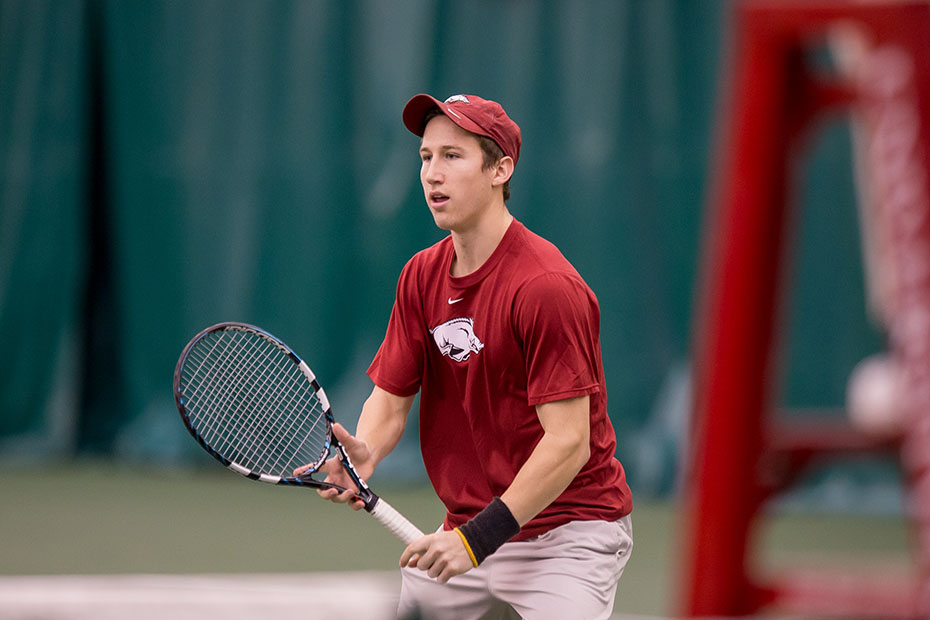 Arkansas Completes Day Two of FGCU Invite
FORT MYERS, Fla.- Day two of the Florida Gulf Coast University Fall Invitational wrapped up Saturday morning. Santiago Munoz and Austin Robles came away with wins in the singles division.
Munoz defeated Nile Clark of Miami, 6-3, 6-3 and is set to play Nico DeFraia of UCF on Sunday morning. Robles defeated Niclas Genovese of Miami in three sets, 3-6, 7-6, 6-4. Johan den Toom fell to Miami's Kevin Bondar, 7-6 (7-5), 6-2. Den Toom is set to play Sunday against UCF's Jack Thiessen. Jacob Herndon came out victorious in two sets against Chris Perrigan of FGCU, 6-2, 6-2.
In the doubles division, came up short in both doubles matches. Robles and Herndon fell to Nile Clark and Kevin Bondar of Miami, 8-4. Munoz and doubles partner den Toom fell to Oliver Landert and Lucas Vaz of FGCU, 8-6.
Play wraps up Sunday at 10 a.m. when Arkansas faces the University of Central Florida. A complete schedule is listed below.
Sunday, 10 a.m.
Court 4. Munoz/den toom (Arkansas) v DeFraia/Thiessen (UCF)
Court 5. Robles/Herndon (Arkansas) v Pate/Watane (UCF)
Followed by:
Court 7. Santiago Munoz (Arkansas) v Nico DeFraia (UCF)
Court 8. Johan den toom (Arkansas) v Jack Thiessen (UCF)
Court 10. Austin Robles (Arkansas) v Tyler Pate (UCF)
Court 11. Jacob Herndon (Arkansas) v Arjun Watane (UCF)
For more information on Arkansas men's tennis, follow @RazorbackMTEN on Twitter.