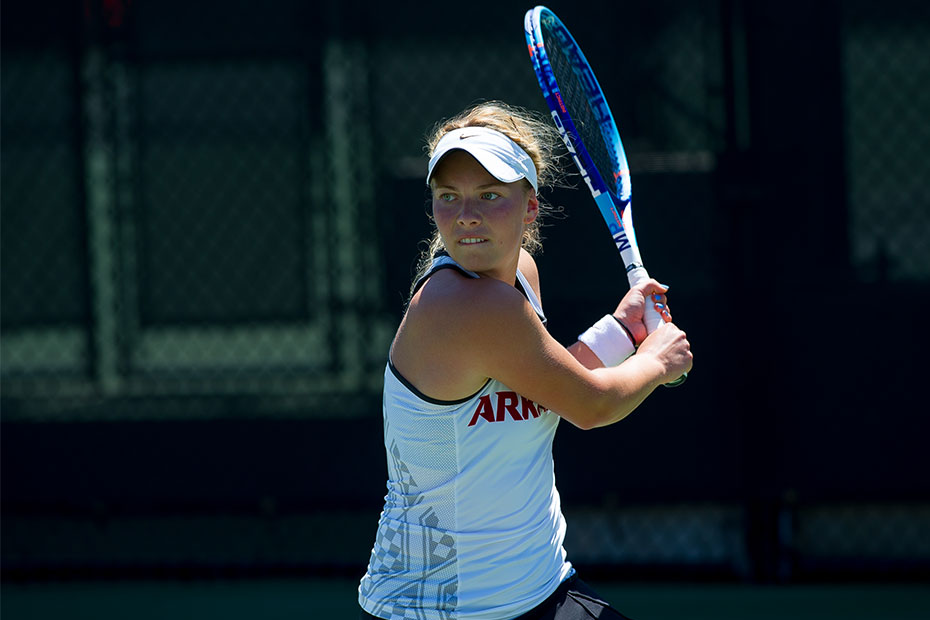 Arkansas Concludes Impressive Tournament Run
Box Score (PDF) | Tournament Bracket (PDF)
KNOXVILLE, Tenn. — After winning three SEC Tournament matches for the first time in program history, Arkansas' impressive run in the 2018 conference tournament ended Saturday.
In the semifinal match against No. 9 ranked and No. 2 seed Florida, the No. 11 seed Razorbacks tested and took the Gators down to the wire but fell short 4-2 at the Dr. Robert L. Barksdale Tennis Stadium.
"For our fourth intense match in four days at this elite level it was incredible to see our team compete better than we have all season long," Razorbacks head coach Michael Hegarty said. "This was a championship level match and we give great credit to Florida, who we have tremendous respect for."
Arkansas' tournament run this week started with a 4-1 win over No. 14 seed Missouri. A 4-2 victory over No. 17 ranked and No. 6 seed Auburn was followed by a 4-2 win against No. 6 ranked and No. 3 seed South Carolina.
The Gators (18-7, 11-2 SEC) got on the board first Saturday, winning the doubles point by earning victories at the No. 2 and No. 3 positions. The Razorbacks' No. 40 ranked pair of Tatum Rice and Ana Oparenovic earned their highest-ranked win of the season at the top spot, a 6-4 decision over the Gators' No. 13 ranked tandem of Anna Danilina and Victoria Emma.
Arkansas (10-16, 3-10 SEC) quickly leveled the match at 1-1 thanks to a 6-2, 6-3 win at No. 4 singles by Natsuho Arakawa over Victoria Emma.
Florida's Peggy Porter outlasted Rice at No. 5, 4-6, 6-3, 6-1, before Mia Jurasic delivered a three-set win of her own at No. 3, 6-2, 0-6, 6-4, against No. 90 McCartney Kessler.
The Gators closed out the match and secured the victory with a pair of triumphs, including the clincher at the No. 2 position. Katie Kubicz beat Jackie Carr 6-4, 4-6, 6-4 at No. 6, and No. 47 Josie Kuhlman edged out No. 89 Oparenovic 7-5, 7-6 (7-2) at the second spot.
At the clinch, No. 50 Giulia Pairone led 1-0 in the third set against Florida's No. 14 Danilina after winning a second-set tiebreaker.