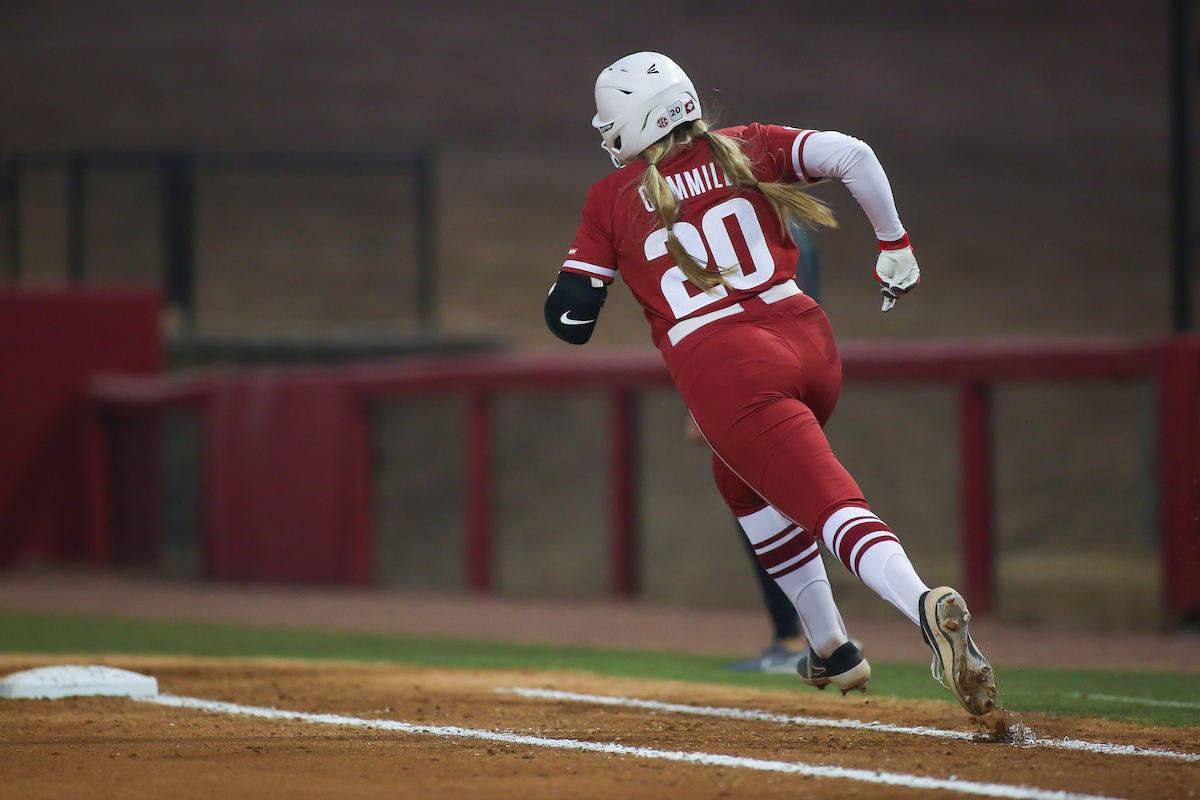 Arkansas Cruises Past Kennesaw State, UMKC
FAYETTEVILLE, Ark. – Sophomore Hannah Gammill stepped up to the plate against Kennesaw State in the bottom of the seventh with one out and a runner on second.
The rest is history.
Gammill's walk-off home run lifted No. 11 Arkansas to a 6-4 victory over Kennesaw State in game one Friday at Bogle Park. The Razorbacks assembled a dominant performance against UMKC in the nightcap to cruise to a 12-1, five-inning win to secure their third win at the Easton Razorback Rumble.
Redshirt-sophomore Jenna Bloom earned two same-day wins on the mound. The right-hander tossed three innings against Kennesaw State, surrendering three hits and two runs while striking out two. In game two, Bloom threw four innings and gave up zero runs on two hits while compiling five strikeouts. Senior Mary Haff got the game one start and became the fourth player in program history to amass 700 career strikeouts. In four innings of work, the Winter Haven, Fla., native succumbed two runs and collected five strikeouts.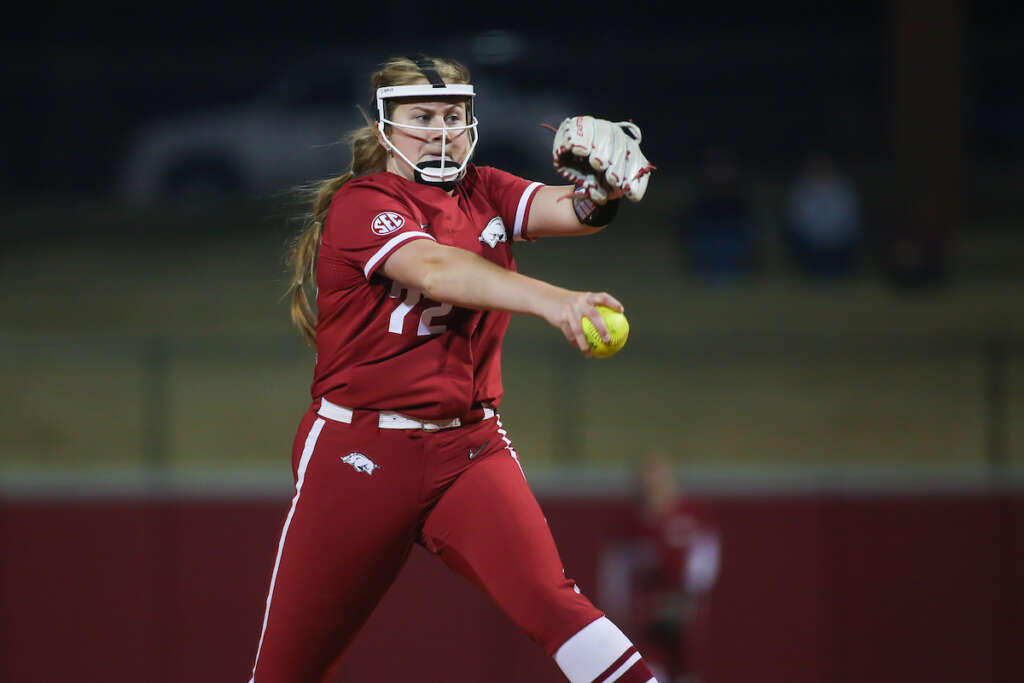 Gammill energized the Arkansas offense against Kennesaw State, going 1-for-3 with two RBI, two runs scored and a home run. Taylor Ellsworth archived a noteworthy performance at the dish after going 1-for-3 with two RBI and a critical game-tying home run in the seventh. KB Sides, Hannah McEwen, Danielle Gibson, Rylin Hedgecock, Cally Kildow and Ally Sockey registered a hit each.
Sides composed her best offensive performance in a Razorback uniform after scattering three hits: a single, double and triple. Sides chalked up three RBI, two runs and a walk at the leadoff spot. Ellsworth posted yet another standout performance, going 2-for-3 with four RBI and a run. Gammill logged a two hit and two run performance at the five-spot.
How It Happened
Kennesaw State
The Owls took a 1-0 lead after one and held onto it until the bottom of the fourth.
Arkansas saw production on Kildow's RBI single to left that sent Gammill home to tie it at one.
Kacie Hoffman's chopper to the pitcher drew a Kennesaw State throw to home, but Sam Torres' perfectly executed slide to the outside avoided the tag to put the Hogs in front.
Kennesaw State regained a 4-2 lead in the top of the fifth.
Taylor Ellsworth's two-run home run in the bottom of the seventh made the game even at four. Next, Gammill's two-run bomb resulted in the Razorback win.
UMKC
The Razorbacks wasted no time against the Kangaroos. McEwen drove in the game's first run on an RBI single through the right side, advancing Sides home. Ellsworth shattered her second home run of the day on a two-run blast to center to expand the lead to 3-0.
Sides grabbed her second RBI of the game in the second on a single up the middle, pushing Kildows across home from second.
Hedgecock began the third with an RBI single to center to cushion the Razorback edge to 5-0. Then, Sides drew a bases-loaded walk to score Friedman. Next, McEwen plated Torres on a ground out to short to push the lead to 7-0. Ellsworth's two RBI single through the left side ended the third with a 9-0 advantage.
The Hogs got their final three runs of the night on a Malkin double and singles by LaValley and Sides.
Hog Highlights
Senior Mary Haff registered her 700th career strikeout
The Razorbacks tied their season high in hits with 14 against UMKC
11 different Hogs tallied hits Friday
Hannah Gammill became the first Razorback to hit a walk-off home run since Braxton Burnside did against Central Arkansas on April 21, 2021
Arkansas notched its second run-rule win in the last week after defeating UMKC
Taylor Ellsworth homered in back-to-back games against Kennesaw State and UMKC
Up Next
Arkansas has another doubleheader on tap Saturday. The Hogs face Missouri State and Kennesaw State at 3 and 5:30 p.m. Both games will be available on SEC Network+.