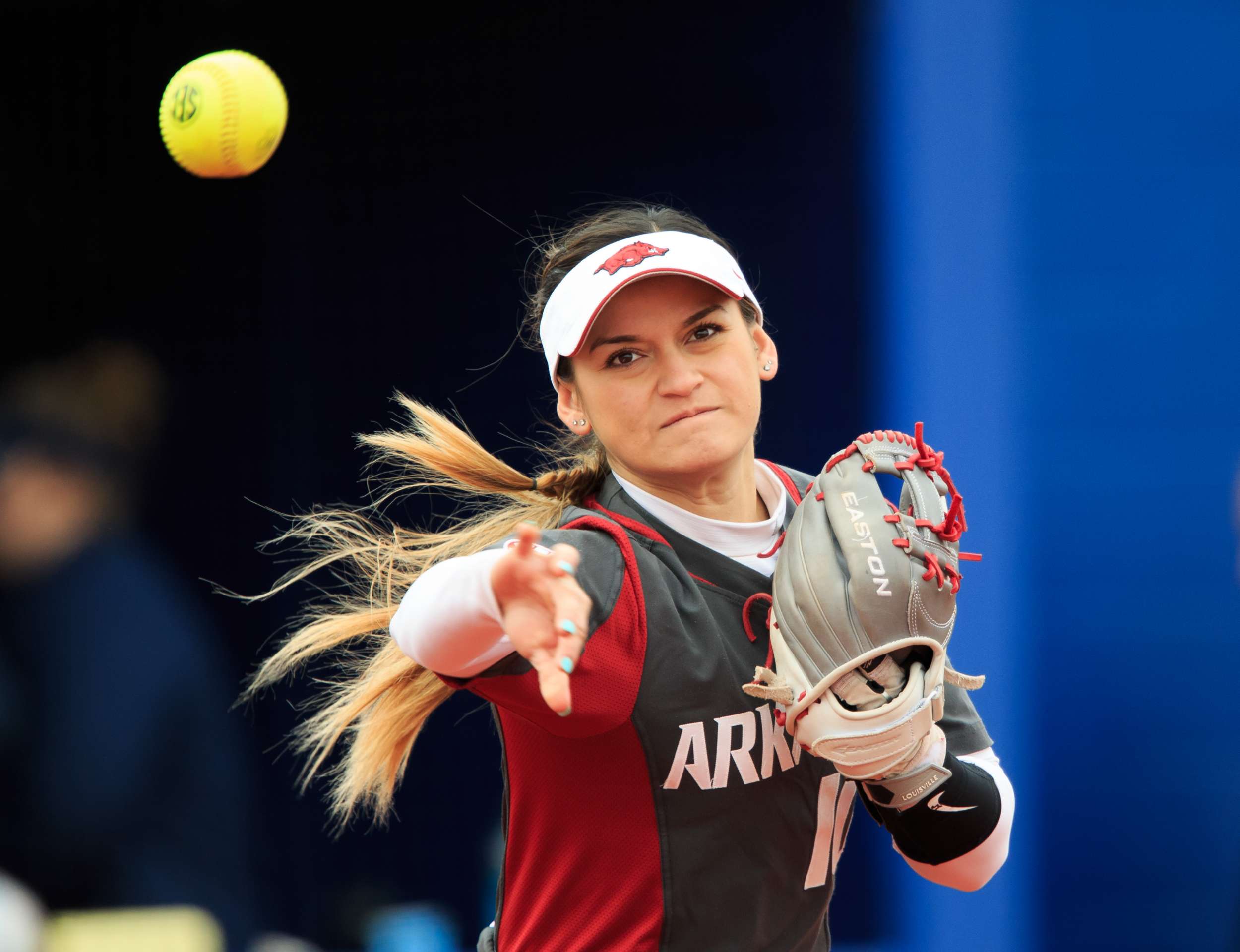 Arkansas Defeats Campbell in Six, 8-0
LAKE CHARLES, La. –  The University of Arkansas softball team closed out a successful weekend in the Pelican State with a six-inning 8-0 win over Campbell on Sunday (Feb. 10). Sophomore Mary Haff pitched her third complete game of the season and recorded 13 strikeouts in the win, tying her career record. Through 20 innings in the circle, Haff has allowed only four hits and not a single run.
Up Next
Arkansas will be back on the road next week, as the Hogs go south to Mexico for the Puerto Vallarta  College Challenge, where set to face North Dakota State, No.3 Washington, Northern Colorado, and Sacramento State over the three day weekend (Feb.14-16). The tournament is powered by Triple Crown Sports and hosted by Flo Softball.
How It Happened
Both the Hogs and the Camels would enter the second inning scoreless, but it didn't take long for Arkansas to put runners on base, as Kayla Green took a full-count walk to reach first. With two outs on the board and a Hog on first, Senior Haydi Bugarin took things into her own hands as she unloaded on a 2-1 count and sent it soaring over the center field wall. The homer is Bugarin's first of the season and the eighth of her career.
Sophomore transfer Danielle Gibson battle back from an 0-2 count to leadoff the third inning with a single to second base. She moved to second as Green found her way on base again, this time in a hit-by-pitch scenario.
Ryan Jackson made contact off Campbell's pitch and sent it roaring down the right-field line, scoring Gibson and giving the Razorbacks a three-run lead headed into the fourth.
The Fighting Camels responded with their first hit of the game, a single to shortstop, but the Hog defense held strong as Haff accounted for all three outs of the inning with three more strikeouts in the book.
Arkansas picked up right where they left off, as Bugarin and freshman Maggie Hicks took back-to-back hits into left field, putting runners on first and second for Hannah McEwen with no outs.
Campbell would call for a defensive change on the rubber, but no sweat off McEwen's back, as she stepped up and skipped a speedy hit through the middle and scored Bugarin.
Two more singles by seniors Katie Warrick and Ashley Diaz would tack on another three runs for the Hogs, who wrapped up the fourth inning with four runs on five hits.
The fifth inning would be scoreless for both teams and after Campbell threatened with a base runner in the sixth, Arkansas responded with pinch hitter, freshman Taylor Greene to lead off the sixth.
Greene drew her first collegiate walk as a Hog and looked to Sam Torres to take first to pinch run for the Hogs. Torres used her quick feet to steal second and advance to third as Gibson grounded out to first base.
Warrick followed suit and beautifully executed a sacrifice fly to deep right-center field, giving Torres the time she needed to tag up and score, in a walk-off, eight-run win.
For more information about Arkansas Softball, follow @RazorbackSB on Facebook, Instagram and Twitter.