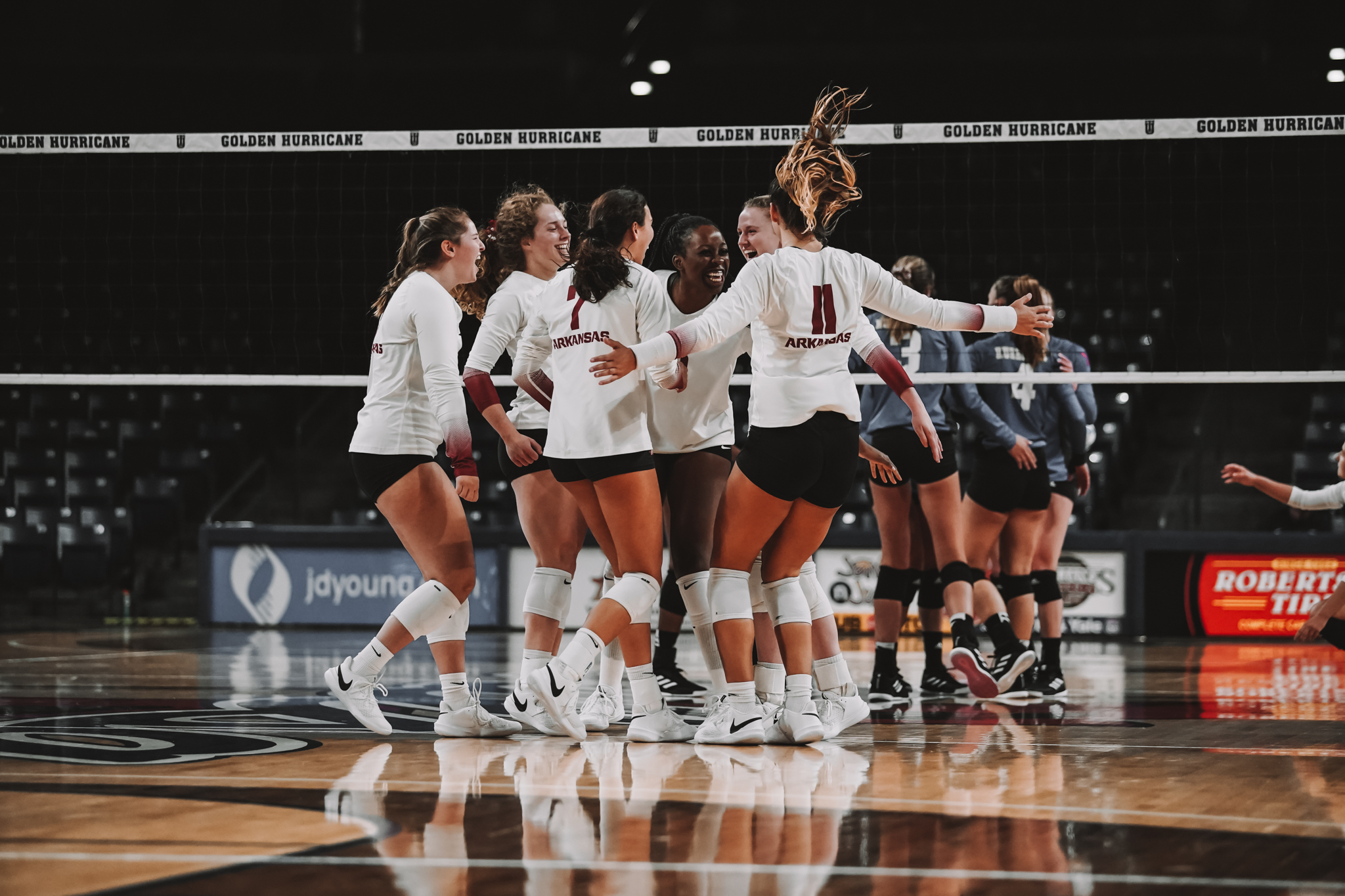 Arkansas Defeats SFA, Goes 3-0 in Tulsa Invite
 The Razorbacks finished the Tulsa Invitational with a match against Stephen F. Austin on Saturday and beat the Lady Jacks 3-1 for a perfect 3-0 tournament record. 
Senior Ellease Crumpton was named tournament MVP for her performance throughout the weekend. She had 10 blocks over the three matches, one solo, and added 23 kills. Crumpton also hit a combined .330 during the tournament.
Junior Jillian Gillen led the way with 21 kills and a season-high 10 digs in the match for her first double-double of the year. Going into the match, Gillen needed 20 kills to surpass 900 in her career, and now has 901.
Junior Maggie Cartwright added her second double-double of the tournament with 12 kills and 13 digs, along with senior setter Gracie Ryan, who matched a season-high 58 assists and tallied 11 digs. Ryan also hit .400 on the day as she racked up two kills in five attempts with no errors.
Gillen and Ryan were both named to the All-Tournament team along with Crumpton.
Arkansas jumped out to a 5-2 lead in the first set thanks to a 3-0 scoring run that was capped off by senior Lauren Evans' seventh ace of the weekend. While Stephen F. Austin threatened, the Razorbacks kept them at bay and never allowed the Lady Jacks to score more than two consecutive points early on. Four straight from the Hogs, which included three kills and an ace from Cartwright, sent SFA to a timeout down 13-7. Arkansas kept the momentum and led by 10 off of a kill from Abigail Archibong and brought the score to 20-10. The Lady Jacks added three points, their longest run of the set, but couldn't muster enough power to overcome the Razorbacks. A kill from Gillen brought the Hogs to set point. SFA added two more to stay alive, but Jill shut the door for a 25-19 final in favor of Arkansas.The team hit its highest percentage of the match in the first set, .441.
The second set was all Razorbacks to start, as Arkansas went on an 8-0 scoring run for the 8-2 lead, capped with another ace from Cartwright. The Hogs led by at least three and as many as six points, but the lead began to crumble once the Hogs hit 22 points. Stephen F. Austin went on a 6-1 run, which featured three Arkansas errors, and the Hogs went to a timeout up 23-22. The Lady Jacks used the break to their advantage, and tallied three straight kills to come back and steal the second from Arkansas, 25-23.
The Hogs came out strong in the third set, and scored six of the first nine points, which included a kill and ace from Head and two kills from Gillen. After that, the Lady Jacks scored once and the Razorbacks scored twice. This pattern three times before Stephen F. Austin called a timeout after two Cartwright kills and a 12-6 Arkansas lead. The Hogs steadily held at least three points on the Lady Jacks from there, and while they strung together a 4-0 run late, two of the last three points went to Arkansas. A kill from Gillen finished out the third 25-21 and put Arkansas back on top 2-1 in the match.
The fourth set started out tight, but a kill from Crumpton and two SFA errors gave Arkansas a 7-4 cushion. The Lady Jacks fired back shortly after with four points to tie it 9-9, but the Razorbacks answered with three points. SFA headed to a timeout and gained back two points after, but yet again, Arkansas didn't give any room for the Lady Jacks to sneak in and went on a 5-0 run for the 17-11 lead. A kill from Head brought the Hogs to set point with a 24-19 advantage, but Stephen F. Austin made another push to take it to 24-22. Arkansas called a timeout and while SFA did get the first point out of the break, Gillen slammed down her 21st kill of the day for a 25-23 set victory and the match.
Up Next
Arkansas concludes a three-week road slate next weekend with the ACC/SEC Challenge in Raleigh, N.C. Arkansas takes on Georgia Tech on Thursday, Sept. 16 at 3 p.m. and NC State on Friday at 6 p.m. Arkansas then opens SEC play at home with a match against LSU on Sept. 22 at 7 p.m.
Visit ArkansasRazorbacks.com for the latest information on all things Arkansas Volleyball. You can also find the Hogs on social media by liking us on Facebook (Arkansas Razorback Volleyball) and following us on Twitter and Instagram (@RazorbackVB).