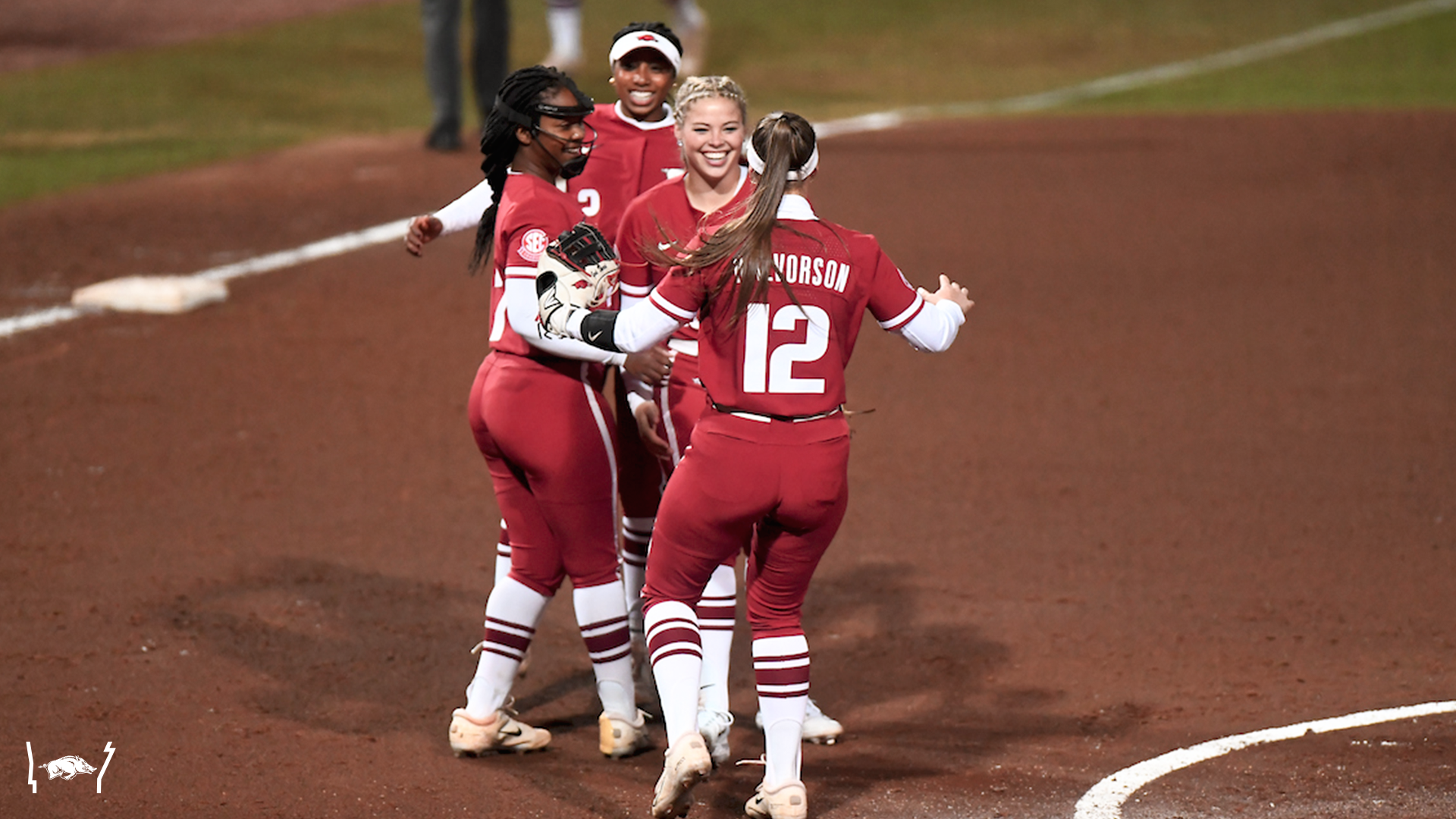 Arkansas Dominates Aggies in SEC Opener
FAYETTEVILLE, Ark. – No. 7 Arkansas (20-4) scored early and often as the Razorbacks accelerated to an 8-0 (5 inn.) shutout victory against Texas A&M in Friday's SEC opener at Bogle Park. The Hogs have won their fifth straight SEC opener.
Friday night marked the first time Arkansas opened SEC play at Bogle Park since the 2014 season. The Hogs have won their last three games against the Aggies, dating back to the 2022 season.
Redshirt senior RHP Chenise Delce (9-2) cruised in a three-hit shutout. In her sixth complete game of the season, Delce tossed 5.0 scoreless frames and struck out four.  The Oklahoma City native posted two 1-2-3 frames and worked out of a bases-loaded jam in the fifth to seal the shutout.
Arkansas plated five of their eight runs in the first thanks to three homers. Outhitting the Aggies at an 8-3 clip, Arkansas scored in four of five frames. Arkansas also tied its season high in home runs with three.
Junior Cylie Halvorson paced Arkansas, going 2-for-2 with two RBIs and a home run. Halvorson clocked a solo shot in the first before towering a sacrifice fly in the fourth. Freshman Lauren Camenzind had a career day as well, tying her career highs in hits (2) and RBIs (2). Redshirt junior Rylin Hedgecock smashed her 11th home run of the season, a two-run blast, in the first. Redshirt senior Kristina Foreman also homered, parking a two-run shot in the first. Hannah Gammill and Raigan Kramer each added a hit.
How It Happened
Gammill reached after getting beamed by a pitch with one out in the first. Hedgecock then slugged her 11th homer of the season to grant a 2-0 lead.
Halvorson followed suit with a solo jack for a 3-0 lead. Kramer smacked a one-out single up the middle to put a Hog runner on base. Foreman pushed Arkansas' lead to 5-0 after homering to right center.
After a quiet second inning, Arkansas added two runs in the third off the crack of Lauren Camenzind's bat. Camenzind teed a two-RBI single through the 5-6 hole to stretch the lead to 7-0.
Halvorson put Arkansas into run-rule territory after her sacrifice fly to the warning track in center, which plated Gammill from third to give Arkansas an 8-0 lead.
Notes
The Hogs posted their ninth shutout of the season.
Arkansas has won five straight SEC openers.
The Razorbacks have won their last three meetings against Texas A&M.
Arkansas opened SEC play at Bogle for the first time since 2014.
The Hogs tied their season high in home runs with three.
Arkansas homered three times in one inning for the first time this season.
Rylin Hedgecock, who came into the weekend tied second nationally in home runs, blasted her 11th of the season.
Kristina Foreman homered for the first time at Bogle Park.
Lauren Camenzind tied her career high in hits (2) and RBIs (2).
Chenise Delce worked five scoreless frames to earn her ninth win of the season. Delce tossed her sixth complete game of the season.
A win Saturday will secure Arkansas' 10th straight SEC series victory.
Up Next
Due to inclement weather conditions in the forecast, Saturday's contest vs. Texas A&M has been moved to 1 p.m. CT at Bogle Park. The game will be available on SEC Network+. Arkansas and the Aggies conclude the weekend at 1 p.m. Sunday on SEC Network+.
For schedule updates and other news, go to ArkansasRazorbacks.com, or follow @RazorbackSB on Twitter, Instagram and Facebook.