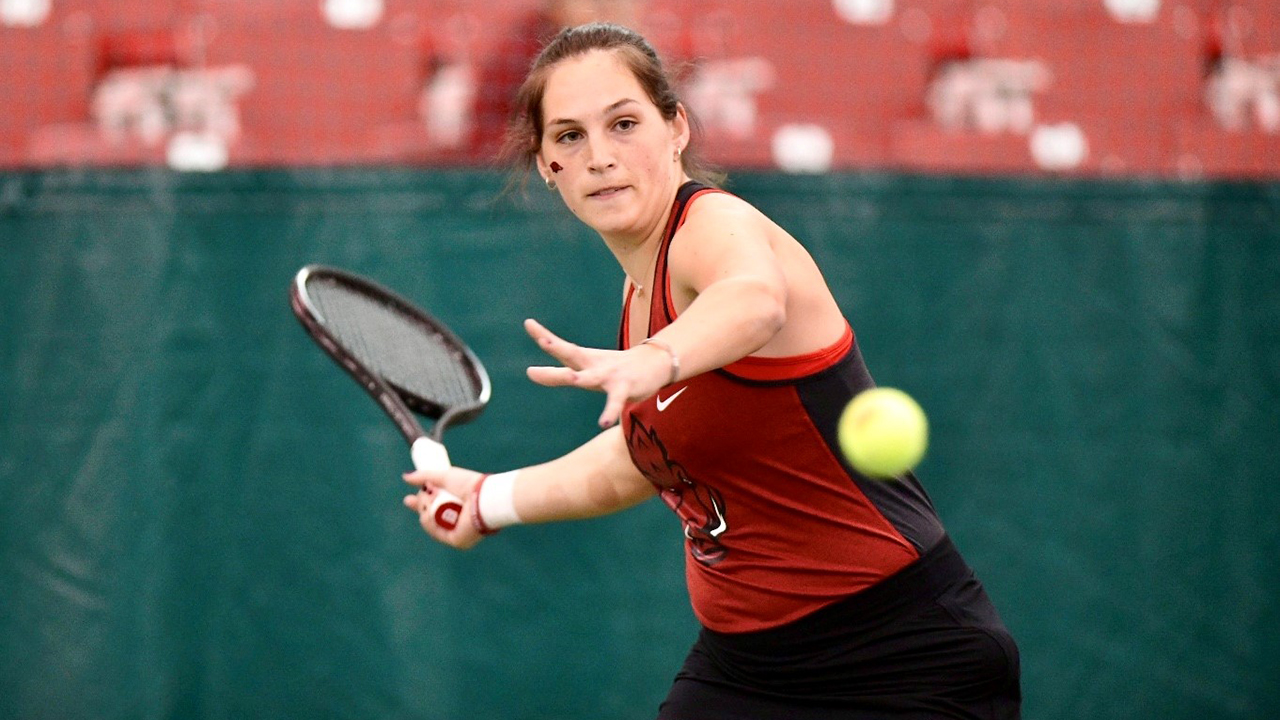 Arkansas Downs Tigers in Thriller
FAYETTEVILLE, Ark.- In its lone match of the weekend, the Arkansas women's tennis team earned its first conference win of the season with a victory over Missouri Friday afternoon.
The Razorbacks had a solid start to the match, taking the doubles point in straight sets. Martina Zerulo and Thea Rice earned a 6-2 victory at the No. 2 position, before Laura Rijkers and Jackie Carr clinched the point at the No. 3 position.
Arkansas quickly went up 3-0, as No. 98 Tatum Rice earned a 6-1, 6-1 victory at the No. 2 position and Miruna Tudor earned a 6-2, 7-5 victory. The Tigers cut the lead to 3-1 as Alter fell 6-2, 7-6(5), and got within one of a tie with a 6-4, 1-6, 6-2 win at the No. 5 position.
Zerulo earned the clinch for Arkansas with a 6-3, 4-6, 6-3 victory at the No. 1 position. Rijkers fell at the No. 3 position, putting the final score at 4-3.
The team will return to the court next weekend to close out its five-match homestand, hosting LSU and Texas A&M.
For more information on Razorback women's tennis, follow @RazorbackWTEN on Twitter.
Arkansas 4, Missouri 3
Doubles Results – Order of Finish (2,3)
1. Lauren Alter/Tatum Rice (ARK) vs. #65 Macken Middlebrooks/Ellie Wright (MIZ) 5-2, unfinished
2. Martina Zerulo/Thea Rice (ARK) def. Serena Nash/Taylor Gruber (MIZ) 6-2
3. #79 Laura Rijkers/Jackie Carr (ARK) def. Marta Oliveira/Lisa Fukutoku (MIZ) 6-1

Singles Results – Order of Finish (2,4,6,5,1,3)
1. Martina Zerulo (ARK) def. #97 Macken Middlebrooks (MIZ) 6-3, 4-6, 6-3
2. #98 Tatum Rice (ARK) def. Serena Nash (MIZ) 6-1, 6-1
3. Lisa Fukutoku (MIZ) def. Laura Rijkers (ARK) 4-6, 6-4, 7-6 (7-4)
4. Ellie Wright (MIZ) def. Lauren Alter (ARK) 6-2, 7-6 (7-5)
5. Taylor Gruber (MIZ) def. Jackie Carr (ARK) 6-4, 1-6, 6-2
6. Miruna Tudor (ARK) def. Vivien Abraham (MIZ) 6-2, 7-5