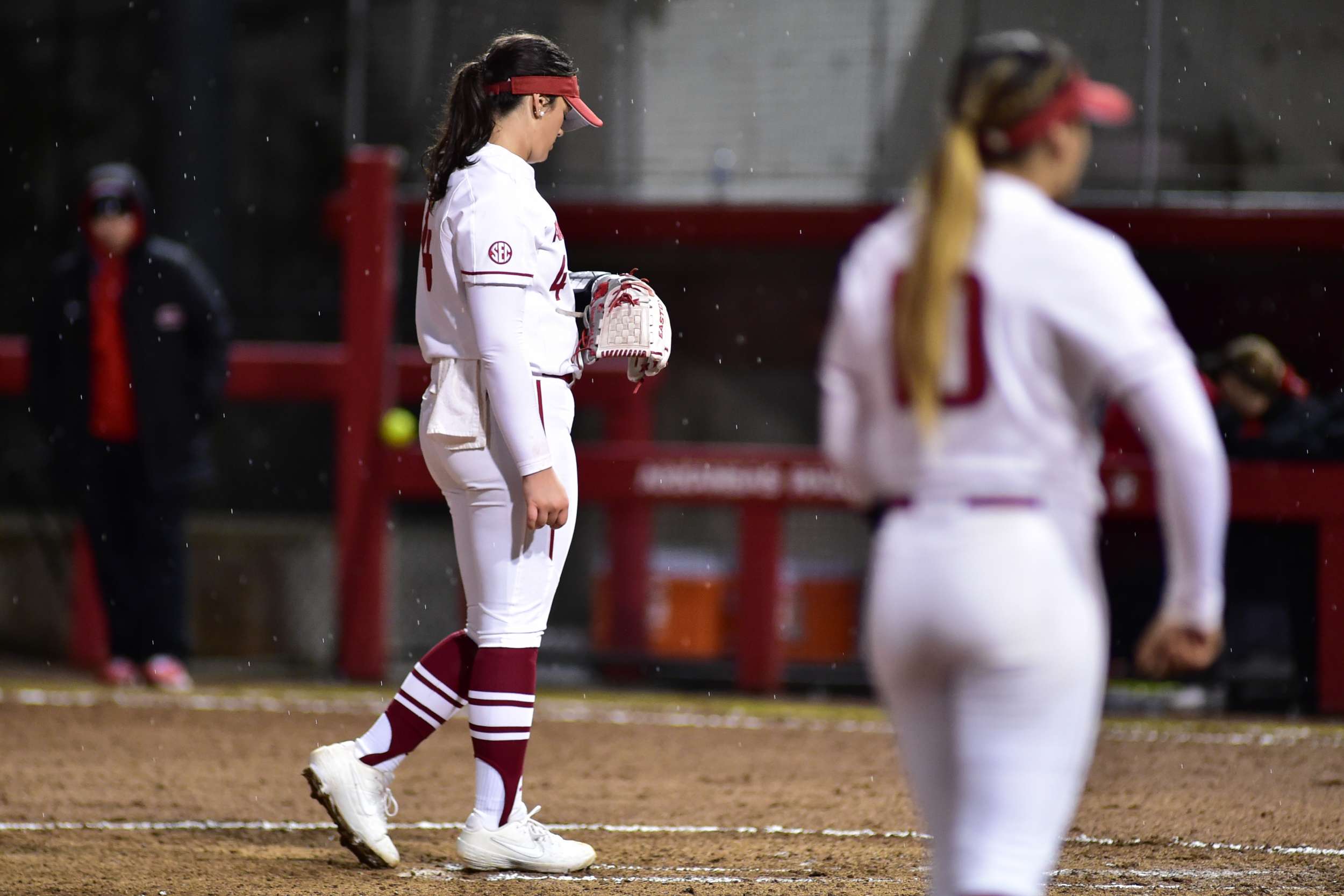 Arkansas Drops Game Two Versus Rebels
OXFORD, Miss. – The Razorbacks fall short today (March 10) against the Ole Miss Rebels, dropping the second of three, 12-0. Arkansas and Ole Miss will return to the dirt tomorrow (March 11), for a rubber match at 6:00 pm (CT).
Arkansas (19-4, 1-1) experienced its first true road loss of the season, after taking game one of the series from Ole Miss (15-7, 1-1) just the night before.
The Razorbacks fourth loss of the season was the first shut out of the 2019 campaign, and the first in five innings, nonetheless.
Junior Sydney Parr and sophomore Hannah McEwen were the only Hogs to log hits in the match. Parr earned her hit in the second inning; following a walk by sophomore Nicole Duncan, Parr hit a hard ball back to the circle to reach first. It would be the only time Arkansas had runners on multiple bases.
McEwen kicked off the third inning with a single back to the pitcher as well but was out on the next play as Danielle Gibson fired one off up the middle but the Rebels were able to make the play at second to keep the Hogs out of scoring position.
Duncan was the only Razorback to reach base multiple times, reaching base in the fourth inning after being hit by a pitch. That was the final chance Arkansas had to score, as the Ole Miss pitching staff and defense sat down the order in the top of the fifth.
Starting pitcher Mary Haff recorded the loss and sits at 11-4 through 17 appearances.
The last time the Hogs split games one and two in Oxford was 2006, the Razorbacks went on to win game three and clinch the series against the Rebels.
Tomorrow's game three is slated for a 6:00 pm (CT) start and will be available for viewers on the SEC Network.
For all Razorback softball news and information, go to ArkansasRazorbacks.com and follow the Hogs on Twitter at @RazorbackSB, on Facebook at Razorback Softball and on Instagram at @Razorback_SB. Fans can also follow head coach Courtney Deifel on twitter at @CoachDeifel.