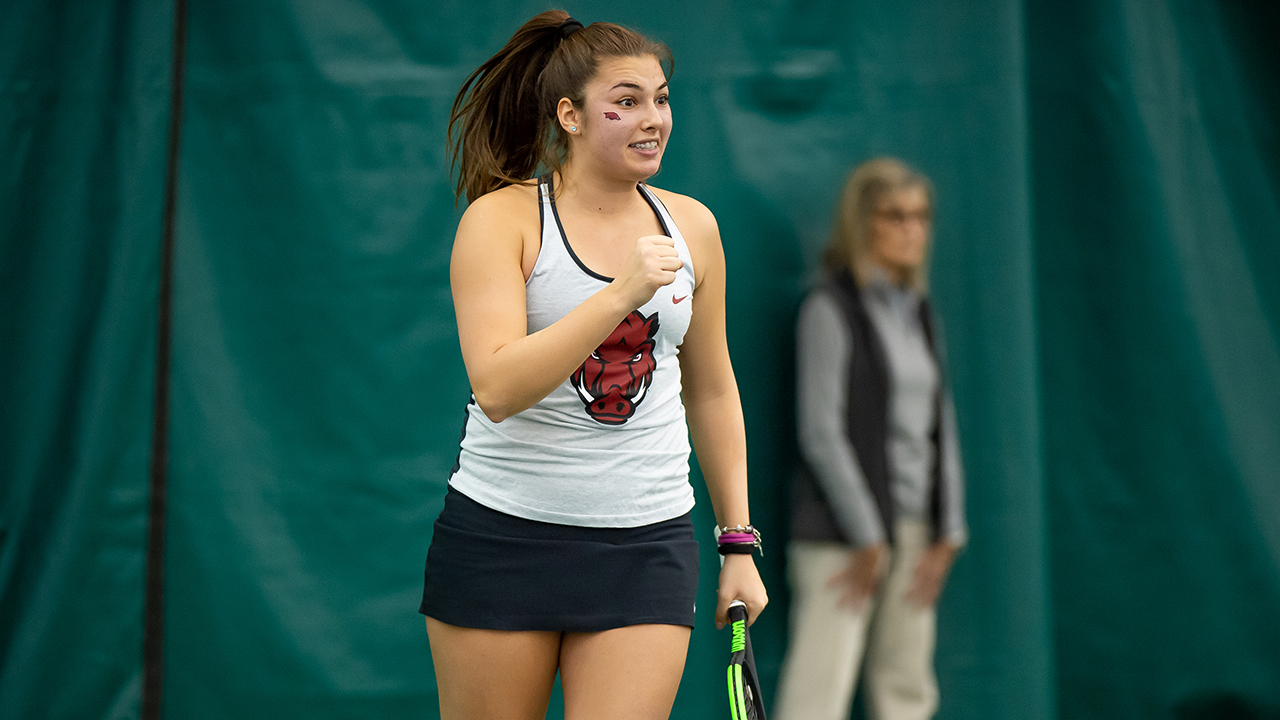 Arkansas Drops Match at No. 6 Vanderbilt
NASHVILLE, Tenn.- The No. 41 Arkansas women's tennis team fell 6-1 at No. 6 Vanderbilt Sunday afternoon to close out a five-match road stretch.
The Razorbacks fell in straight sets in doubles play to open the match. Jackie Carr and Laura Rijkers fell to Summer Dvorak and Amanda Meyer 6-1 before Vanderbilt clinched the doubles point with a 6-4 win at the No. 1 position.
The Commodores went up 3-0 as Carr and Rijkers were defeated, and clinched the match as Martina Zerulo fell to No. 9 Christina Rosca at the No. 2 position.
The teams played through the clinch, and Vanderbilt took a 5-0 lead as No. 81 Tatum Rice fell 6-2, 6-3 to No. 3 Fernanda Contreras. Lauren Alter split her first two matches to go into the tiebreaker set, before falling 6-3, 3-6, 6-3.
Miruna Tudor earned the Hogs' lone point of the match at the No. 6 position with a 7-5, 6-3 victory over Dvorak.
Arkansas will return to the court next weekend, hosting No. 22 Florida and No. 15 South Carolina in the first two matches of a five-match homestand.
For more information on Razorback women's tennis, follow @RazorbackWTEN on Twitter.
No. 6 Vanderbilt 6, No. 41 Arkansas 1
Doubles Results – Order of Finish (3,1)
1. Emma Kurtz/Emily Smith (VANDY) def. Tatum Rice/Martina Zerulo (ARK) 6-4
2. Christina Rosca/Georgia Drummy (VANDY) vs. Lauren Alter/Thea Rice (ARK) 5-5, unfinished
3. Summer Dvorak/Amanda Meyer (VANDY) def. Jackie Carr/Laura Rijkers (ARK) 6-1

Singles Results – Order of Finish (3,4,2,1,5,6)
1. Fernanda Contreras (VANDY) def. Tatum Rice (ARK) 6-2, 6-3
2. Christina Rosca (VANDY) def. Martina Zerulo (ARK) 6-2, 6-4
3. Georgia Drummy (VANDY) def. Jackie Carr (ARK) 6-1, 6-3
4. Amanda Meyer (VANDY) def. Laura Rijkers (ARK) 6-3, 6-1
5. Carolyn Campana (VANDY) def. Lauren Alter (ARK) 6-3, 3-6, 6-3
6. Miruna Tudor (ARK) def. Summer Dvorak (VANDY) 7-5, 6-3