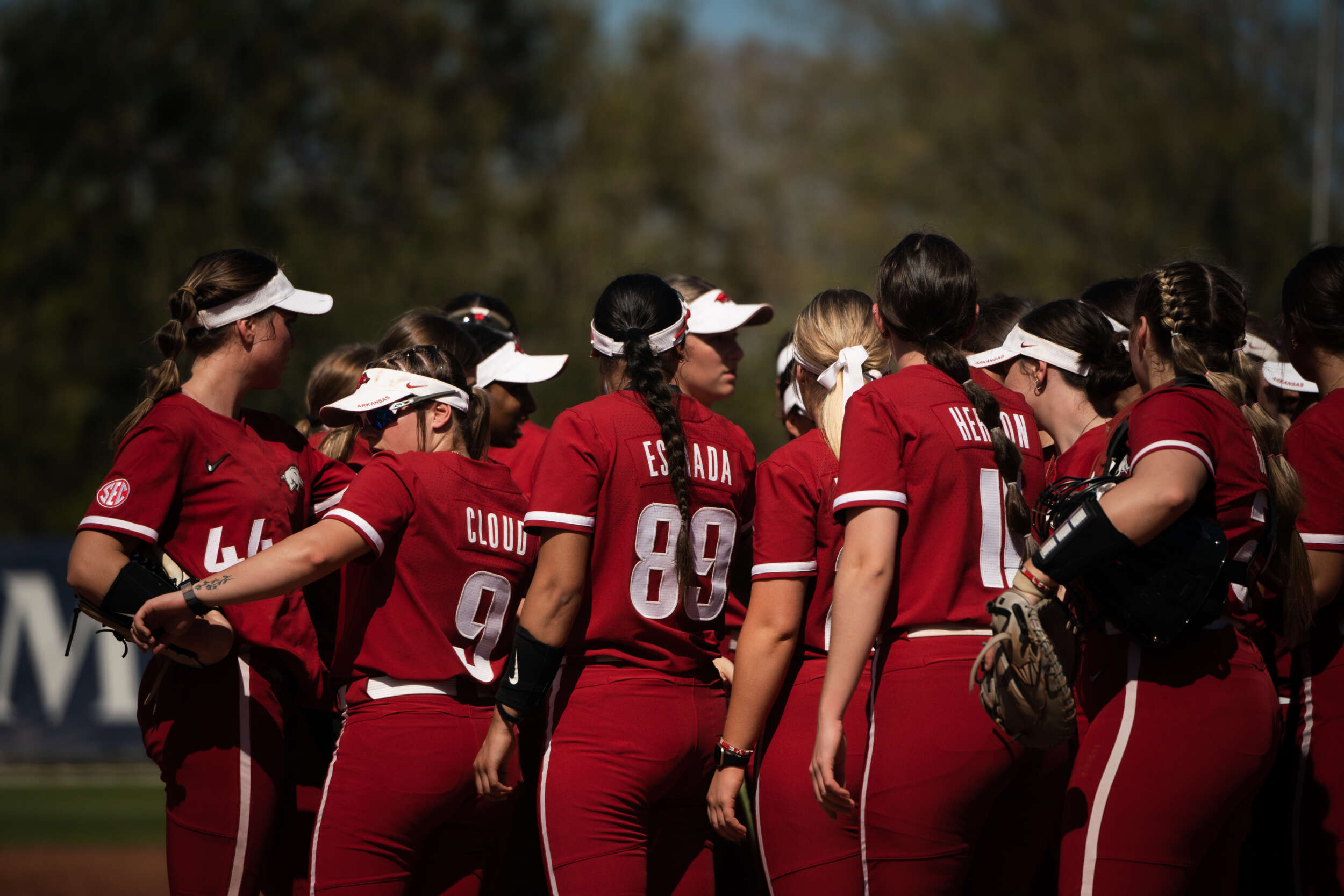 Arkansas Drops Pair of Top 20 Contests
CLEARWATER, Fla. – No. 4 Arkansas (5-2) dropped a pair of Top 20 contests Friday at the TaxAct Clearwater Invitational.
Despite outhitting No. 7 Florida State at a 10-9 clip, Arkansas fell to the Noles, 9-6, in game one. The Razorbacks slipped to No. 19 Duke, 7-4, in the nightcap.
Game 1
The Razorbacks combined for 10 hits led by junior Hannah Gammill's 3-for-4 performance at the dish. The Beebe, Ark., product also tied her career high in hits. Sophomore right fielder Kacie Hoffmann drove in a career high four runs in a 2-for-4 outing that included a two-run home run and two-RBI double. Redshirt junior designated player Rylin Hedgecock had a strong game at the plate, finishing with two hits, including a solo homer. Freshman Reagan Johnson, fifth-year Kristina Foreman and junior Cylie Halvorson registered a hit apiece.
Arkansas used four arms throughout the ballgame. Junior LHP Callie Turner (2-0) got the rock in her second start of the season. Turner surrendered four earned runs on four hits and struck out three in 2.0 innings. In 2.0 innings, fifth-year RHP Chenise Delce (2-1) gave up four runs on four hits and fanned two. Freshmen Robyn Herron and Nikki McGaffin hurled 0.2 and 1.1 innings. Herron worked two strikeouts.
Game 2
Cylie Halvorson, Hannah Gammill, Kacie Hoffmann and Raigan Kramer recorded a hit apiece against the Blue Devils. Kramer and Hoffmann doubled while Halvorson and Gammill singled.
Four Razorback pitchers were utilized against Duke with freshman LHP Hannah Camenzind (0-1) getting her second start of the season. In 1.2 innings, Duke scored three runs on five hits off Camenzind who was replaced by freshman RHP Nikki McGaffin. The Blue Devils totaled two runs on two hits off McGaffin. Delce entered the game and hurled three innings while curbing Duke to just one earned run and four hits while accumulating four strikeouts. Turner pitched a 1-2-3 sixth that included a strikeout.
Up Next
Arkansas looks to bounce back against Indiana at noon CT Saturday on ESPN+. Following the Hoosiers, Arkansas squares off with No. 22 Louisiana at 3:30 p.m. on ESPN+.