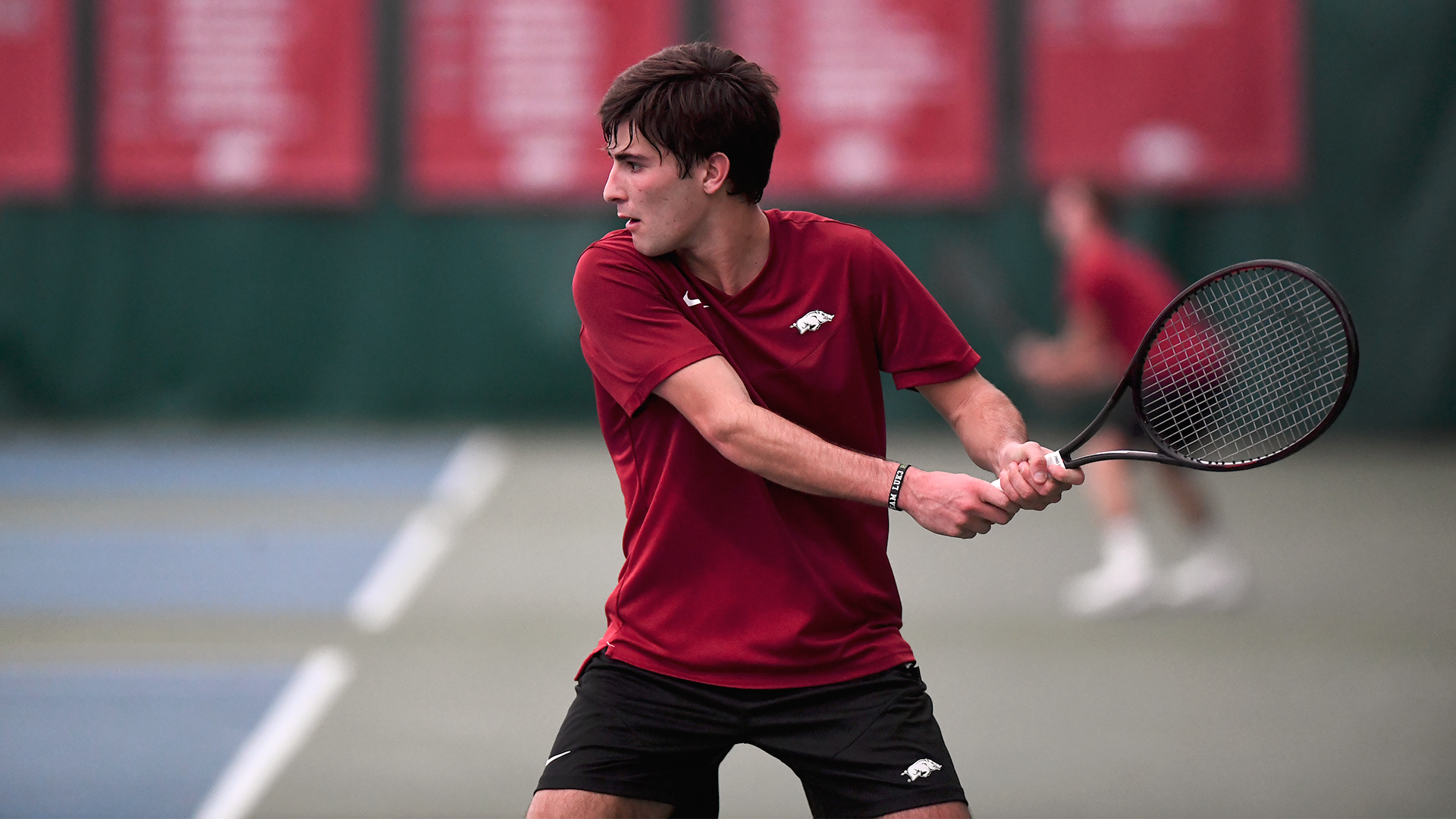 Arkansas Drops SEC Home Opener to Ole Miss, 4-2
FAYETTEVILLE, Ark. – The No. 44 Razorback men's tennis team (12-3, 0-2) fell short on Thursday night in the SEC home opener at Billingsley Tennis Center to No. 35 Ole Miss (12-2, 2-0). The Hogs clinched the doubles point, but the Rebels responded by winning four of the five singles matches en route to a 4-2 victory.
Arkansas started off strong, taking the doubles point with wins on courts two and three. Juniors Stefanos Savva and Alan Sau Franco grabbed a convincing 6-1 victory in the No. 2 spot over Hallquist Lithen/Junk of Ole Miss. Sophomore Jake Sweeney and junior Foster Rogers followed with a 6-3 win to secure the early 1-0 lead for the Razorbacks.
In singles play, the Rebels answered quickly by taking two straight-set victories from Lukas Engelhardt on court four and No. 69 Nikola Slavic on court one. Sau Franco had the lone singles win for the Hogs, defeating Schlagenhauf 6-3, 6-4 in the No. 5 spot. With the victory, Sau Franco improves to 6-1 in singles play this season. Ole Miss closed out the match with two consecutive three-set wins from Hallquist Lithen and Junk on courts two and three.
The Razorbacks will take on No. 6 Kentucky on Saturday, March 11 at noon before returning home next Saturday on March 18 against No. 39 Texas A&M.
For the latest information on all things Arkansas Men's Tennis, follow the Hogs on social media by liking us on Facebook (Arkansas Razorback Men's Tennis) and following us on Twitter and Instagram (@RazorbackMTEN).