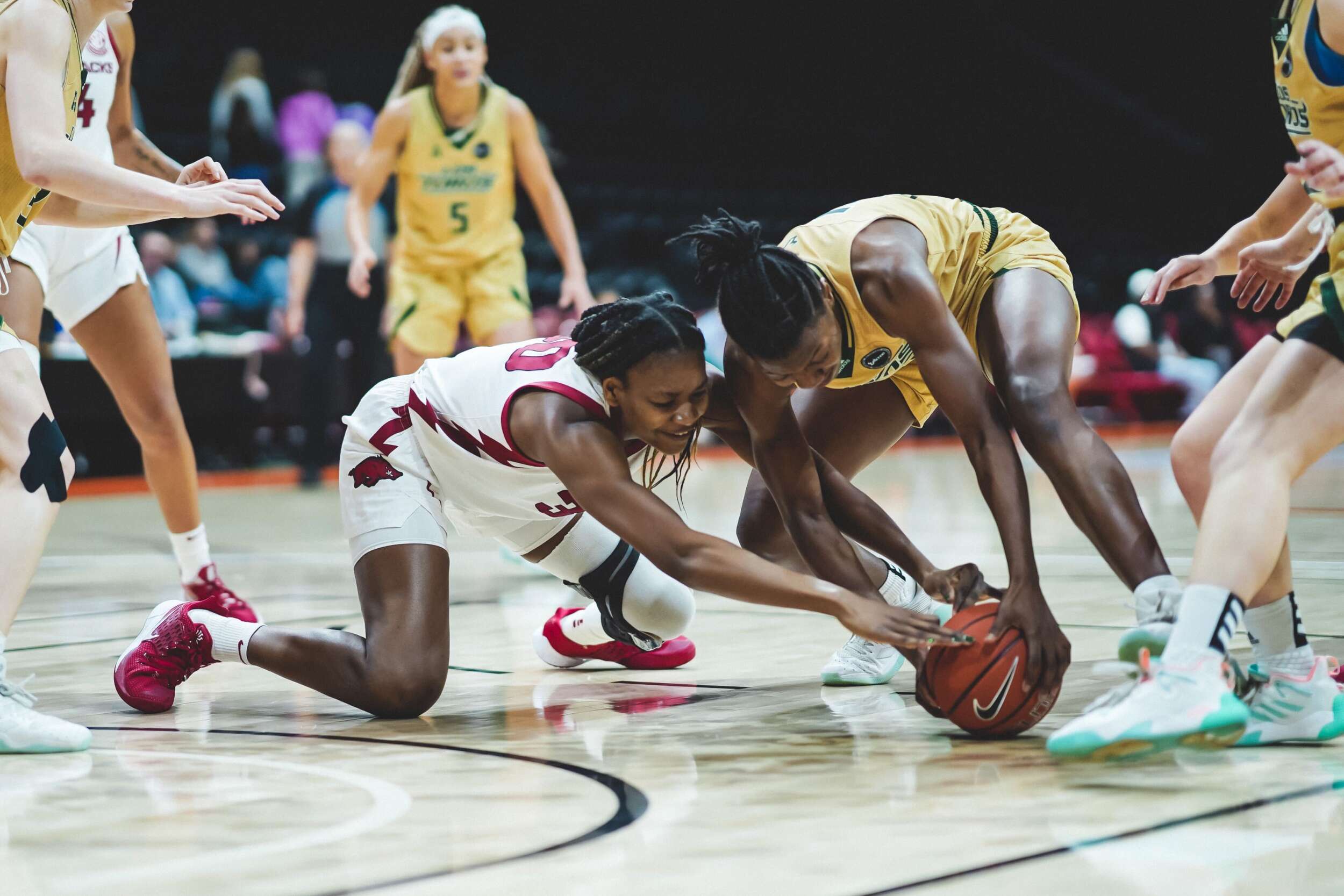 Arkansas Edged Out by USF in Overtime, 66-65
SAN DIEGO – In a defensive battle on day two of the San Diego Invitational, No. 17/19 Arkansas dropped its final non-conference game, falling to USF (11-4) in overtime, 66-65. Arkansas had the three-point edge with 22 seconds left in regulation, but a foul on a 3-pointer sent the Bulls to the line to tie the game at 62. The Razorbacks were outscored 4-3 in overtime to drop its second straight game. Erynn Barnum and Makayla Daniels both dropped 20-pieces with 21 and 20 points, respectively. Arkansas finishes non-conference play 13-2. 
In her 100th career start, Daniels helped the Razorbacks get on the board with a 3-pointer. Arkansas fell in a hole, going 0-for-4 from the field until Chrissy Carr made a layup. Daniels kept up the scoring for the Razorbacks, scoring eight of the team's first 10 points. After USF went 4-for-4 from the field before the media timeout, the Bulls held the 13-10 edge with 3:56 left in the first. After being in a scoring drought for over two minutes, Maryam Dauda helped Arkansas dig out with a layup. Barnum drew a foul to shoot two from the free throw line to pull Arkansas ahead 14-13 after one quarter.
After USF pulled back ahead with a triple, Arkansas retook the lead thanks to a Saylor Poffenbarger 3-pointer and then Barnum broke the Razorbacks' two-minute drought with a layup. Arkansas led 21-16 with 5:30 left in the second quarter. Arkansas pushed on an 11-0 run while holding USF in a scoring drought for eight minutes and some change. In a defensive battle, the Razorbacks held USF to just five second quarter points and had a 27-18 advantage at the half.
USF opened the quarter on an 11-7 run, as Arkansas led 34-29 with 6:26 left in the third quarter. Arkansas started to feel a groove from beyond the arc, as Daniels and Carr nailed down triples on back-to-back possessions. USF then cruised on a 12-0 run, as Arkansas trailed 45-40 with less than two minutes left in the frame. Samara Spencer helped the Razorbacks find a spark on the offensive side of the ball, and after converting a 3-point play, crept Arkansas within one point. Daniels drew a foul with less than a minute left, and after knocking down both freebies, the Razorbacks held a one-point advantage, 46-45, going into the final 10 minutes of action.
The Bulls scored the first five points in the fourth quarter to take a four-point lead, but a Daniels 3-pointer inched the team back within one. Arkansas was down 50-49 with 7:36 remaining in the game. Barnum tied the game back up after making one of two free throws, and after USF went back up with a 3-pointer, Barnum registered a layup to help Arkansas retake the one-point lead. At the media timeout, Arkansas led 56-53. USF made back-to-back layups to go back ahead, but a Carr triple elevated the Razorbacks back ahead, 59-57 with 2:26 left in the game. USF tied the game back up at 59 with 1:11 left. Spencer made 1-of-2 foul shots while Daniels made both of hers to put the Razorbacks ahead by three, 62-59, but Arkansas fouled on a 3-pointer, and after USF made all three shots, the Bulls tied the game at 62. Arkansas was unable to get a game-winning play, sending the game into overtime.
USF made the first basket in overtime, and Daniels made one of two free throws, as Arkansas trailed 64-63 with 2:52 left in overtime. The Bulls made a basket to go back ahead by three, but two Spencer free throws pulled the Razorbacks in within one, as Arkansas trailed 66-65 with 29.9 seconds left in overtime. Arkansas was unable to draw up a game-winning play, nor get a field goal in the overtime period, ending the game with a tough one-point loss.
HOG HIGHLIGHTS
Arkansas had two players with 20+ points for the second straight game
Barnum led the way with 21 points off 9-of-17 shooting with three rebounds, two assists and a steal
Daniels' delivered 20 points, four rebounds, three assists and two steals
Carr found her way back in double digits with 10 points, six of those coming off 3-pointers
Spencer drew eight fouls, while finishing just short of double digits with nine points. She was 7-of-9 from the charity stripe
Poffenbarger led the team in rebounding for the ninth time this season with seven boards along with three assists
Langerman had the highest +/- with six. She tied a career-high four steals
UP NEXT
Arkansas will take a week off and then open SEC play with LSU on Thursday, Dec. 29 at 6 p.m. Coverage of the game will be broadcast on ESPN2 and tickets for the game are still available
MORE INFORMATION
For more information about Arkansas Women's Basketball, follow us on Twitter and Instagram at @RazorbackWBB and on Facebook at Facebook.com/RazorbackWBB. Be sure to subscribe to our YouTube Channel, "Kickin' It In The Neighborhood" for an inside look at the Razorback women's basketball program and check out The Neighborhood podcasts at CoachNeighbors.com.