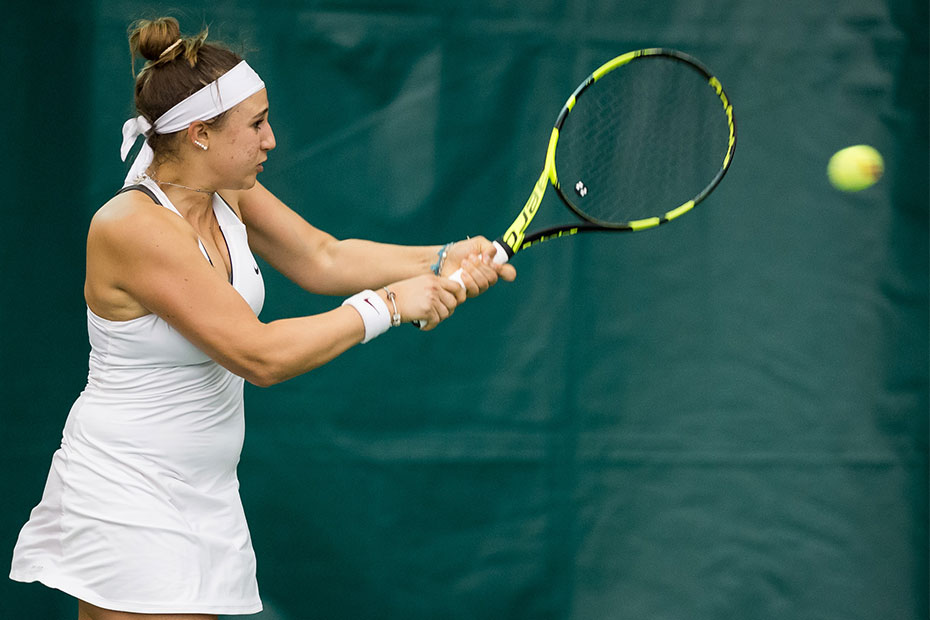 Arkansas Falls At No. 18 Oklahoma State
STILLWATER, Okla. — Arkansas won the doubles point for the fifth straight match, but No. 18 Oklahoma State stormed back in singles play to win 4-2 on Sunday at the Michael and Anne Greenwood Tennis Center.
After doubles, the Razorbacks (2-3) and the Cowgirls (5-1) split the first two singles matches.
Oklahoma State erased its 2-1 deficit with wins at the No. 1, 6 and 4 spots for the team victory.
"Congrats to Oklahoma State on a hard-fought match tonight," head coach Michael Hegarty said. "Both teams really competed with a ton of heart, and I was extremely proud of our efforts. A few close shots could have gone our way and we would've had a better outcome for sure."
Senior Peyton Jennings and sophomore Natsuho Arakawa were first off the court in doubles with a 6-4 win at No. 3. The Cowgirls won the second match 6-4 at No. 2. Junior Ana Oparenovic and freshman Tatum Rice clinched the opening point, winning 7-5 at the top spot.
The Razorbacks' lone singles win came at No. 2, where sophomore Giulia Pairone improved to 5-0 on the season with a dominant 6-2, 6-0 victory.
Up Next
Arkansas will return home Saturday for a pair of matches against Wichita State (11 a.m.) and Southeast Missouri State (2 p.m.).
No. 18 Oklahoma State 4, Arkansas 2
Singles Competition
1. No. 21 Vladica Babic (OKST) def. Ana Oparenovic (AR) 6-0, 6-4
2. Giulia Pairone (AR) def. Megan McCray (OKST) 6-2, 6-0
3. Katarina Stresnakova (OKST) def. Mia Jurasic (AR) 6-1, 6-2
4. No. 63 Marina Guinart (OKST) def. Tatum Rice (AR) 6-4, 7-6 (7-3)
5. Sofia Blanco (OKST) vs. Natsuho Arakawa (AR) 3-6, 6-3, 1-1, unfinished
6. Shir Hornung (OKST) def. Peyton Jennings (AR) 6-3, 6-3
Doubles Competition
1. Tatum Rice/Ana Oparenovic (AR) def. Vladica Babic/Megan McCray (OKST) 7-5
2. Marina Guinart/Katarina Stresnakova (OKST) def. Giulia Pairone/Mia Jurasic (AR) 6-4
3. Peyton Jennings/Natsuho Arakawa (AR) def. Sofia Blanco/Shir Hornung (OKST) 6-4
Order of finish: Doubles (3,2,1); Singles (3,2,1,6,4)