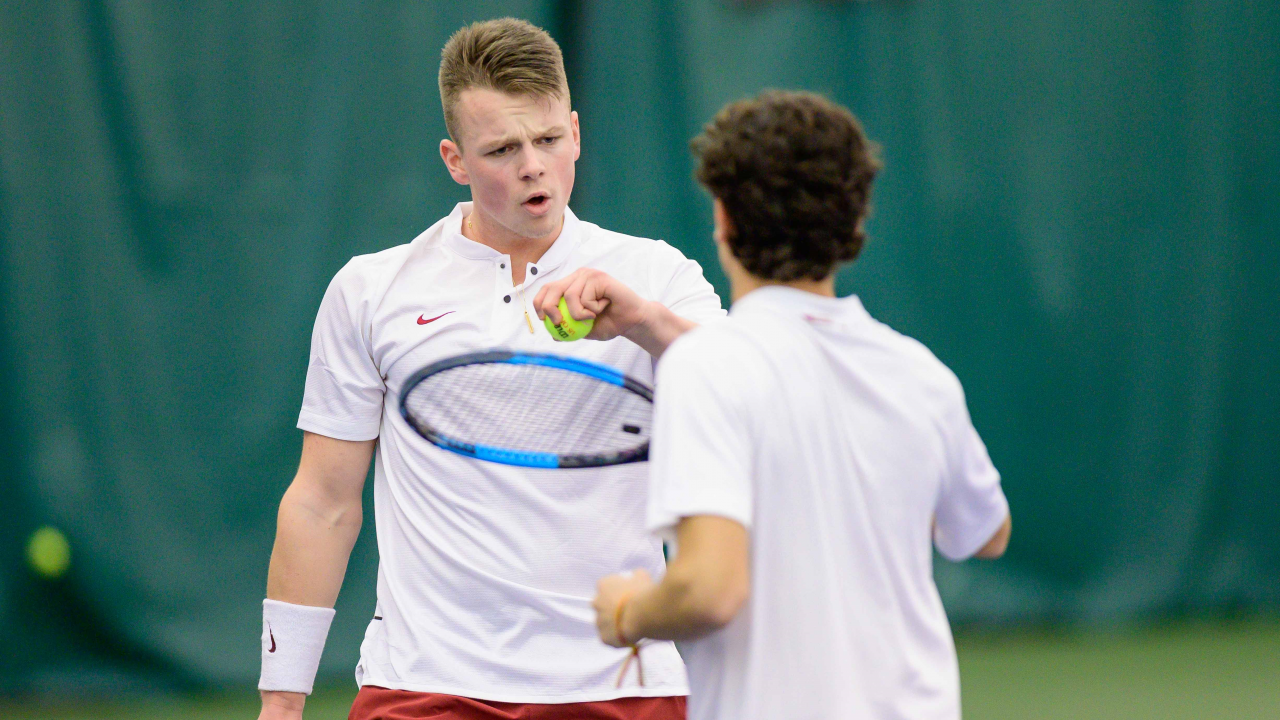 Arkansas Falls At No. 21 Oklahoma State
STILLWATER, Okla. – The Arkansas men's tennis team suffered its first loss of the season Monday afternoon as it fell to No. 21 Oklahoma State, 6-1, in its first road matchup of the year.
Arkansas took a 1-0 lead as it took the doubles point. Josh Howard-Tripp and his partner Alex Reco quickly gave Arkansas the advantage as they defeated Brady Draheim and Luke Hammond 6-4. After Adam Sanjurjo and Pedro Dominguez Alonso fell on court three, it came down to the final matchup on court one.
Maxim Verboven and Enrique Paya were in a back and forth affair that went to a tiebreaker against Artur Dubinski and Maxim Tybar of Oklahoma State. The Razorbacks pulled off a doubles victory in the tiebreaker 7-6(5).
The Cowboys tied it up at one a piece as Artur Dubinski (OSU) def. Josh Howard-Tripp on court one 6-4, 6-0. They proceeded to take their first lead of the match after Mathieu Scaglia (OSU) defeated Adam Sanjurjo on court two 6-4, 6-3.
Oklahoma State clinched the match with consecutive victories on courts four and five. Luke Hammond (OSU) defeated Enrique Paya in a tight battle 6-4, 7-5. Maxim Verboven fell in three sets to Brady Draheim 6-4, 2-6, 6-2.
Doubles Results – Order of Finish (2,3,1)
1. Verboven/Paya def. Dubinski/Tybar, 7-6(5)
2. Howard-Tripp/Reco def. Draheim/Hammond, 6-4
3. Hudd/Scaglia def. Sanjurjo/P. Dominguez Alonso, 6-4
Singles Results – Order of Finish (1,2,4,5,3,6)
1. Dubinksi (OSU) def. Howard-Tripp, 6-4, 6-0
2. Scaglia (OSU) def. Sanjurjo, 6-4, 6-3
3. Tybar (OSU) def. P. Alonso, 7-6(6), 6-3
4. Hammond (OSU) def. Paya, 6-4, 7-5
5. Draheim (OSU) def. Verboven, 6-4, 2-6, 6-2
6. Hudd (OSU) def. J. Alonso, 6-4, 4-6, 10-7
For more information on Arkansas men's tennis, including in-match updates, follow @RazorbackMTEN on Twitter.