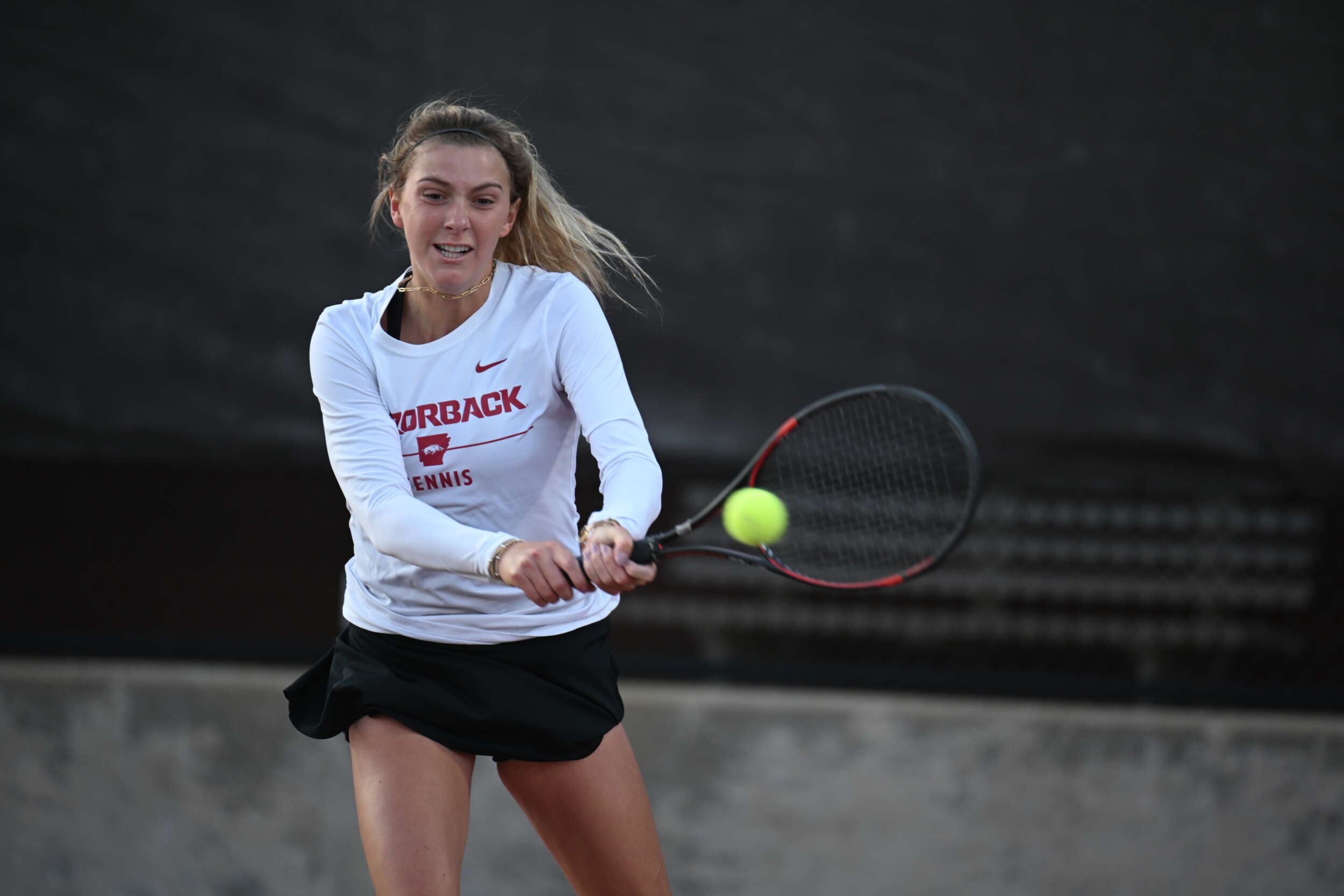 Arkansas Falls to Auburn at SEC Tournament, 4-1
TUSCALOOSA, Ala. – There is a lot to be said about the Razorbacks' play against No. 21 Auburn in the second round of the SEC Tournament on Tuesday evening, but lack of effort is not one of them.
A day after defeating 14th seed Mizzou to advance, Arkansas fell to sixth-seeded Auburn 4-1 with the Razorbacks' sole win coming from senior Tatum Rice on court three.
Rice defeated her opponent in straight sets for the second consecutive night, taking down Auburn's Yu Chen 6-3, 6-4. Rice and freshman partner Morgan Cross also picked up a 6-1 doubles win over Georgie Axon and Adeline Flach in the number one position.
Arkansas started singles play down 1-0 as Auburn claimed the doubles point with wins on courts two and three. Senior Jackie Carr and sophomore Kelly Keller dropped a 6-1 decision on court three, but Rice and Cross responded with a win of their own on court one. Senior Lauren Alter and freshman Indianna Spink fought back against the attack of Carolyn Ansari and Selin Ovunc but eventually fell to the Tigers 6-3.
Auburn was the first to claim a singles win, as Cross fell to Axon 6-3, 6-3 and the Tigers took a 2-0 lead. Rice answered with her dominating win on court three, but Auburn fired back with a 6-4, 6-4 victory on court five as junior Laura Rijkers dropped her match to Flach in straight sets.
No. 35 Spink contested No. 68 Ovunc from start to finish, forcing the first set to a tiebreak before ultimately falling to Ovunc 7-6 (4), 6-4 on court one, clinching the match for the Tigers.
Two Hogs, Keller and Alter lost their first sets to their Tiger counterparts, but both made fiery comebacks in the second set. Keller was out in front of No. 70 Ansari 7-6 (4), 3-6, 0-1 while Alter was amidst a 6-4, 5-7, 2-1 battle when the match was decided.
Fans are encouraged to visit ArkansasRazorbacks.com for the latest information on all things Arkansas Women's Tennis. You can also find the Hogs on social media by liking us on Facebook (Arkansas Razorback Women's Tennis) and following us on Twitter and Instagram (@RazorbackWTEN).