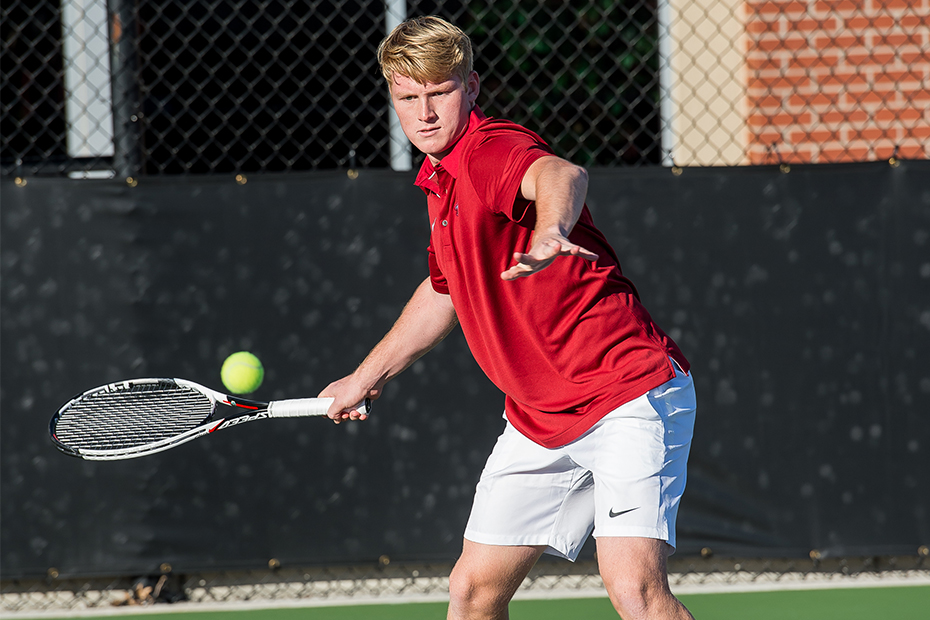 Arkansas Falls To Central Florida
FAYETTEVILLE, Ark. – The Arkansas men's tennis team opened its three-match road swing with a 5-2 loss Wednesday night against the Central Florida Knights at the USTA National Campus in Orlando, Florida.
The night did not get off to a good start for Arkansas, as the Razorbacks fell behind early, dropping the doubles point. Adam Sanjurjo and Oscar Mesquida fell to No. 7 Korey Lovett and Eero Vasa 6-3, while Jose Salazar and Alex Reco lost to Alan Rubio and Enrique Paya 6-4 to give UCF the early advantage. Brothers Jose and Pedro Alonso led Danny Kerznerman and Gabriel DeCamps 5-4 at the clinch.
To start singles, Salazar was able to get Arkansas on the board and tie the match at 1-1, as the senior defeated Lovett 6-3, 6-2. The Razorbacks and Knights would split the next two courts, as Sanjurjo fell to DeCamps 6-4, 6-2, while Razorback freshman Josh Howard-Tripp defeated Mikhail Sokolovskiy 6-3, 6-3 to even things at 2-2.
UCF would go on to take the next three courts and cruise to a 5-2 win.
Reco fell to Vasa 6-4, 7-6 (7-5), while Mesquida lose to Rubio in three sets, 4-6, 6-3, 7-5 to clinch the match for the Knights. After the clinch, Alonso fell to Kerznerman 7-5, 3-6, 6-3.
Arkansas will quickly get back into conference action, as the Razorbacks will then travel north to Columbia, South Carolina, for a matchup with the South Carolina Gamecocks on Friday at 3:30 p.m. CT. The Razorbacks will close out the road trip with a match in Gainesville, Florida, on Sunday, as Arkansas takes on the No. 9 Florida Gators at 11 a.m. CT.
Central Florida 5, Arkansas 2
Singles Results – Order of finish (1,2,4,5,3,6)
1. #65 Jose Salazar (AR) def. Korey Lovett (UCF-M) 6-3, 6-2
2. Gabriel DeCamps (UCF-M) def. Adam Sanjurjo (AR) 6-4, 6-2
3. Alan Rubio (UCF-M) def. Oscar Mesquida (AR) 4-6, 6-3, 7-5
4. Josh Howard-Tripp (AR) def. Mikhail Sokolovskiy (UCF-M) 6-3, 6-3
5. Eero Vasa (UCF-M) def. Alex Reco (AR) 6-4, 7-6 (7-5)
6. Danny Kerznerman (UCF-M) def. Pedro Alonso (AR) 7-5, 3-6, 6-3
Doubles Results – Order of finish (1,2)
1. #7 Korey Lovett/Eero Vasa (UCF) def. Adam Sanjurjo/Oscar Mesquida (AR) 6-3
2. Alan Rubio/Enrique Paya (UCF) def. Jose Salazar/Alex Reco (AR) 6-4
3. Jose Alonso/Pedro Alonso (AR) vs. Danny Kerznerman/Gabriel DeCamps (UCF) 5-4, unfinished
For more information on Razorback men's tennis, please follow @RazorbackMTEN on Twitter.