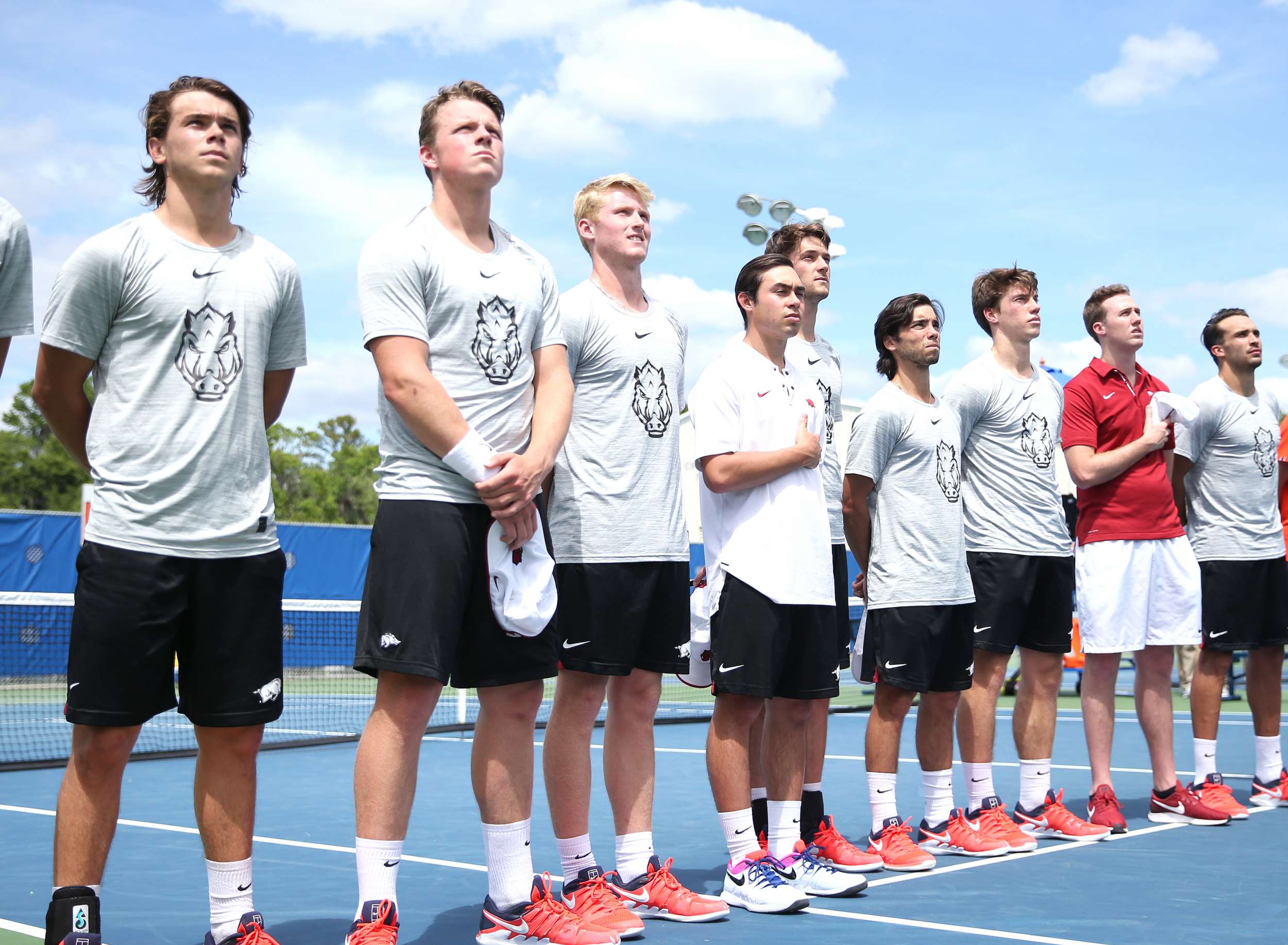 Arkansas Falls To Georgia In Gainesville
GAINESVILLE, Fla. – No. 17 Georgia defeated the Arkansas men's tennis team, 4-0, Thursday in the second round of the Southeastern Conference Men's Tennis Tournament Thursday evening.
After a short delay from the earlier matches, Georgia took a 1-0 advantage by securing the doubles point. The Bulldogs took court three 6-3. Oscar Mesquida and Adam Sanjurjo were able to take court one over the 18th-ranked doubles pair in the country, 6-4, but Georgia took court two 6-4 to take a 1-0 lead heading into singles action.
Georgia would take a 2-0 lead as No. 99 Philip Henning (UGA) defeated Maxim Verboven 6-3, 6-0 on the sixth court. The Dogs would pull within one from clinching as No. 31 Emil Reinberg (UGA) beat Alex Reco 6-1, 6-1 on court two.
The Dogs clinched the match on court four as Trent Bryde (UGA) defeated Enrique Paya 6-3, 6-2.
For more information on Arkansas men's tennis, including in-match updates, follow @RazorbackMTEN on Twitter.
Doubles Results – Order of Finish (3,1,2)
1. Oscar Mesquida/Adam Sanjurjo (AR) def. #18 Robert Loeb/Jan Zielinski (UGA) 6-4
2. Walker Duncan/Emil Reinberg (UGA) def. Maxim Verboven/Enrique Paya (AR) 6-4
3. Alex Diaz/Philip Henning (UGA) def. Alex Reco/Jose Alonso (AR) 6-3
Singles Results – Order of Finish (6,2,4)
1. #17 Jan Zielinski (UGA) vs. #66 Oscar Mesquida (AR) 5-7, 4-2, unfinished
2. #31 Emil Reinberg (UGA) def. Alex Reco (AR) 6-1, 6-1
3. Robert Loeb (UGA) vs. Pedro Alonso (AR) 6-2, 2-2, unfinished
4. Trent Bryde (UGA) def. Enrique Paya (AR) 6-3, 6-2
5. Walker Duncan (UGA) vs. Jose Alonso (AR) 6-2, 1-5, unfinished
6. #99 Philip Henning (UGA) def. Maxim Verboven (AR) 6-3, 6-0