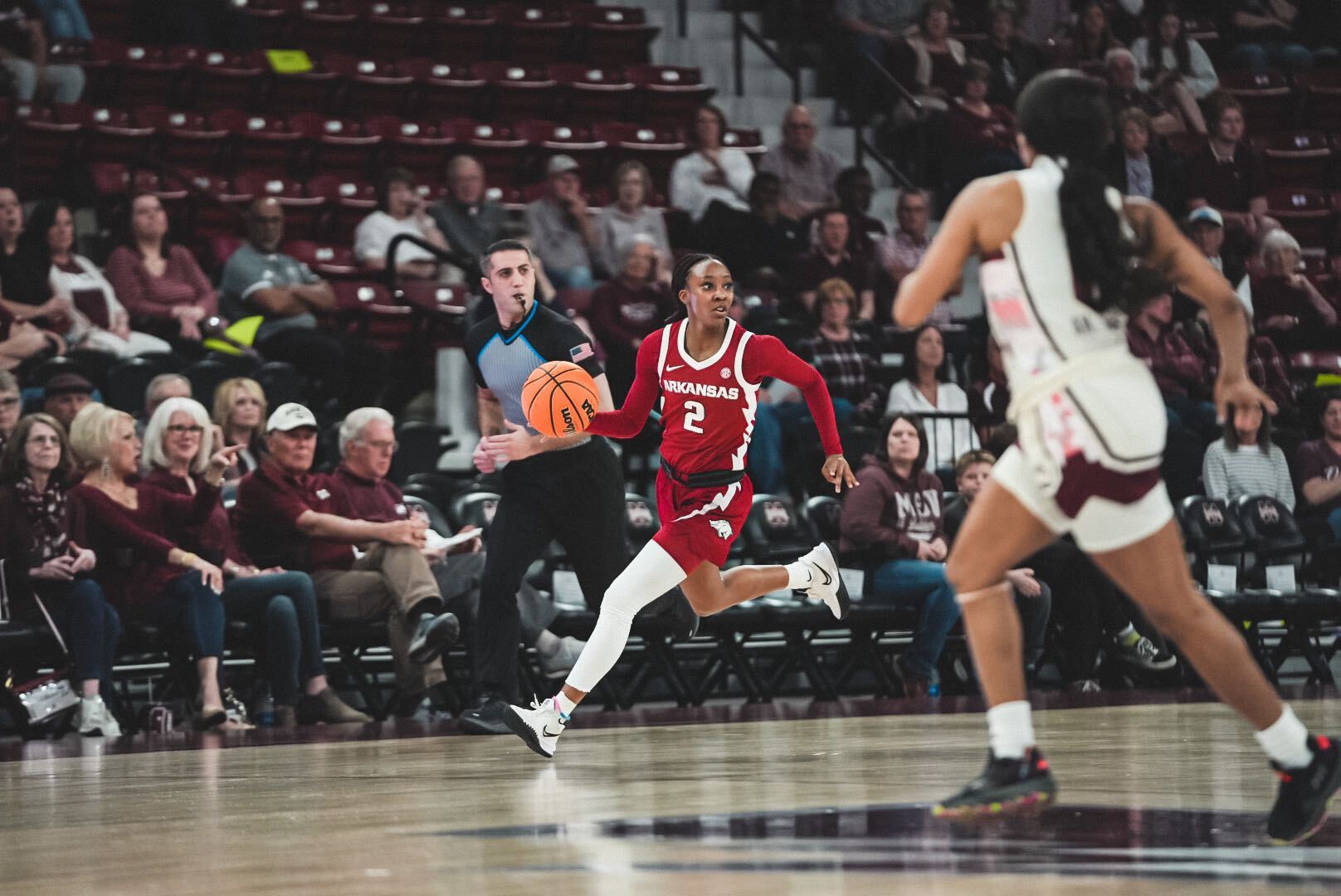 Arkansas Falls to Mississippi State
STARKVILLE, Miss. – The Arkansas women's basketball team (19-11, 6-9 SEC) was stumped by a slow start, falling to Mississippi State (20-8, 9-6 SEC), 87-73 Arkansas outscored MSU, 43-38 in the second half, but could not overcome the 19-point deficit at halftime. The Razorbacks were led by Samara Spencer's 25 points.
MSU started the night by scoring the game's first seven points, going 3-for-3 from the field, in a little over a minute. The Bulldogs kept the momentum, and with 7:17 left in the first quarter, MSU was up, 12-1, while Arkansas was still searching for its first field goal of the night. Out of the timeout, Spencer nailed a 3-pointer for Arkansas' first field goal of the evening. After Arkansas came within six, MSU went on a 10-0 run to lead, 22-6, with 2:30 left in the first quarter. Arkansas continued to stay in a scoring drought for well over four minutes until Spencer nailed down her second 3-pointer of the game just before the buzzer sounded. Arkansas was in a hole early, down 25-9 after 10 minutes of play.
Makayla Daniels did not waste time to start the second quarter, knocking down a deep triple to make it a 25-12 game with 9:22 left in the frame. As Arkansas was within 11 after two Spencer freebies, MSU went on a 5-0 run. Arkansas did not score a field goal for over four minutes until Maryam Dauda came up with a layup off a third-chance opportunity. Spencer then knocked down a jumper to continue Arkansas' 4-0 run, but the Bulldogs had the 37-22 lead with 3:58 left in the quarter. Spencer kept up the aggressive play, drawing a foul to the basket to convert a 3-point play. MSU could not miss, knocking down their seventh 3-pointer of the game. Spencer then answered back with a triple of her own. The Bulldogs went on a 5-0 run just as it looked like Arkansas was finding some fire offensively. Arkansas did not score a field goal for the remaining 2:59 of the half to trail, 49-30.
The second half started similar to the first, as MSU scored the first nine points of the second half. Carr drove to the basket for a layup for Arkansas' first field goal of the second half. Spencer nailed a 3-pointer, but the Razorbacks trailed by 23 with 5:23 left in the third. Arkansas closed out the third quarter strong on a 7-0 run, which was highlighted by a Daniels halfcourt shot at the buzzer. Both teams scored 19 points in the third quarter, as Arkansas was behind 68-49 going into the fourth quarter.
Arkansas started the fourth quarter with an Erynn Barnum and-1. Daniels followed with a layup to spark a 4-0 run in 58 seconds. Mississippi State called a timeout, as Arkansas trailed 68-54. After a Saylor Poffenbarger 3-pointer, Arkansas came within 13 points, down 70-57, with 7:50 left in the game. Arkansas called a timeout, and after that break, MSU nailed a 3-pointer as the shot clock was expiring to go back up by 16. The Razorbacks did not score a field goal for nearly three minutes until Daniels knocked down a 3-pointer and followed with a layup, as the Razorbacks were down by 13, 77-64, with less than four minutes remaining in the game. MSU did not score a field goal for over five minutes, and after a Poffenbarger and-1, Arkansas was down 78-67 with 2:04 left in the game. Mississippi State outscored Arkansas 9-6 in the final two minutes of the game, falling 87-73.
HOG HIGHLIGHTS
Spencer scored 16 of her 25 in the first half. She tallied her seventh 20-point game of the season, 10th of her career, shooting an effective 8-of-14 from the field, 4-of-7 from 3-point. She added three steals
Daniels scored 17 points, while knocking down three 3-pointers and going a perfect 4-of-4 from the free throw line. She added four assists and a steal
Poffenbarger logged her sixth 10-rebound game of the season, finishing the night with seven points and 11 rebounds. With 10 of those rebounds being defensive, Poffenbarger is 15 defensive rebounds away from breaking the single season record at Arkansas
Barnum finished with nine points, all in the second half, with five rebounds, while Carr has nine points and four rebounds
The bench was more active tonight. Jersey Wolfenbarger had six rebounds and Dauda logged four points and six boards
Arkansas logged eight 3-pointers and 12 offensive boards
 UP NEXT
The Razorbacks will put a wrap to the regular season by hosting Texas A&M on Sunday, Feb. 26. The 11 a.m. game will be broadcast on SEC Network, while also serving as Senior Day. Arkansas will honor seniors Carr and Avery Hughes following the conclusion of the game.
MORE INFORMATION
For more information about Arkansas Women's Basketball, follow us on Twitter and Instagram at @RazorbackWBB and on Facebook at Facebook.com/RazorbackWBB. Be sure to subscribe to our YouTube Channel, "Kickin' It In The Neighborhood" for an inside look at the Razorback women's basketball program and check out The Neighborhood podcasts at CoachNeighbors.com.