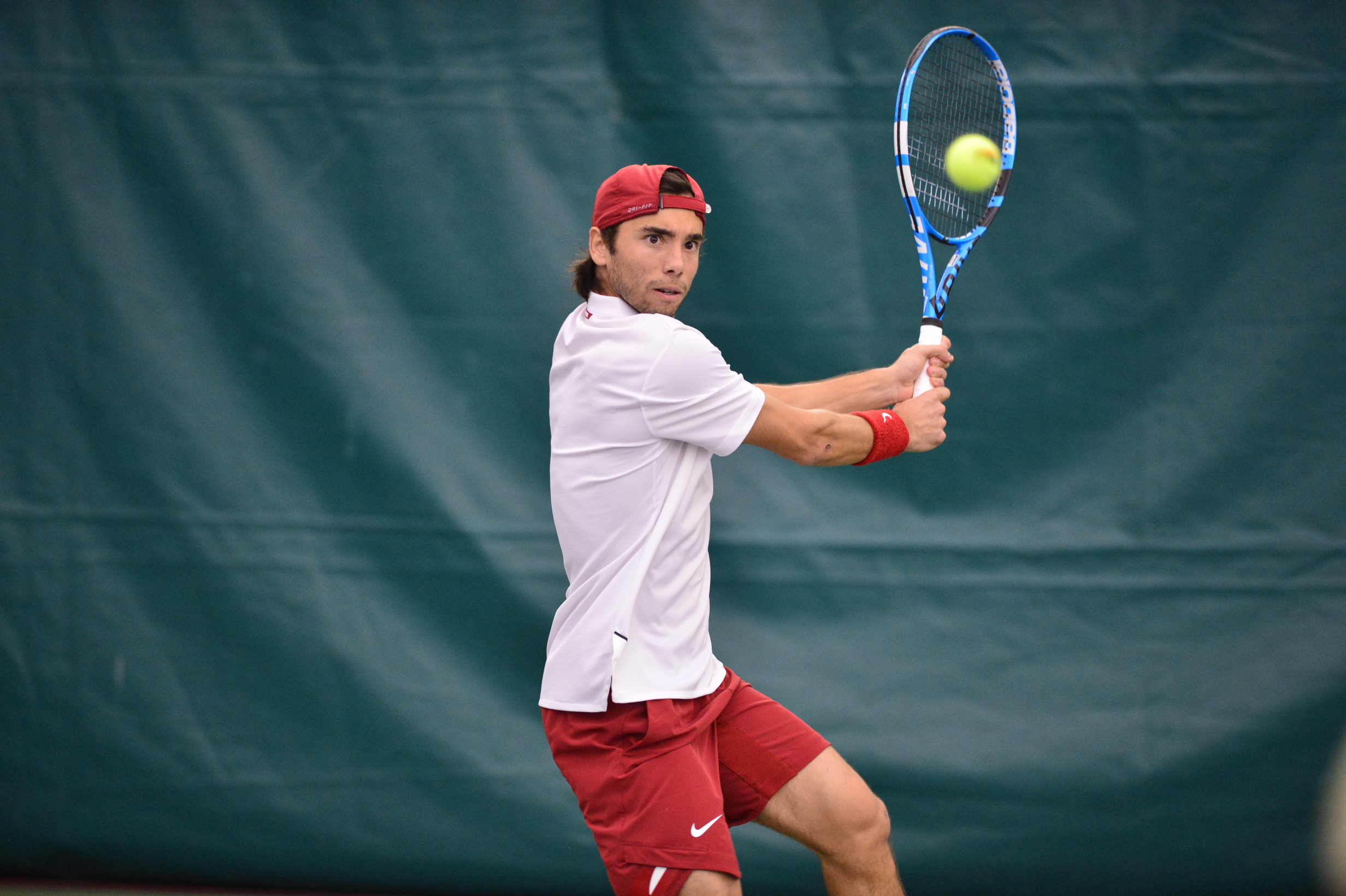 Arkansas Falls To Vanderbilt, 4-3
FAYETTEVILLE, Ark. – The Arkansas men's tennis team fell to Vanderbilt 4-3 inside the Dills Indoor Courts. The Razorbacks return to action this Saturday to host Kentucky at 1 p.m.
Arkansas began the match with a doubles win on court three from Alex Reco and his partner Jose Dominguez Alonso, 6-1; but lost the doubles point as Vanderbilt took both matches on courts one and two. Maxim Verboven and Enrique Paya fell in the tiebreaker 7-6(5) to give the Commodores a 1-0 advantage.
The Razorbacks were able to even the match 1-1 as Alex Reco def. Macsen Sisam 6-4, 6-1 in consecutive sets. The Oscar Mesquida would fall on court one 6-4, 6-4 to Cameron Klinger in what was the first of three consecutive matches for the Commodores to clinch the match 4-1.
Josh Howard Tripp won his match on court two in consecutive sets, that each went to tiebreakers, 7-6(8), 7-6(3) to narrow the gap to 4-2. Arkansas would take the final court as Pedro Dominguez Alonso won his three set battle 3-6, 6-4, 7-6(4) for a 4-3 final.
Doubles Results –  Order of Finish (3,1,2)
1. Cameron Klinger/Billy Rowe (VANDY) def. Oscar Mesquida/Adam Sanjurjo (AR) 6-2
2. Maxwell Freeman/Macsen Sisam (VANDY) def. Maxim Verboven/Enrique Paya (AR) 7-6 (7-5)
3. Alex Reco/Jose Alonso (AR) def. George Harwell/Adam Sraberg (VANDY) 6-1
Singles Results – Order of Finish (3,1,6,4,2,5)
1. Cameron Klinger (VANDY) def. #53 Oscar Mesquida (AR) 6-4, 6-4
2. Josh Howard-Tripp (AR) def. George Harwell (VANDY) 7-6 (10-8), 7-6 (7-3)
3. Alex Reco (AR) def. Macsen Sisam (VANDY) 6-4, 6-1
4. Billy Rowe (VANDY) def. Enrique Paya (AR) 6-2, 2-6, 6-0
5. Pedro Alonso (AR) def. Maxwell Freeman (VANDY) 3-6, 6-4, 7-6 (7-4)
6. Panu Virtanen (VANDY) def. Jose Alonso (AR) 6-4, 7-5