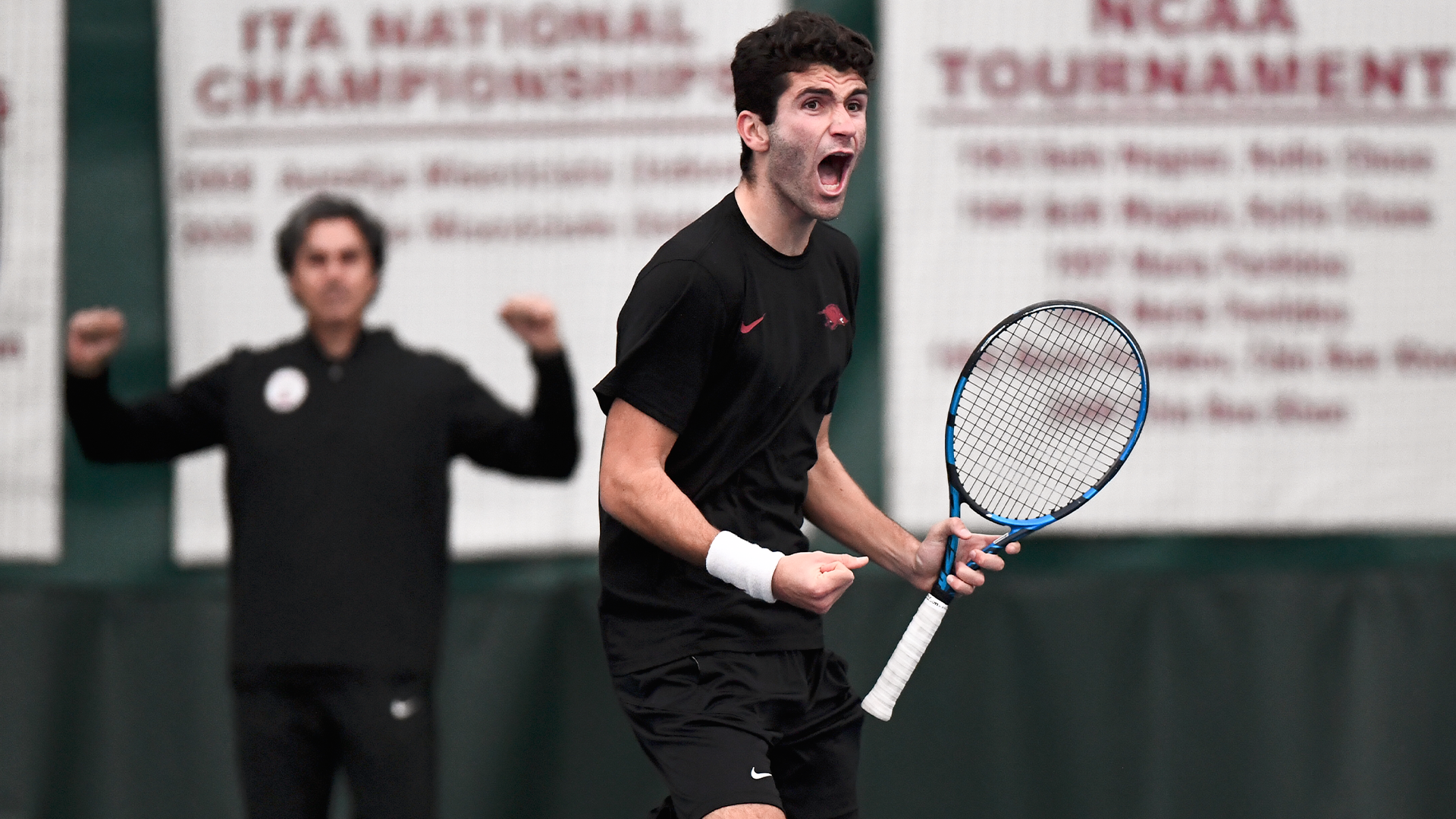 Arkansas Holds On to Beat Washington, Win Fifth Straight Match
FAYETTEVILLE, Ark. – The Razorbacks men's tennis team won their fifth straight match on Friday night with a tight victory over the Huskies. Arkansas (10-1) initially led 3-0 and held off a strong Washington (4-2) effort in singles play to win, 4-2.
In doubles play, each match was down to the wire, but the Hogs eventually earned the doubles point for the tenth time this season. In the No. 1 spot, juniors Melvin Manuel and Adrien Burdet defeated Washington's Bouchelaghem/Zharyn, 6-4, but the Huskies responded by winning on court three, 7-5. In the deciding match, juniors Alan Sau Franco and Stefanos Savva took a thrilling 7-6 (7) victory over Suko/Pearson, giving the Razorbacks the early 1-0 lead.
Arkansas carried their momentum into singles play, as Savva cruised past Lin in the No. 1 spot, 6-2, 6-1 and Sau Franco took down Hendrikx in straight sets, 6-3, 6-3. However, Washington wouldn't go away easily, winning the next two matches on courts two and three. The final two courts came down to the final set, but Gerard Planelles Ripoll overcame a first-set loss to come back and defeat Pearson 4-6, 6-3, 6-4, clinching the final singles point needed to secure the 4-2 win.
The Razorbacks return to Billingsley Tennis Center on Wednesday, Feb. 15 as they host Tulsa at 6 p.m. CT.
For the latest information on all things Arkansas Men's Tennis, follow the Hogs on social media by liking us on Facebook (Arkansas Razorback Men's Tennis) and following us on Twitter and Instagram (@RazorbackMTEN).