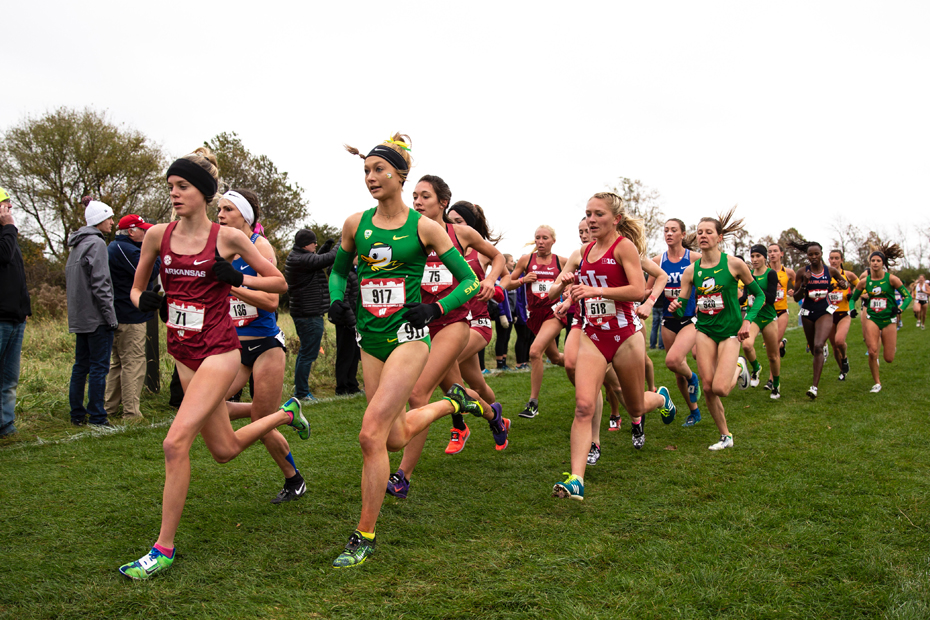 Arkansas Makes A Statement At Pre-Nationals
| | | |
| --- | --- | --- |
|  Pos. | Arkansas | Time |
| 2 | Katrina Robinson | 20:09.4 |
| 6 | Taylor Werner | 20:18.8 |
| 8 | Carina Viljoen | 20:20.1 |
| 10 | Lauren Gregory | 20:25.6 |
| 25 | Sydney Brown | 20:45.8 |
|  Pos. | Team Results | Score |
| 1 | Arkansas | 51 |
| 2 | Oregon | 71 |
| 3 | Indiana | 166 |
| 4 | BYU | 175 |
| 5 | North Carolina State | 180 |
MADISON, Wis. – No. 7 Arkansas made a statement Saturday morning capturing the Pre-Nationals meet title with a 20-point win over No. 4 Oregon at the Zimmer Championships Course – site of the 2018 NCAA Championships.
The Razorbacks placed their entire scoring lineup in the top 25, while simultaneously placing four runners in the top-10 – the only team to place multiple runners in the top-10.
As has been the case since her debut at the Chile Pepper last month, Katrina Robinson led the way for Arkansas finning runner-up to Oregon's Jessica Hull. Robinson crossed the line in 20:09.4.
"The whole team, all five of them ran really well," said head coach Lance Harter. "This was the best race as a group by far this season. They feel strong, and the whole idea is that we're going to keep building, and we certainly gained a lot of momentum today which was real positive. Now it's a matter of staying healthy. Sydney Brown just absolutely ran fantastic today, she was our No. 5 today, and Lauren Gregory made her season debut today. It was a fantastic team performance, a lot of positive energy."
"Our training has gone so well, I think we're starting to gel at the right time and that's what it's all about. Oregon is a phenomenal team, [they] were predicted to win it, and it was really nice to see we weren't intimidated to run with them. I think today gave us a huge bode of confidence that 'hey we are a potential contender', we just need to stay healthy and keep our wits about us and continue to believe in ourselves. if we do, we're going to be a force to be reckoned with," Harter finished.
Arkansas' No. 2 was junior Taylor Werner who finished close behind Robinson in sixth-place (20:18.8). Rounding out the scoring for the Razorbacks were Carina Viljoen (20:20.1), the 2017 SEC Cross Country Freshman of the Year Lauren Gregory in (20:25.6), and Sydney Brown (20:45.8) in 8th, 10th, and 25th-place, respectively.
For more information on Arkansas Cross Country including in-meet updates, follow @RazorbackTF on Twitter.
Photo courtesy of Tom Lynn