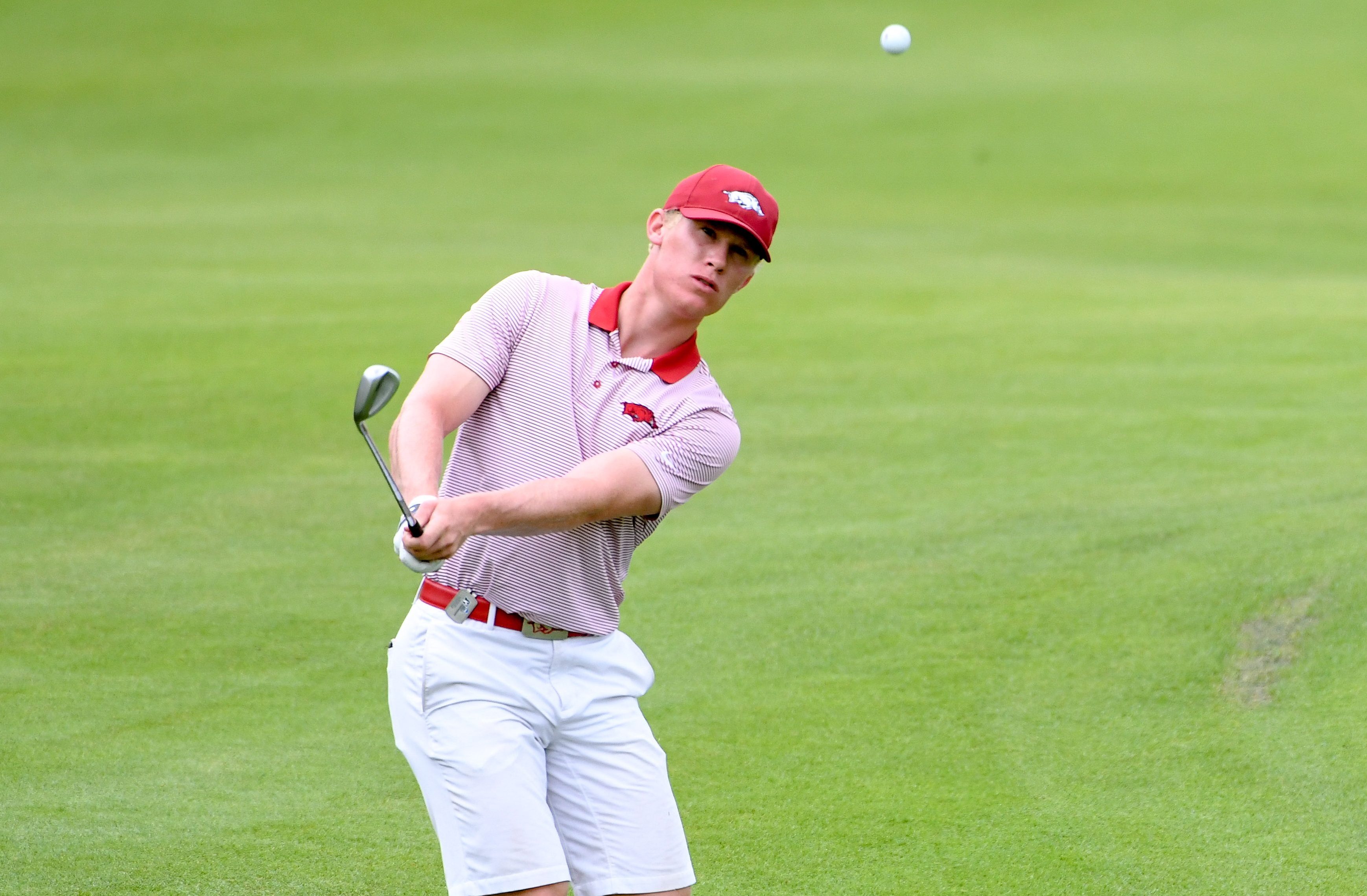 Arkansas Men's Golf in 5th After Round 1 of Season Opener
Live Scoring/Results
Carmel Cup Rd. 1 Results: https://bit.ly/2PSUo9X
FAYETTEVILLE, Ark. – The Arkansas men's golf team, ranked 17th in the preseason poll, opened the 2018-19 season and carded a 4-under par 356 to stand in fifth place at the Carmel Cup, played at the historic par 72, 6,828-yard Pebble Beach Golf Links.
The Carmel Cup, which continues with 18 holes Saturday and concludes with 18 holes Sunday, is an eight-team event comprised of some of the nation's top programs and, unlike most collegiate tournaments, allows six golfers to play each round with the best five scores making up the team score for the day.
Oklahoma, the #2 team in the nation, jumped out to an impressive lead after 18 holes, shooting a 20-under par 340. Top-ranked Oklahoma State is second with a 10-under 350. Places three through five are only separated by four strokes with Georgia in third (352), TCU (354) and the Razorbacks (356). The remaining three teams in the field are tied for sixth as Texas Tech, Mississippi State and Vanderbilt each shot a 1-over par 361 on Friday.
Mason Overstreet picked up where he left off two weeks ago as he reached the round of 16 at the 2018 U.S. Amateur played at Pebble Beach. Overstreet led the way for the Razorbacks, posting an opening-round 68 to stand in a tie for fifth. The junior turned in a team-best six birdies, including five on the front nine and one on the 18th, to post his 4-under par round. He made the turn at 3-under, thanks to five birdies and two bogeys, then reeled off eight straight pars before closing with a birdie.
Fellow juniors Luis Garza and Tyson Reeder also finished the first round under par and both inside the top 20. Garza shot a 2-under 70 and is tied for 16th while Reeder turned in a 1-under 71 to tie for 19. Garza was 3-under after five holes and settled for a 2-under par 34 at the turn. He offset a bogey with a birdie on the inward nine for his 70. Reeder paced the team by recorded 13 pars on Friday. He birdied the second hole before posting bogeys on hole four and eight. However, he had eight pars along with birdies on holes 13 and 18 to close his round for a 71.
William Buhl, who was second on the team with five birdies Friday, got his season off to a great start as he was 4-under par after seven holes. However, he fell back to 2-over through 17 holes before closing his afternoon with a birdie on 18 for a 1-over 73 to stand in a tie for 29th. Freshman Julian Perico was among three Razorbacks with 12 pars Monday, adding birdies on holes two and seven, to shoot a 2-over 74 and tie for 33rd. Freshman Wil Gibson began his collegiate career with a par on the opening hole. an eagle on the par-5 2nd hole, a par on the 3rd hole and a birdie on the par-4 4th. He would finish with a 3-over par 75 and is tied for 37th.
| Place | Player | Score |
| --- | --- | --- |
| T5. | Mason Overstreet | 33-35=68 (-4) |
| T16. | Luis Garza | 34-36=70 (-2) |
| T19. | Tyson Reeder | 37-34=71 (-1) |
| T29. | William Buhl | 32-41=73 (+1) |
| T33. | Julian Perico | 35-39=74 (+2) |
| T37. | Wil Gibson | 38-37=75 (+3) |
| Place | Team | Score |
| --- | --- | --- |
| 1. | #3 Oklahoma | 340 (-20) |
| 2. | #1 Oklahoma State | 350 (-10) |
| 3. | #30 Georgia | 352 (-8) |
| 4. | TCU | 354 (-6) |
| 5. | #17 Arkansas | 356 (-4) |
| T6. | #15 Texas Tech | 361 (+1) |
| T6. | Mississippi State | 361 (+1) |
| T6. | #5 Vanderbilt | 361 (+1) |