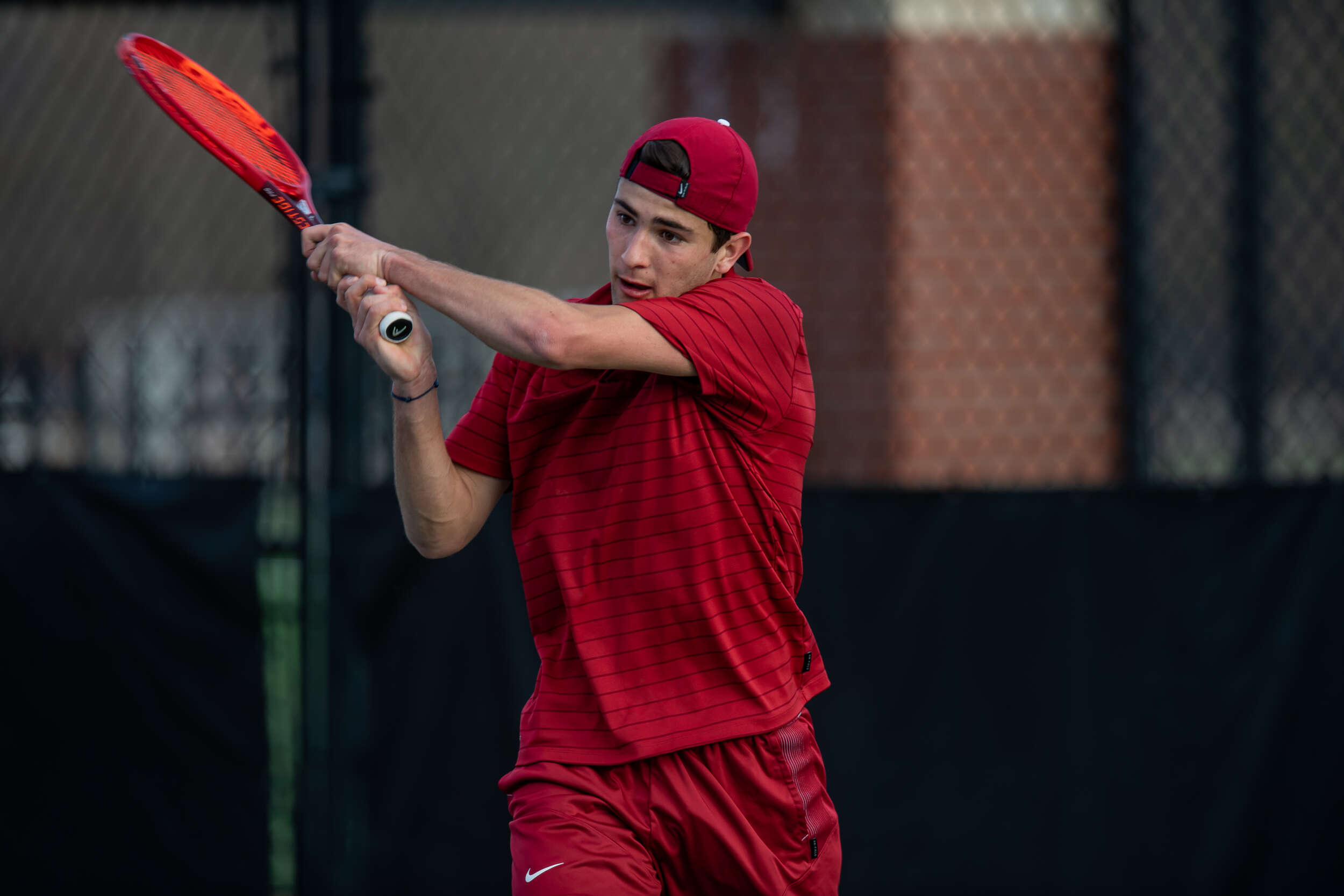 Arkansas Men's Tennis comes up short at LSU, 4-3
BATON ROUGE, La. – The Razorback Men's Tennis team (14-13, 3-9) suffered a second-straight loss in the final match of the day on Sunday, this time falling to LSU, 4-3.
"LSU came through. Congrats to them," Arkansas Head Coach Andy Jackson said. "We are gonna keep knocking on the door, working hard and fighting like we did this whole weekend. As a coach, I am very proud of the team I'm coaching."
The Tigers and Hogs were neck-and-neck the whole day, first becoming evident in doubles play. After a split on courts one and two, court three went to a tiebreaker at 6-6, and after over an hour of play, LSU claimed the doubles point, winning the tiebreaker, 8-6.
Singles play was just as tight. Razorback sophomore Melvin Manuel drew first blood, easing to a 6-0, 6-3 win to improve to an impressive 16-3 in singles this season.
After the Hogs went down 3-1, a loss away from defeat, No. 58-ranked Arkansas senior Alex Reco came up with a hard-fought win against No. 40 Ronnie Hohmann on court one to keep the Razorbacks alive. Sophomore Adrien Burdet came up clutch with a win on court four shortly after, defeating Gabriel Diaz Freire, 6-4, 2-6, 6-4, to even the match at 3-3.
Arkansas battled the whole day, and senior Nico Rousset produced some big-time tennis to come back from a set down to push his match to a third set, but at 4-4, Rousset lost his serve and ultimately lost the set, 6-4.
The Razorbacks now shift their focus to the SEC Tournament this week, with their first match coming on Thursday, April 21, in Athens, Georgia. The Hogs will face the No. 21 Texas A&M Aggies in the first round.
"We have one more chance against No. 21 Texas A&M on Thursday who beat us, 4-3, in College Station at the start of SEC play," Jackson said.
Arkansas and A&M are set to meet at 10 a.m. CT Thursday.