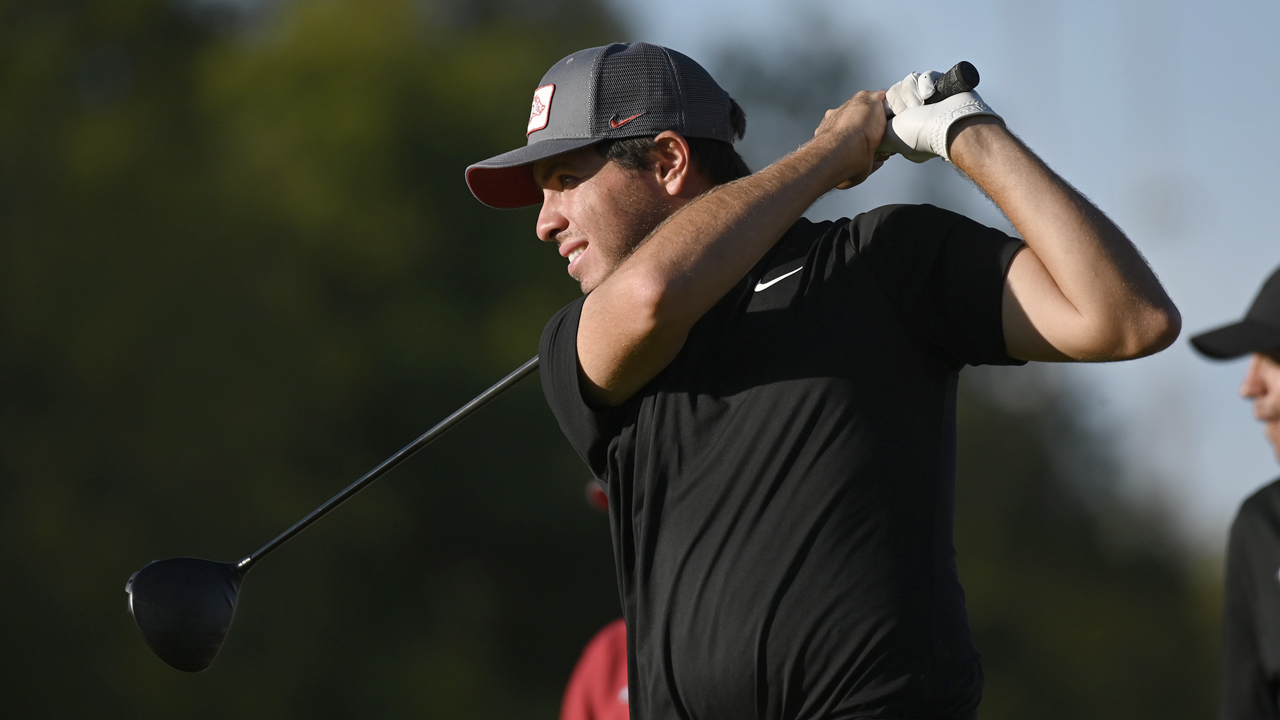 Arkansas MGolf Goes Low in Final Round in Fall Season
JUNO BEACH, Fla. – Arkansas closed the fall portion of its schedule with an impressive 10-under-par round and climbed from seventh to finish tied for fifth at the Jackson T. Stephens Cup, played at historic Seminole Golf Club.
The top four teams advance to match play Wednesday. Arkansas was 14 strokes from fourth place (and 17 strokes behind Notre Dame) after 36 holes. The Razorbacks were briefly tied for fourth with Texas, but the Longhorn (-8 / 856) made three birdies down the stretch to secure fourth by two strokes. Arkansas would ultimately tie Notre Dame for fifth at -6 (858).
North Carolina (-43) and Florida State (-23) will square off Wednesday in the match play final while Stanford (-2) and Texas (-8) will play for third place.
Arkansas had four players under par in round three.
Julian Perico led the Razorbacks with his eighth career top-5, shooting 70 in the final round and tying for fourth with a 9-under-par, 54-hole score of 207 (69-68-70). He carded an eagle and five birdies, including four straight on his 4th, 5th, 6th and 7th holes played. (He started on hole 10). He tallied 17 birdies to rank second in the field. With his two eagles over the two days, Perico extended his school-record total to 25 for his career – eight better than second place.
Defending champion Mateo Fernandez de Oliveira posted three birdies and a bogey to shoot a 2-under 70 and tie for 20th with an even-par, 54-hole total of 216 (73-73-70). He has two top 20's this fall and 17 for his career.
Fifth-year senior Segundo Oliva Pinto had the round of the day for Arkansas. The Argentinian was 3-under early before bogeys on his 6th and 8th holes. However, he closed his round with birdies on his 12th, 16th and 18th holes. That bogey-free back nine was key in the Razorbacks' charge. Overall, he tied for 23rd (77-73-68=218 / +2().
Manuel Lozada finished 28th (77-72-70=219 / +3). Both Oliva Pinto and Lozada birdied their final holes to secure the fifth-place finish. Matthew Griggs, who was making his collegiate debut in the starting lineup, also birdied his final hole and finished 33rd (75-76-73=224 / +8).
Arkansas will resume to 2022-23 schedule Feb. 5-6 at the Hayt, played at Sawgrass (Fla,) Country Club.
Team Standings:
1. #13 North Carolina 272-272-277=821 (-43)
2. #14 Florida State 281-280-280=841 (-23)
3. #3 Stanford 279-287-278=844 (-20)
4. #19 Texas 277-293-286=856 (-8)
T5. #26 Arkansas 294-286-278=858( -6)
T5. #20 Notre Dame 278-285-295=858 (-6)
7. #11 Oklahoma State 286-291-284=861 (-3)
For more information on Arkansas Men's Golf, follow @RazorbackMGolf on Twitter.