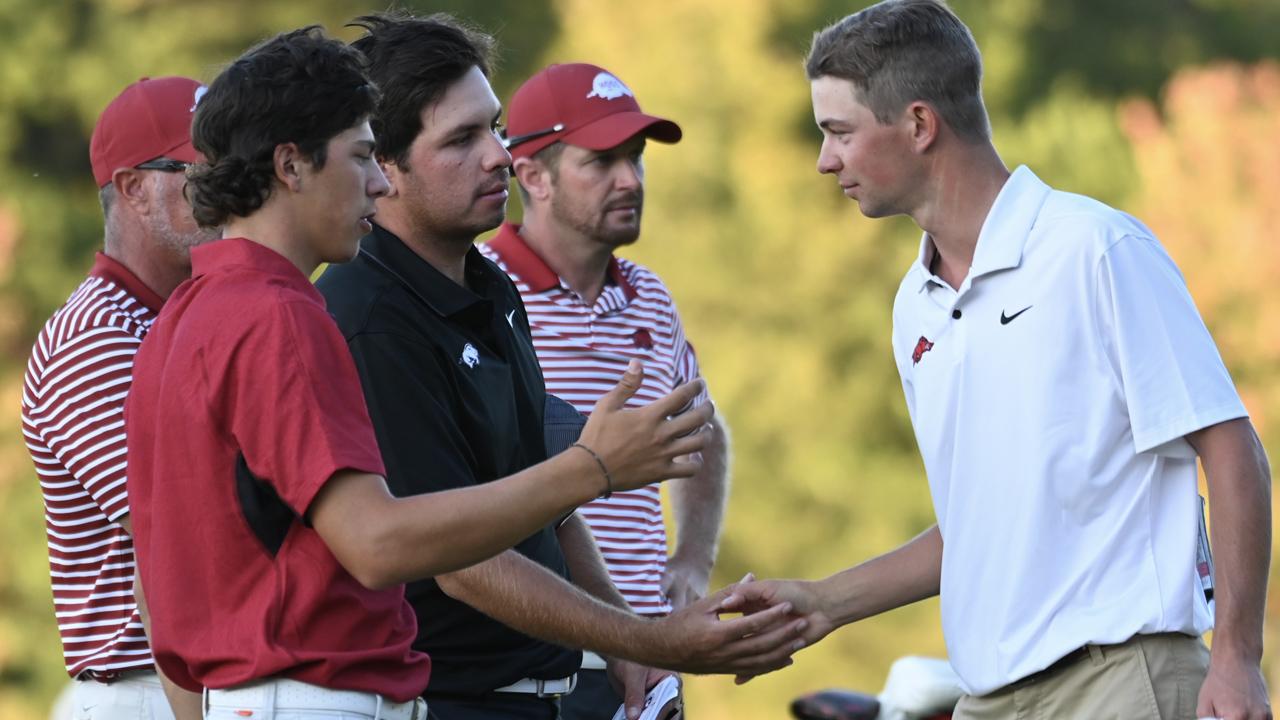 Arkansas MGolf Slips to 2nd at Blessings Collegiate Invitational; 4 Hogs in Top 10
FAYETTEVILLE – The #26 Arkansas men's golf program slipped to second after day two at the Blessings Collegiate Invitational, presented by Tyson Foods, but still has four players inside the top 10.
The third and final round is set for Wednesday. Arkansas will tee off at 11 am off hole 1.
While Arkansas was +5 (293), it still shot the third-best score of the day and has a 36-hole score of 577 (+1). It was the play of #9 Texas A&M that had more to do with the Razorbacks dropping to second. The Aggies shattered the BCI team single-round score with a 15-under-par 273 – five strokes better than the previous mark. Also, Texas A&M's 36-hole total of 565 (-11) ties the BCI team scoring mark for two rounds.
Texas A&M's Daniel Rodrigues fired a 6-under 66 to lead the Aggies and he sits atop the leaderboard with a 36-hole score of 135 (-9). Round one leader Gunnar Broin (Kansas) is one stroke back after posting a 1-under 71 to stand at 136 (–8) for two days.
Arkansas was led by Segundo Oliva Pinto. The fifth-year senior is fourth at -3 (71-70=141). He started with a pair of bogeys but made the turn at -1 thanks to birdies on holes 3, 5 and 8. Oliva Pinto then birdies holes 10 and 12 before dropping a shot on 14 to card his 2-under-par 70.
Oliva Pinto is joined in the top 10 by a trio of Razorbacks – Mateo Fernandez de Oliveira, Julian Perico and Matthew Griggs – tied for ninth at +1 (145). Fernandez de Oliveira suffered a triple bogey on the 11th hole but birdied holes 14 and 18 for his 75. Perico did his work early with birdies on holes 1 and 5. Griggs, playing as an individual and starting on hole 10, was 4-over at the turn but posted four birdies on his back nine for an even-par round.
Christian Castillo, playing as an individual, is tied for 29th (73-77=15) and Wil Gibson is tied for 38th (74-79=153).
NOTES:
Arkansas leads the field in par-3 scoring at -6 with the next closest playing the par-3's at +2.
Arkansas has 27 birdies through 36 holes to rank second in the field behind Texas A&M's 41.
Christian Castillo is tied for the lead by playing the par-5's at -5.
Live GOLF Channel coverage is from 3-6:30 pm.
BLESSINGS COLLEGIATE INVITATIONAL
Presented by Tyson Foods
Oct. 4 – ROUND 2
Host School: Arkansas
Blessings Golf Club || Fayetteville, Ark.
7,700 yards || Par 72
TEAM SCORES:
1. #9 Texas A&M 292-273=565 (-11)
2. #26 Arkansas 284-293=577 (+1)
3. #38 Mississippi State 300-285=585 (+9)
4. #30 Ole Miss 297-291=588 (+12)
5. #45 Clemson 292-297=589 (+13)
T6. #36 Louisville 295-301=596 (+20)
T6. Kansas 286-310=596 (+20)
8. UCLA 304-299=603 (+27)
T9. Cal 309-296=605 (+29)
T9. UNLV 296-309=605 (+29)
11. Central Florida 307-302=609 (=33)
For more information on Arkansas Men's Golf, follow @RazorbackMGolf on Twitter.