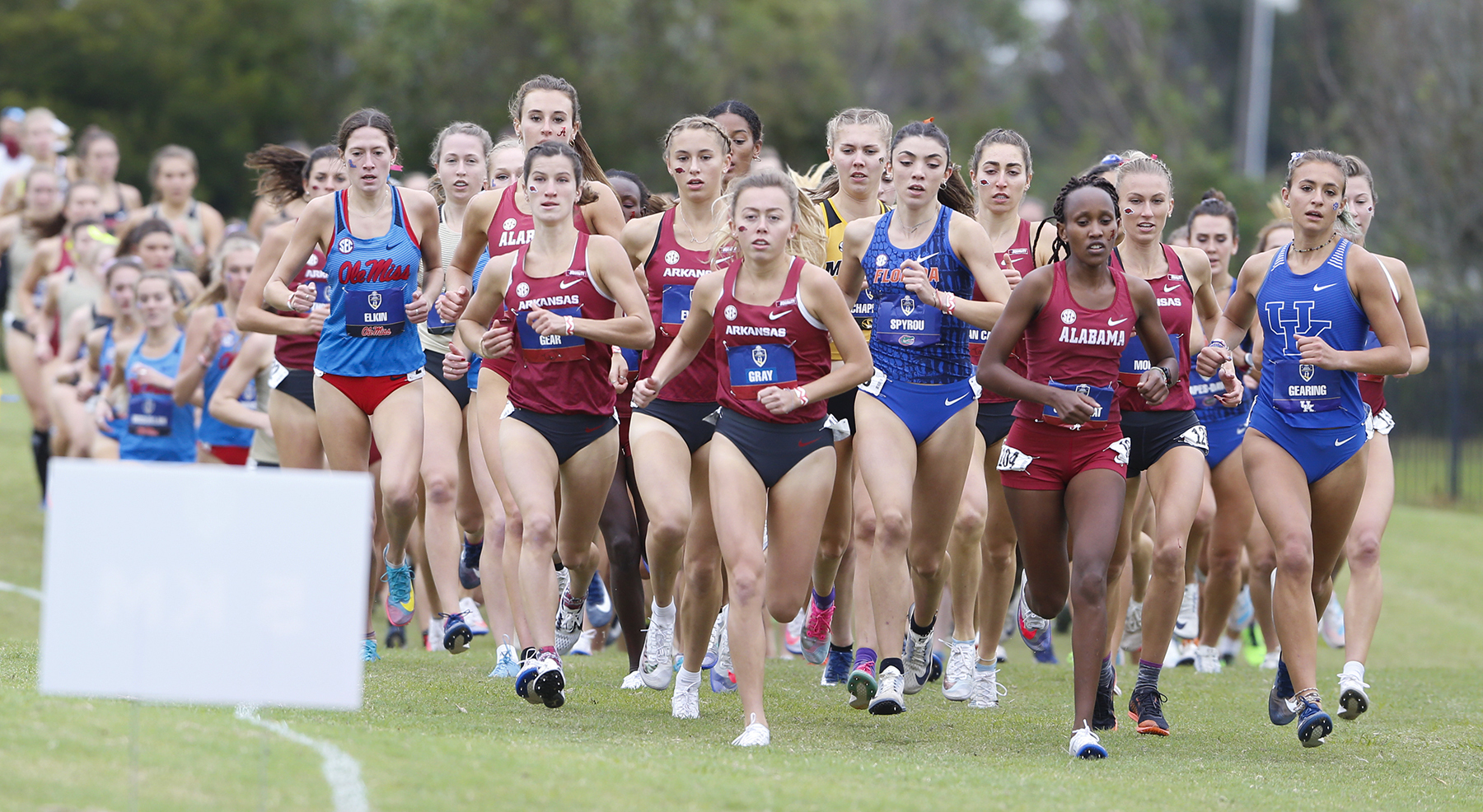 Arkansas No. 1 in pair of national polls
Another victory, claiming an eighth consecutive SEC Championship, kept the Razorbacks in the No. 1 position for two national polls, which were updated this week following conference championships held this past weekend.
Undefeated through four meets this fall, and 10 consecutive meets when including the 2019 campaign, Arkansas remained in the top position for the Boost Treadmills national poll as well as the USTFCCCA coaches poll this week.
Following the Razorbacks in the Boost Treadmills poll are NC State, BYU, Iowa State and Georgia Tech among the top five schools. In the USTFCCCA poll the programs following Arkansas include New Mexico, NC State, BYU and Stanford.
The Razorbacks score of 41 points in the SEC meet came from a 4-7-9-10-11 finish. Lauren Gregory and Logan Morris earned first team All-SEC honors while second team All-SEC honors were claimed by Abby Gray, Taylor Ewert and Krissy Gear.
Ewert and Corie Smith, the top two freshman finishers in the SEC meet, were named to the Freshman All-SEC team.
Gregory produced her fourth top 10 finish in the conference meet and second top four placing with a fourth-place performance.
"I think that's what Arkansas is about," said Gregory, who was a bronze medalist in 2018. "No matter what, the culture is still the same. It's to come here, get it done, win and see what happens. It's cool to have the experience of winning a conference title for the fourth time."
Morris, a grad transfer from Clemson who competed in three ACC Championships, added: "It's so exciting to be here at Arkansas. To be able to train with these girls everyday just makes me better. The SEC is just an amazing level of competition. So, I know if we can compete well at this level, we can do it at the national level as well."
Gray, who was part of the Razorback national championship team with Gregory in 2019, matched her highest SEC finish of ninth place when she was the top freshman finisher in 2016.
"I'm super excited that we got to have a season, then on top of that to finish it out with another SEC win just makes me really happy," said Gray. "The girls from last year really set the tone for all of us. We had a lot to carry on from them.
"That was my mindset going into the SEC Championships, I really wanted to carry all the hard work they put in and continue that legacy for them."
Arkansas will be the defending national champions when the NCAA Cross Country Championships are held next spring. Normally staged in November, the meet was moved to March 15 in Stillwater, Oklahoma, due to the COVID-19 pandemic.
On Wednesday, the NCAA announced criteria for qualifying teams to the national championship meet.
Schools will have a declaration window from March 3 at midnight Eastern time until March 5 at 7:59 p.m. Eastern time to be considered for team selections.
Conference championship performance holds the most weight.
After the conference championship, a team will be evaluated on its body of work for all competitions, regardless of the time of year they occurred. (This includes teams that do not have a conference championship.)
Common opponents and head-to-head competition against Division I opponents only will be used when comparing teams.
Women's National Polls
| | |
| --- | --- |
| Boost Treadmills | USTFCCCA |
| 1. Arkansas | 1. Arkansas |
| 2. NC State | 2. New Mexico |
| 3. BYU | 3. NC State |
| 4. Iowa State | 4. BYU |
| 5. Georgia Tech | 5. Stanford |
| 6. Alabama | 6. Michigan |
| 7. Florida State | 7. Colorado |
| 8. Texas | 8. Washington |
| 9. Duke | 9. Michigan State |
| 10. West Virginia | 10. Furman |
| 11. Mississippi | 11. Wisconsin |
| 12. Southern Utah | 12. Minnesota |
| 13. Oklahoma State | 13. Georgia Tech |
| 14. Middle Tennessee | 14. Boise State |
| 15. North Carolina | 15. Penn State |