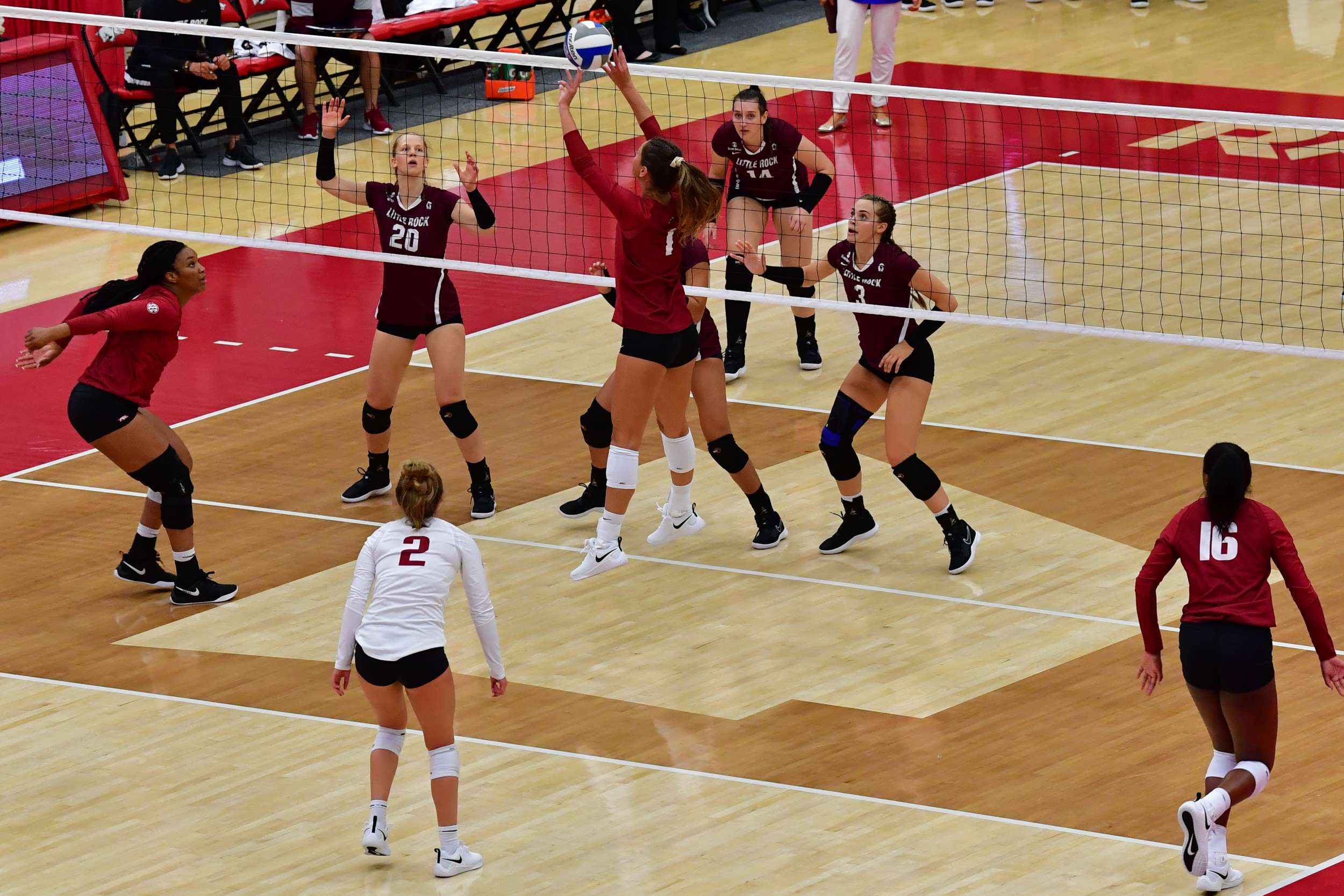 Arkansas Pine-Bluff to Visit Barnhill for Mid-week Volleyball Match
FAYETTEVILLE – The University of Arkansas volleyball team will face it's second in-state opponent of the season on Tuesday evening, as the Razorbacks and Roaring Lions of Arkansas Pine-Bluff hit the court for the first time in program history.
The Hogs returned to the Natural State after a tough weekend in San Diego, Calif. Arkansas participated in the San Diego State/San Diego Challenge, dropping all three weekend matches to West Virginia (3-0), San Diego (3-0) and San Diego State (3-2).
"It's good for our program to travel outside our time zone," said head volleyball coach Jason Watson. "It challenges us and exposes us to a level of play different from the SEC.  As the weekend developed, we saw a maturing of our program, especially our freshman.  The experience gained is important for our continued development."
The Razorbacks uncharacteristically struggled offensively against West Virginia and San Diego, unable to string together multiple points or rallies. Saturday's afternoon contest at San Diego State showed the resilience and potential in the group, as the Hogs battled back-and-forth with the Aztecs, falling just three points short in the final set (15-12).
Returning starting setter Rachel Rippee took the reins at SDSU, matching her season-high 31 assists through five sets. Rippee heads into week three leading the Razorbacks in all six matches so far.
Rippee's primary target, freshman Jillian Gillen let loose on Saturday, racking up a season-high 28 kills against the Aztecs. Though she had already joined the elite list of Razorbacks with 25 or more kills in a contest last week with 26 kills against Montana State, Gillen is just the second in the Watson era to record 28 kills, the first since 2017.
Sophomore middle-blocker Ellease Crumpton has also seen progress this fall, setting career highs in every statistical category. "I'm excited for the progress Ellease has made this season," said Watson. "She continues to be mindful in her preparation and commitment to learning.  She, along with everyone, is eager to get a new week started."
vs Arkansas Pine-Bluff
When: Tuesday, Sept. 9 at 6:00 p.m. (CT)
Where: Barnhill Arena
Series Record: First Meeting
Live Stats
Live Stream
The Scouting Report
Following an 0-3 showing in the Tiger Brawl hosted by the University of Memphis just last week, UAPB will be looking for its first win of the season. The Lions (0-6) are led by sophomore Haley Gomez, who has seen time in both the middle-blocker and outside-hitter positions. Gomez is recording 1.82 kills per set on average, taking most of her sets from senior setter Micayala Pope who has 44 of UAPB's 98 assists.
"This is another challenging week," Watson said. "We are excited to host UAPB for the first time and to be back at home in Barnhill, but it won't be long before we hit the road again when we travel to Maryland for another great weekend of volleyball."