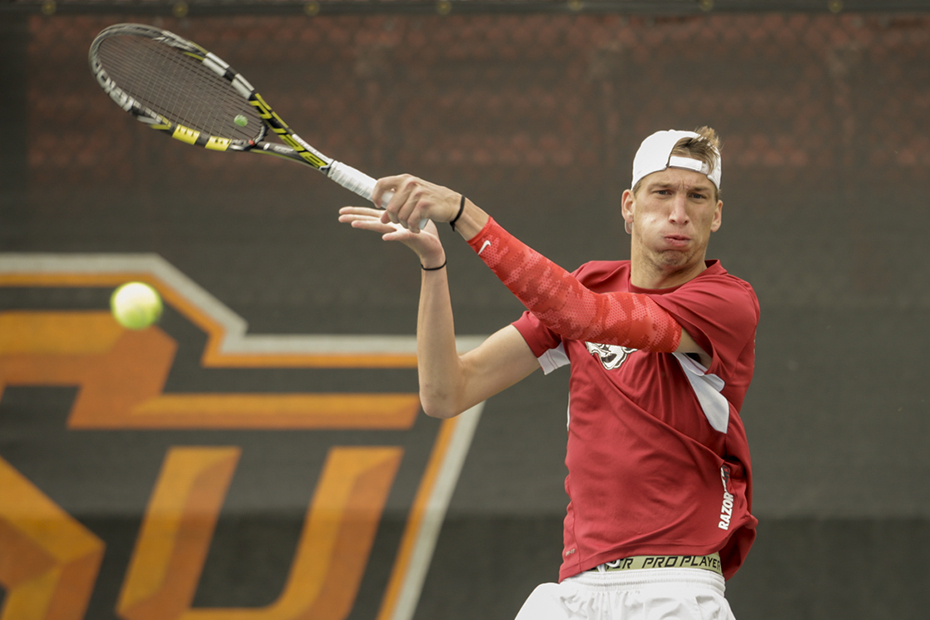 Arkansas Preparing For NCAA Championships
TULSA, Okla. — Even though the No. 19 Arkansas men's tennis team was eliminated from the NCAA Tournament on May 15 in Stillwater, a select trio of Razorbacks still had business to take care of upon returning to Fayetteville.
During the last week, Mike Redlicki, Giammarco Micolani and Jose Salazar have been preparing for competition in the NCAA Championships, which will be held from May 25-30 at the Michael D. Case Tennis Center in Tulsa.
For singles, No. 21 Redlicki earned one of 50 at-large spots, while the No. 19 Micolani-Redlicki duo will have an opportunity to play for the doubles title among the 31 other pairs. In addition, No. 62 Salazar is listed as the sixth alternate in the singles draw.
Redlicki is the lone Razorback netter with NCAA Championship experience, having competed in 2013 in both singles and doubles as a freshman at Duke.
In singles, he defeated Tom Jomby of Kentucky by a score of 7-6 (4), 6-7 (6), 6-1 in the first round. The following day, UCLA's Marcos Giron bested Redlicki by a score of 7-5, 6-3 to advance to the Sweet 16. In doubles, Redlicki and partner Jason Tahir lost 2-6, 6-2, 6-3 to the No. 1 seed pair of Mikelis Libietis and Hunter Reese of Tennessee.
Both the singles and doubles brackets will be released Tuesday following the final match of the NCAA Tournament.
QUICK HITS
• The last Arkansas doubles duo to compete in the NCAA field was Manfred Jeske and Mike Nott in 2013. The Jeske-Nott pair defeated Alex Domijan and Mitchell Frank of Virginia 6-2, 6-2 in the first round, before falling 6-4, 3-6, 6-3 to the No. 3 seed pair of Jonas Lutjen and Nik Scholtz of Mississippi State.
• The Razorbacks have claimed one NCAA doubles title, coming from the racquets of Peter Doohan and Pat Serrat in 1982.
• The last Arkansas singles player to make the NCAA field was Blake Strode in 2009, who made it to the semifinals before losing 7-6 (9), 6-4 to Devin Britton of Ole Miss. Britton went on to claim the title the next day over Ohio State's Steven Moneke.
For more information on Razorback men's tennis, please follow @RazorbackMTEN on Twitter.