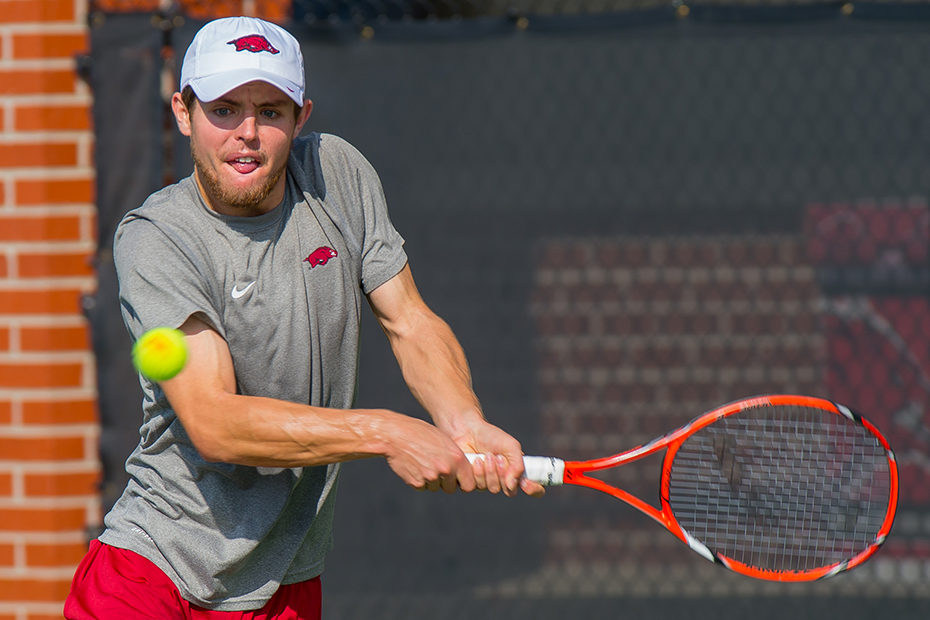 Arkansas Responds with Win Over Vols
KNOXVILLE, Tenn. — For the third time this year, the Arkansas men's tennis team bounced back from a loss with a victory. This time, the Razorbacks defeated Tennessee by a score of 5-2 on Sunday afternoon to improve to 11-3 on the season and 1-1 in SEC play.
"A road win in the SEC in any sport is exciting," head coach Andy Jackson explained. "I'm proud of our response to a very bitter defeat on Friday night indoors at Kentucky; we competed very hard again outside today."
In doubles play, Arkansas' No. 2 pair of Jose Salazar and Adam Sanjurjo won their second match of the weekend over the Volunteers' Jack Heslin and Preston Touliatos. With a Tennessee win at No. 3 doubles, it came down to the top spot.
The Razorbacks' No. 49 pair of Giammarco Micolani and Mike Redlicki defeated Tennessee's No. 42 duo of Jack Schipanski and Luis Valero by a score of 7-5 at the top spot. Just as Salazar and Sanjurjo did on Friday at No. 22 Kentucky, Micolani and Redlicki escaped a 5-4 deficit to come back and win the match 7-5.
Redlicki continued his hot streak in singles, defeating the Volunteers' No. 125 Valero 6-1, 6-2 at the top spot for his fifth-consecutive win. Still that wasn't Arkansas' first singles victory of the day, as William Albanese finished off Heslin at No. 6 by that same score.
Coupled with the opening doubles point going the way of the Razorbacks, the visitors took a quick, 3-0 lead at Barksdale Stadium. Then, it was Santiago Munoz's turn to make an impact. The senior came through with a clutch victory at the No. 3 spot over Tennessee's Schipanski to give Arkansas the all-important fourth point.
As play continued, the Vols (6-6 overall, 0-2 SEC) clinched two singles matches of their own to bring the score within 4-2.
But Salazar ended the run at No. 2 singles, claiming the only three-set match of the day over Timo Stodder by a score of 4-6, 6-4, 6-2. Salazar came back to win the final two sets after dropping the first; he has won six of his last seven matches.
QUICK HITS
• Redlicki is now 4-1 against ranked opponents after defeating Tennessee's No. 125 Valero on Sunday afternoon and Kentucky's No. 31 William Bushamuka on Friday evening.
• The top doubles pair of Micolani and Redlicki has won three-consecutive matches against ranked opponents and stand at 6-3 overall this season.
• The Razorbacks improved to 7-1 in dual matches this season when winning the doubles point.
• Redlicki in singles and the Salazar-Sanjurjo pair in doubles escaped the first weekend in SEC play with an undefeated, 2-0 conference record.
UP NEXT
Arkansas returns to Billingsley Tennis Center for two home matches next weekend. The team will face No. 8 Texas A&M on Friday, March 11 at 3 p.m. and LSU on Sunday, March 13 at 1 p.m.
TODAY'S RESULTS
DOUBLES
1. #49 Giammarco Micolani/Mike Redlicki (AR) def. #42 Jack Schipanski/Luis Valero (UT) 7-5
2. Jose Salazar/Adam Sanjurjo (AR) def. Jack Heslin/Preston Touliatos (UT) 6-4
3. Srdjan Jakovljevic/Timo Stodder (UT) def. Santiago Munoz/Johan den Toom (AR) 6-3
SINGLES
1. #82 Mike Redlicki (AR) def. #125 Luis Valero (UT) 6-1, 6-2
2. Jose Salazar (AR) def. Timo Stodder (UT) 4-6, 6-4, 6-2
3. Santiago Munoz (AR) def. Jack Schipanski (UT) 6-3, 7-5
4. Srdjan Jakovljevic (UT) def. Giammarco Micolani (AR) 6-3, 7-6 (7-4)
5. Preston Touliatos (UT) def. Adam Sanjurjo (AR) 6-4, 7-5
6. William Albanese (AR) def. Jack Heslin (UT) 6-1, 6-2
ORDER OF FINISH
Doubles (3,2,1); Singles (6,1,3,5,4,2)