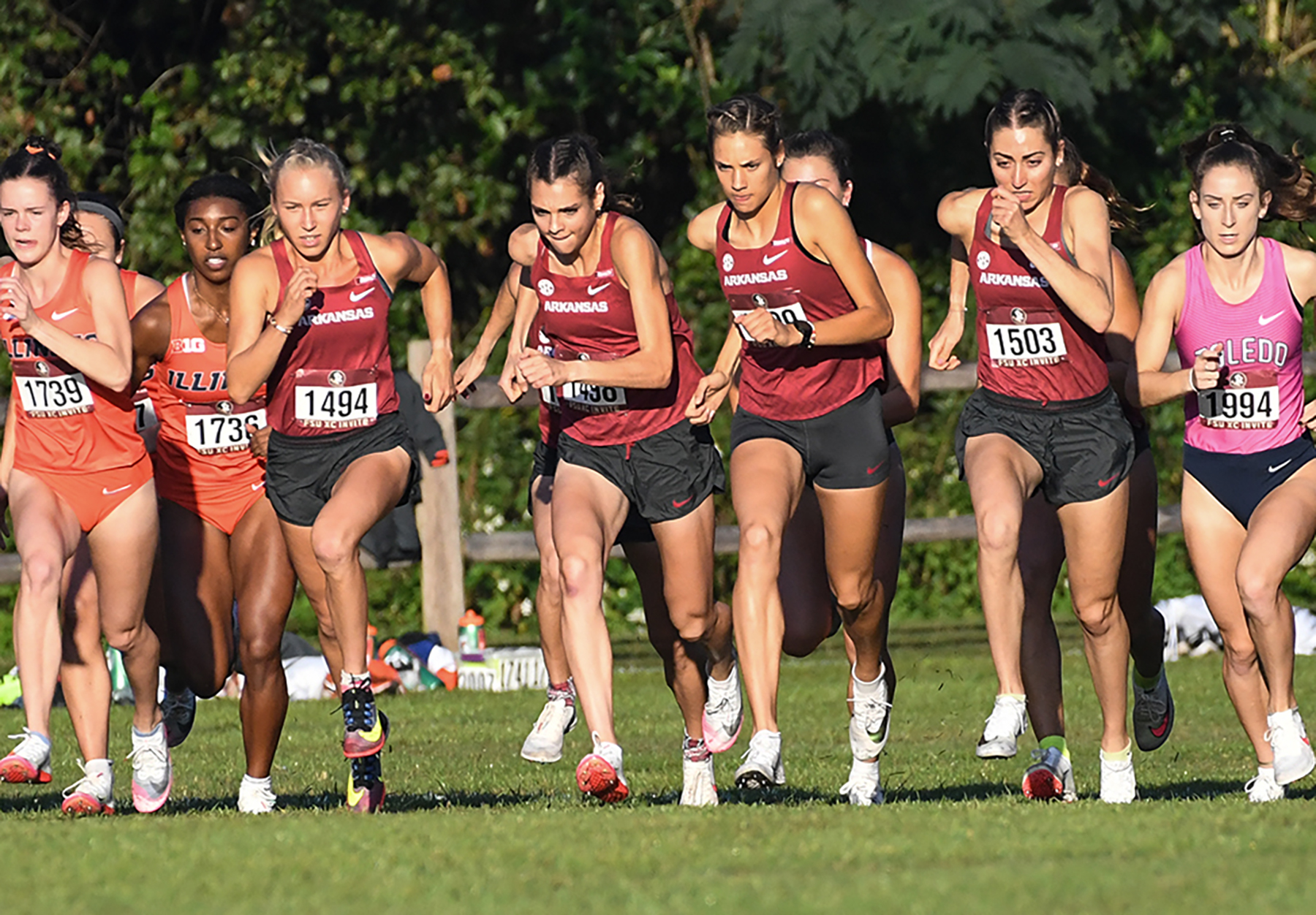 Arkansas seeks 9th consecutive SEC cross country title
No. 15 Arkansas seeks a ninth consecutive SEC Cross Country Championship title and it's 22nd overall this week in another title defense for the Razorbacks. The SEC Championships, hosted by Missouri and held on the Gans Creek course, will air live on the SEC Network at 10 a.m. this Friday, Oct. 29, with the women's 6,000m race starting at 10:50 a.m.
One of three SEC schools nationally ranked, Arkansas follows No. 5 Alabama and No. 11 Mississippi heading into the conference championship. The last conference titles for Alabama, who finished second in 2020, occurred in 1986 and 1987, while Mississippi, runner-up in 2016 and 2019, has never claimed a women's SEC cross country title.
The Razorbacks have claimed 20 of the past 21 SEC championships held among cross country, indoor and outdoor track and field, and have totaled 40 SEC titles among the three disciplines since joining the league 30 years ago.
"We are going in as defending champions with eight consecutive titles," said Arkansas women's head coach Lance Harter. "The competition continues to get steeper and steeper every year, and this year is an extraordinary year.
"Alabama, Ole Miss and ourselves are three nationally ranked teams. We each had great seasons last year and return the majority of their team. So, we will definitely have our hands full to try to defend."
Lauren Gregory, a three-time SEC Runner of the Week, has led the Razorbacks in three races this season. Gregory won the Missouri Opener on the Gans Creek course, leading Arkansas to a perfect score among four SEC schools. Then Gregory finished second at Oregon's Bill Dellinger Invitational and Florida State's Pre-National Invitational after leading each race in the latter stages.
A bronze medalist in the 2018 SEC Championship, Gregory has finished among the top 10 at the conference meet in four consecutive years. Fourth a year ago in leading Arkansas, Gregory is one of six Razorbacks who returned from last year's top seven in the SEC meet.
Krissy Gear, the fifth Razorback finisher in the 2020 SEC meet while placing 11th, won the Chile Pepper Invitational a week after not finishing the Oregon meet and placed eighth in the Pre-National race as the second Arkansas finisher.
Isabel Van Camp has shown marked improvement this season and as a result was third among the Razorbacks in placing 24th at Pre-National after being the second finisher in Oregon while placing 12th overall.
Razorbacks returning from last year's top seven in the conference meet include Logan Jolly, Meghan Underwood and Corie Smith.
"This meet will be the first time this season where we will put our team together, because of one issue or another," noted Harter. "I'm excited to put our top 7 to 12 together and let them represent us at the conference meet.
"We're going to have some people who have been in the program make big steps in a positive direction to carry the flag for Arkansas."
With three nationally ranked teams among the field, the deciding factor in determining the team title may come down to the fourth and fifth runners from each program.
"This year, it's interesting with the matchups from 1 to 4 are almost verbatim even," said Harter. "Then it comes down to, especially for us, our fifth runner and Alabama as well. Ole Miss has a little tighter group, but maybe not the firepower up front in the lead.
"For us, our fifth runner is going to be critical, as well as everybody else. That seems to be the theme at the conference meet, the regional meet, and the national meet. When people think of the idea of a team effort, the front three or four get a lot of the celebration, but the true team development and definition of who is going to be successful always goes to that fourth or fifth runner for us."
Women's teams can enter 12 runners in the conference meet, which enables schools to build depth and aids in the development of a program.
"We're kind of blessed with a lot of depth," noted Harter. "Our number five through 10 could be anyone of five or six people. Hopefully, somebody has a great day and are able to make our team total as low as possible."
Finishing as the fifth runner for Arkansas this season has included Underwood, Carmie Prinsloo, Julia Paternain, and Gracie Hyde. Each has also finished higher than the fifth position in various races this season.
National Rankings
Alabama
Mississippi
Arkansas
Regional Rankings
South Central | 1. Arkansas, 3. Texas A&M, 7. LSU
South | 1. Alabama, 3. Mississippi, 5. Tennessee, 6. Vanderbilt, 7. Florida, 10. Auburn
Southeast | 4. Kentucky