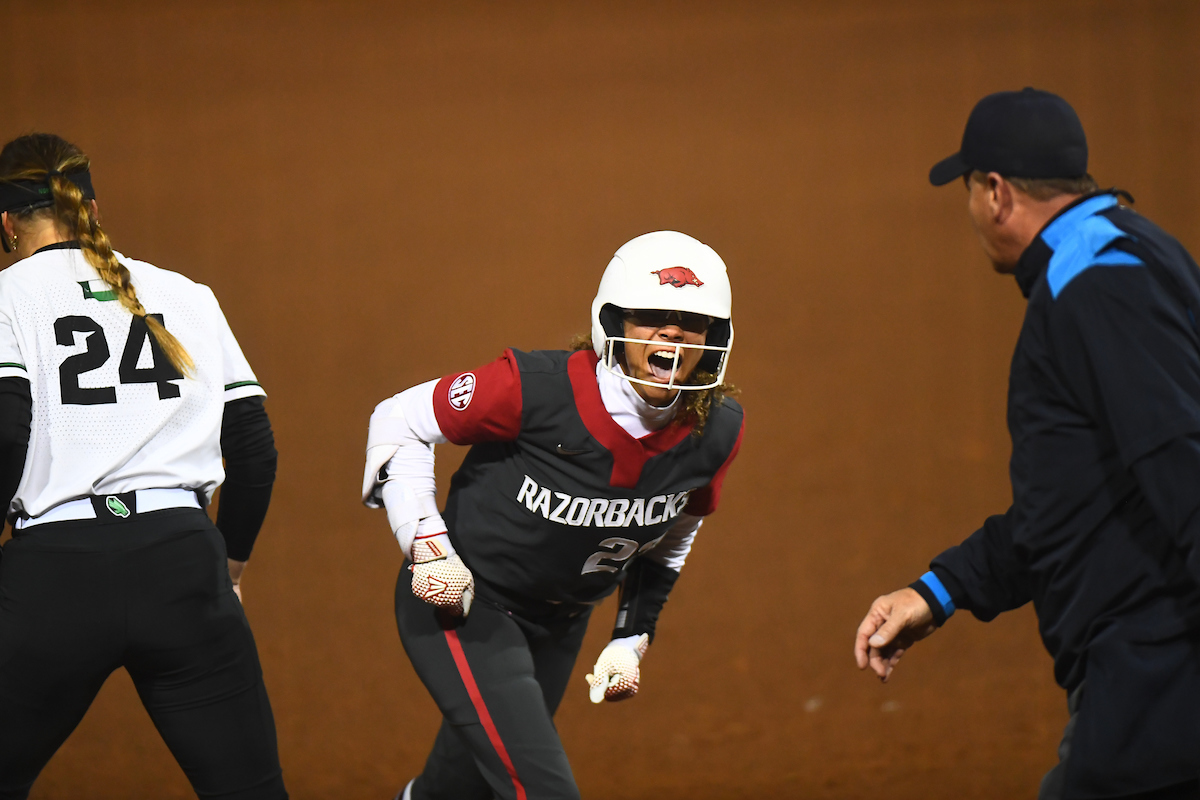 Arkansas Shines in Doubleheader Sweep
FAYETTEVILLE, Ark. – No. 7 Arkansas cruised in its doubleheader sweep of Texas A&M-CC and North Texas Friday at Bogle Park. The Razorbacks run-ruled Texas A&M-CC, 11-0, in five innings before defeating North Texas, 6-2, in the nightcap.
Extending its win streak to seven games, Arkansas moves to 16-3 overall and 8-1 at Bogle Park.
Arkansas has run-ruled five opponents this season.
Exploding to 17 runs between both games, the Hogs outhit opponents at a 16-3 clip. Arkansas' pitching staff continued to dominate in both wins, giving up just two runs on three hits and compiling 16 strikeouts.
Game 1 vs. TAMU-CC
Junior LHP Callie Turner and freshman LHP Hannah Camenzind combined for the shutout against the Islanders. Turner got the start and earned her fourth win of the season (4-0). Turner struck out four over 4.0 innings and allowed just one base hit. Retiring 11 of 14 batters faced, Turner handed the keys to freshman Hannah Camenzind for the game's final inning. Camenzind ended the ballgame after retiring the side in the fifth.
Arkansas scored 11 runs on 10 hits to provide all the run support the pitching staff needed.
Leading the charge, freshman Reagan Johnson finished 3-for-3 with two runs scored and her 10th stolen base of the season. Dating back to Arkansas' wins against Drake (Feb. 26) and Iowa State (March 2), Johnson notched a hit in eight consecutive plate appearances after her three singles against TAMU-CC. Redshirt junior Rylin Hedgecock smoked a career high two home runs and accounted for a career high four RBIs and three runs scored. Hannah Gammill, Cylie Halvorson, Kristina Foreman, Lauren Camenzind and Atalyia Rijo chipped in a hit apiece.
Hedgecock became the first Hog since May 1, 2022 (Taylor Ellsworth vs. South Carolina) to homer twice in a game.
Game 2 vs. North Texas
Redshirt senior RHP Chenise Delce (8-1) went the distance to bag a win against a strong North Texas squad. In 7.0 IP, Delce fanned 11 for her second double-digit strikeout game of the season. In her second straight complete game (fourth on the year) the Oklahoma City native limited the Mean Green two just two runs on two hits. Delce kept North Texas scoreless through the duel's first four innings.
Several Hogs had big nights at the dish. Reagan Johnson continued to display her dominance, recording her fourth consecutive multi-hit game with two hits, including a triple, and one run scored. Kristina Foreman and Tymber Riley each drove in a pair of runs off the crack of their bats on singles. Hannah Gammill added a double to left and Raigan Kramer singled through the right side. Cylie Halvorson and Lauren Camenzind drove in a run apiece. Controlling their zones, Gammill, Kramer and Riley drew two walks each.
How It Happened vs. North Texas
Both teams exchanged zeroes until Arkansas burst for three runs in the third. It all began with Reagan Johnson besting a defensive shift by belting a leadoff triple to left center. Arkansas positioned runners at the corners after Gammill was struck by a pitch. Halvorson scored Johnson from third on a fielder's choice to grant a 1-0 lead. Foreman joined in on the action on her two-RBI single through the left side for the 3-0 edge.
North Texas cut the deficit to one on a two-RBI single in the fifth.
Arkansas pushed its fourth run across in the bottom of the fifth on Lauren Camenzind's groundout to second that plated Tymber Riley from third.
Tymber Riley added insurance in the sixth on her two-RBI single up the middle that scored Rylee Cloud and Rylin Hedgecock.
Up Next
No. 7 Arkansas takes on Iowa State and TAMU-CC in a twin bill beginning at 3 p.m. Saturday. The game will not be available to stream. Arkansas concludes the Wooo Pig Classic at 12:15 p.m. Sunday vs. North Texas on SEC Network+.